Schools
Here's who Kim Janey just appointed to the Boston School Committee
The two women, both immigrants, were selected from six finalists.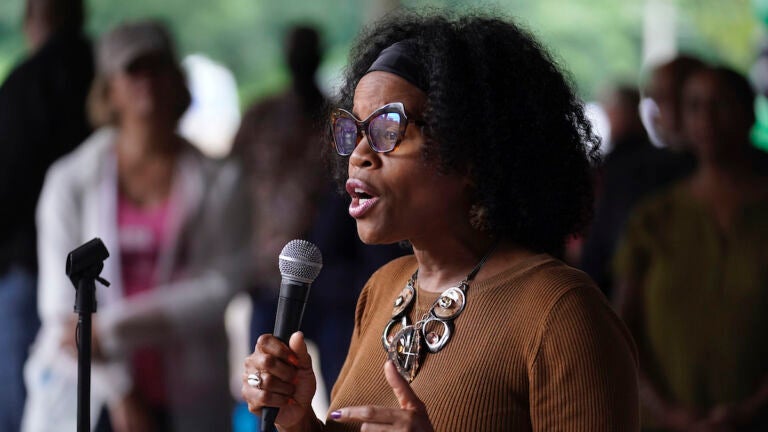 Acting Mayor Kim Janey appointed two Latina mothers of Boston public school students to the School Committee on Thursday to fill vacancies left last month following resignations.
Lorena Lopera and Rafaela Polanco Garcia were sworn in at Boston City Hall, where they shared their experiences as immigrants and vowed to make the city's school system more accessible and inclusive.
Lopera is the Massachusetts executive director of Latinos for Education, a national organization that works to create pathways for Latinos in education leadership roles. Polanco Garcia is director of parent engagement and organizing at St. Stephen's Youth Programs, which serves public school students.
Both women, Janey said, offer "a depth of knowledge and relevant experience" needed to work on behalf of students and their families.
"I trust that Ms. Lopera and Ms. Polanco Garcia will serve our students and families well," Janey said. "As parents with children in the Boston Public Schools, they especially know what our students and families need."
The appointments come after committee member Lorna Rivera and Chairwoman Alexandra Oliver-Dávila resigned last month after racially-charged messages — remarking on white residents in West Roxbury — they sent one another during an October meeting were made public.
Janey acknowledged at the time their departure left "a void in Latina leadership" on the committee that she said she was determined to preserve.
Lopera arrived in the United States as an undocumented immigrant from Colombia at the age of 4, she said.
In remarks, she described how her mother urged her to study as a child "because that is something that can never be taken away from you."
"It instilled and reinforced the value of education. I have taken this saying to heart," she said. "I've spent my entire professional career working to improve access to quality educational opportunities for children and families, mostly for those who are not often prioritized."
Lopera is "a veteran of local organizations focused on expanding educational access for Latino youth and students of color," having worked with Sociedad Latina, La Vida Inc., Building Excellent Schools, City Year, and the Posse Foundation, Janey said.
Both Lopera and Polanco Garcia offered statements in Spanish on Thursday — however, Polanco Garcia is the first member of the committee who uses Spanish as their primary language.
She was administered her oath in her native language via a translator.
"This means that we will have to work very hard to meet her needs, and in doing so, we will move our school district and our city forward," Janey said. "It sets the stage for us to improve our ability to serve (English as a Second Language) learners and their parents as they seek to engage our school community."
Polanco Garcia came to Boston from the Dominican Republic in 2015. A homeless single mother when she first arrived, Polanco Garcia now resides in public housing in South Boston.
According to Janey, Polanco Garcia has a background in law and bilingual advocacy. She worked to help pass the state's "Student Opportunity Act" and a resolution designating public schools as immigrant sanctuaries, Janey said.
Polanco Garcia explained how she struggled at first to understand the staff at her child's school, but came to realize she herself would need to get more involved.
"To my fellow parents, I want to say something: I'm not here to fight for you. I am here to fight beside you to make the changes we want," she said, through an English interpreter.
"I firmly believe that public schools should be a second home for students and families," she continued, to applause. "That's why we need to insist that they are safe and loving communities for everyone who walks through the doors — that they are reflective of racial equity and offer equality of opportunity to every student."
The city began accepting applications for the committee in late June, although, as acting mayor, Janey can only make temporary appointments with terms that will expire once the city elects a mayor to serve a full term later this year.
The next mayor, should voters elect Janey to continue serving or one of the other four candidates, will then have to make permanent appointments for the two seats.
Most candidates in the race have committed to appointing Latinx members to the committee. According to the Boston Foundation, Latinx residents make up about a fifth of Boston's population and 42 percent of Boston Public Schools' student body.
City Councilor and mayoral hopeful Andrea Campbell did not specifically make the same pledge, however. Her campaign said last month that such a commitment could raise legal challenges or questions for the city.
The seven members of the School Committee are city residents who are appointed by the mayor (a non-voting student member from the Boston Student Advisory Council also serves on the board). The mayor selects appointments from a list of candidates recommended by a 13-member Citizens Nominating Panel.
In June, Janey appointed entrepreneur, attorney, and community leader Betty Francisco, also a BPS parent and Dorchester resident, to the nominating panel to help cultivate Latinx representation in the candidate pool.
Janey said Thursday that Lopera and Polanco Garcia were selected from six finalists, who were all among a total of 23 applicants for the two seats.
The School Committee has varied responsibilities: The board is charged with defining the district's goals, mission, and vision; managing and evaluating the superintendent; creating and monitoring the yearly operating budget; and determining and reviewing district policies.
Newsletter Signup
Stay up to date on all the latest news from Boston.com