Schools
What is worrying a Boston teacher about returning to classrooms this fall
"It's almost like we're returning with almost none of the lessons learned from last year."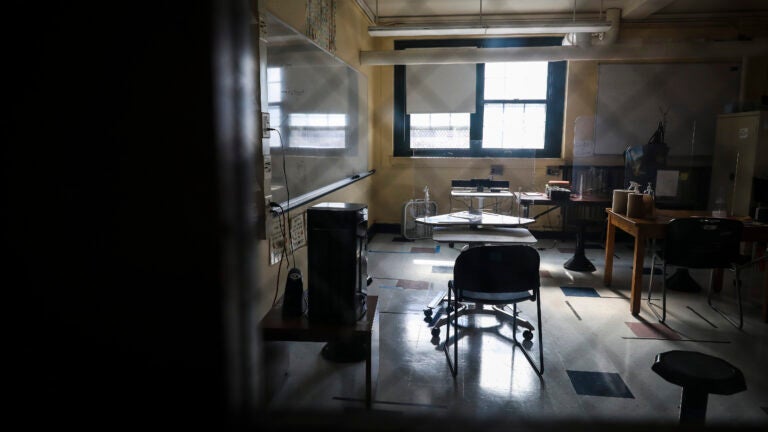 The final days of summer are counting down as teachers, students, and their families prepare for the start of another school year, the second to begin under the lingering shadow of the coronavirus pandemic.
Across the country, the lead-up to the new academic year has been fraught with debates over masks in schools, even as the highly contagious delta variant has driven an increase in new cases and landed more unvaccinated children in the hospital with serious illness.
Gov. Charlie Baker's administration — originally opposed to an indoor K-12 mask mandate — changed course on Friday in the face of mounting pressure to require the use of face coverings in school buildings across the state. In a press release, state Education Commissioner Jeff Riley said he would ask the Massachusetts Board of Elementary and Secondary Education for the authority to mandate masks for all public K-12 students, educators, and staff through at least Oct. 1. After that date, middle schools and high schools would be allowed to lift the mask mandate for vaccinated students and staff only if at least 80 percent of students and staff in the respective school building are vaccinated.
Previously, education and public health officials had only strongly recommended the use of face coverings in school buildings.
The approach to the school year has left many educators feeling frustrated and anxious as the first day of in-person instruction gets closer, according to one Boston Public Schools teacher.
Describing himself as feeling "cautiously optimistic" about going back to school in the next few weeks, José Valenzuela, who teaches 11th and 12th grade history at Boston Latin Academy, told Boston.com recently that he and his colleagues are feeling more anxious than they anticipated they would just a few months ago.
"It's almost like we're returning with almost none of the lessons learned from last year," he said.
One of the big sources for the anxiety and frustration is that the state is requiring students in all Massachusetts districts to learn in-person for the 2021-2022 school year. Districts are not being allowed to offer remote learning as a standard learning model.
"I think it's really naive to think that we are not on the precipice of another outbreak from having students being forced to learn from home again," Valenzuela said. "We're at the edge of that, I feel like, based on what's going on in other states and the ways scientists have showed the delta variant is a lot more contagious."
Without an option to learn from home, at the first instance of an outbreak, teachers' hands are tied, he said.
"There's no tools for us to really make sure students are learning and students are safe," he said. "And I think that's one of the most frustrating — we just went through a year where as challenging as it was, we learned a lot about how to engage students online and of course to kind of protect people to the greatest extent possible. But those tools have been taken away from us."
While he said he's relieved Boston is mandating educators get the vaccine or submit to weekly testing and requiring masks regardless of vaccination status, he's concerned that the state isn't collecting and publishing data on positive cases in schools this year.
Valenzuela said he and his colleagues had not yet received any guidance from the district about what would happen when a student tests positive for COVID-19 and then is required to stay home for the designated quarantine period if the state is not allowing districts to offer remote learning.
According to the teacher, schools are allowed to offer "virtual school," which would require students to unenroll from their in-person instruction and re-enroll in the online classroom.
But BPS has not set that option up in time for the fall year, he said.
"Basically a student who's quarantining will be completely disengaged for the 10 or 14 days — however long the quarantine is supposed to last — that they would be away from the classroom," he said.
The history teacher said no guidance had yet been given on what the reporting process is logistically should a student test positive, too.
"What is the school year going to look like? We're three weeks away from the first day of classes essentially, and we're still really in the dark about what's supposed to happen in those scenarios when students quarantine," he said. "What do we do? And there's no answer right now."
Without guidance, Valenzuela expects the brunt of the burden to fall on teachers to figure out how to make sure students who are out of school aren't left behind.
"That's to our frustration that we had months to plan and we are probably going to be given insufficient guidance at the last minute to digest and make it work somehow," he said.
When Boston.com reached out to BPS about guidance for the upcoming school year, a district spokesperson directed a reporter to a school website containing information outlining a focus on vaccination, masks, and regular testing.
The district is holding a virtual community meeting for families on Tuesday, Aug. 24, but BPS is still waiting on state guidance for many protocols, particularly those around multiple positive cases in a classroom or school community, the spokesperson said.
"Our longstanding partnership with the Boston Public Health Commission provides a strong foundation for the development and implementation of COVID-19 procedures to keep students, staff and families safe," a statement from the spokesperson read. "As we await further guidance from state officials, we are working with BPHC to outline our protocols for responding to positive COVID-19 cases in our schools. We look forward to finalizing our protocols after we receive the forthcoming guidance from DESE, which will inform our contingency plans for multiple scenarios. Following two consecutive school years disrupted by the pandemic, our primary focus remains planning for safe, enriching, and robust in-person learning."
Going into the new school year, Valenzuela said he hopes that stringent safety protocols for social distancing and cleaning — most of which were agreed upon for last year — are extended.
Already, it appears the approach to ventilation in classrooms — using fans in windows to provide air flow — will be largely the same, he said.
The district has been installing air quality sensors in classrooms and replacing filters in the air purifiers deployed last year, but Valenzuela said he and his colleagues haven't received any guidance on what they are supposed to do in the event that any of the air quality measurements fall below a level of acceptability.
It's just one of many open-ended questions the history teacher said he still has about how daily school operations will occur this year with students back in the building.
Another big one for him is related to lunch — what will that look like?
"Students are wearing masks all day — and we think that's one of the most important mitigation measures — and how do we account for hundreds of kids who are maskless eating lunch at the same time, all in close proximity?" Valenzuela said. "In my school, we have about 600 students eating lunch at the same time."
Not knowing the guidance or protocols just a few weeks from the start of school is unnerving, since teachers and families also have not yet had the chance to provide feedback, he said.
The clock is ticking down quickly to the first day of school on Sept. 9.
"We know 100 percent of students are coming back," Valenzuela said. "We know there's no remote option — the state has tied the hands of the district in that regard. And so we have to plan for the inevitability of outbreaks and quarantining whole classrooms or subsets of students — or even a whole school is not entirely outside the realm of possibility. So what does that look like? What are our obligations and responsibilities to the students when those things occur?"
In the meantime, Valenzuela said the best thing students age 12 and older can do to prepare for the school year is get vaccinated if that's possible for them.
"That's my biggest concern is students who are unvaccinated amongst us and the risk that they have in being at school in-person," he said.
As for parents, the history teacher said the concerns families have about safety are valid and should be vocalized.
Districts listen to parents "far more" than they listen to educators, he said.
"That reality shapes what districts do," Valenzuela said.
Even with the uncertainty, the Boston teacher is focused on his concerns with his preparations for the year — getting ready for in-person instruction while part of him continues to wonder what will happen if cases rise to the point that classroom instruction is no longer possible.
His plan for welcoming back his students hasn't changed much from last year. He wants to provide space for students to adjust to the "new normal" and process everything that has happened.
"I have seniors who will be returning to the building who were sophomores the last time they were in a school building," Valenzuela said. "No matter what grade you teach, a lot of us are in that position — where we're going to have students who have been out of the classroom since March of 2020."
Unless the students feel supported and are given space to process the experiences of the pandemic, not much learning is really going to happen, he said.
That's why ensuring support for his students is at the forefront of his mind headed back to the classroom.
"I'm going to be definitely taking my time on that and making sure I'm focused on lessons that allow the time and space to really work through those things," he said. "I can say from just the adults who have returned — we needed that time too."
The narrative around education that students have to "catch up" and are behind, which puts an emphasis on getting through lots of material and content, takes away attention from monitoring and supporting student health and emotional wellness, he argued.
"We're going to be putting a lot of anxiety and stress on students that I don't think is necessary and that shouldn't be our focus in the beginning," he said.
Instead, time should be taken to build relationships with students to ensure they feel heard and and seen in their subjects.
It's an approach he hopes parents understand is important as the school year begins — to have a "measure of grace" for what the start of the year looks like and give students time to return in a way that allows them to process what they've gone through since the pandemic began.
Newsletter Signup
Stay up to date on all the latest news from Boston.com