Schools
A parent is worried about sending her kids back to Boston schools amid COVID-19. Here's what school leaders told her.
"I don't feel safe, as a parent, sending my kids back to school."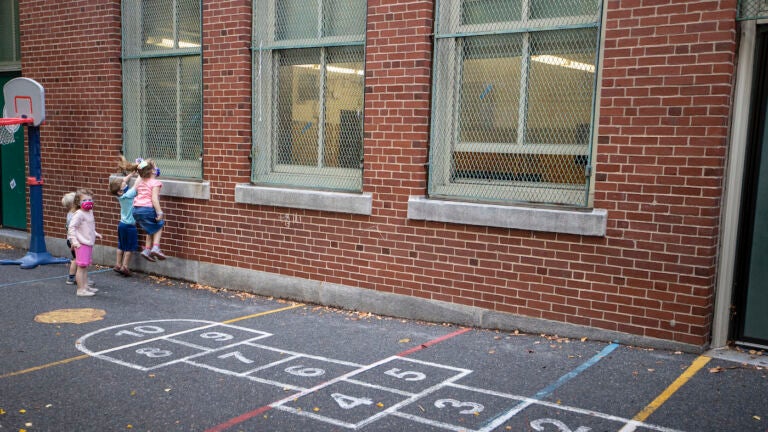 If "standing room only" can apply to a video call, Tuesday's back-to-school meeting for families of students in Boston Public Schools certainly met the criteria.
One thousand people logged on to hear how educators plan to navigate the impacts of the again-evolving COVID-19 pandemic this fall in schools where students will be learning in classrooms again, full-time, with few exceptions.
Under state regulations, Massachusetts schools can no longer offer widespread remote learning options, even as children under age 12 are not yet eligible for a coronavirus vaccine and the virus's circulating delta variant looms.
The concoction was enough for one mother, identified only as Cheryl, to take the mic, with thousands of eyes and ears upon her.
Politely, she explained how she and her husband have heart issues. She has relatives who passed away from the virus even after they were vaccinated, she said.
Her two teenagers are unvaccinated and attend New Mission High School, the small Hyde Park college preparatory school. Every week they were in class, in-person after a year of remote learning this past spring, one of their classmates tested positive for COVID, she said.
"I know everybody's on stilts right now and scared, but it's just really not safe," she told administrators.
"I don't feel safe, as a parent, sending my kids back to school," she added.
How can school leaders reassure families that schools are actually safe?
"We are trying to do everything in our power to keep your children safe, keep them safe from bringing anything home," Superintendent Brenda Cassellius told Cheryl, acknowledging she understands the anxiety plaguing parents and guardians right now. "When you mask, when you get vaccinated — especially for older children — … and when we participate in the COVID testing, that really does mitigate the spread."
Indeed Boston schools will offer free testing for students and staff, although families must provide consent for health workers to collect swabs from their children (Cheryl said she will she not consent to testing for her teenagers.) Contact tracing procedures are in place. All school staff — as is the case for all city employees — must be vaccinated or submit to regular testing, and all individuals will be required to wear masks in every school building, among other protocols.
"We believe our schools are safe because of these measures," Cassellius said.
"Also, we're asking people not to send their students if they have symptoms as well," she continued. "So it's a whole community and a whole shared responsibility in order to keep our kids safe and get them into school because missing another year of school is just not an option."
Djenny Lobo Lopes, the district's senior director of Health Services, said the school system had students in the spring who contracted COVID-19, however, no cases were deemed as having been transmitted during school.
"With that said, you know, that was brand new to us, right? We were all in the new pandemic, and we had to put protocols in place and (we were) really kind of doing it from scratch, right?" Lobo Lopes told Cheryl. "This time around, we have a lot of things in place already; that needed to be put in place as we went along."
Of the handful of parents who raised questions on Tuesday, and those who asked inquiries in the video call's chat feature, several pertained to remote learning options, which officials say are very limited to select situations.
Sick students undergoing quarantine will have remote access to class materials and a tutor. Other students permitted to learn from home are those who have a specific medical exemption, the administrators said.
As she finished her remarks, Cheryl apologized for asking so many questions, but was nonetheless appreciative to have some answers.
She signed off, "Everyone stay safe."
Newsletter Signup
Stay up to date on all the latest news from Boston.com