Schools
'Learning loss' or 'structural racism': What people are saying about the drop in MCAS scores
The results of the 2021 test show an undeniable decline. However, there's disagreement about the root cause.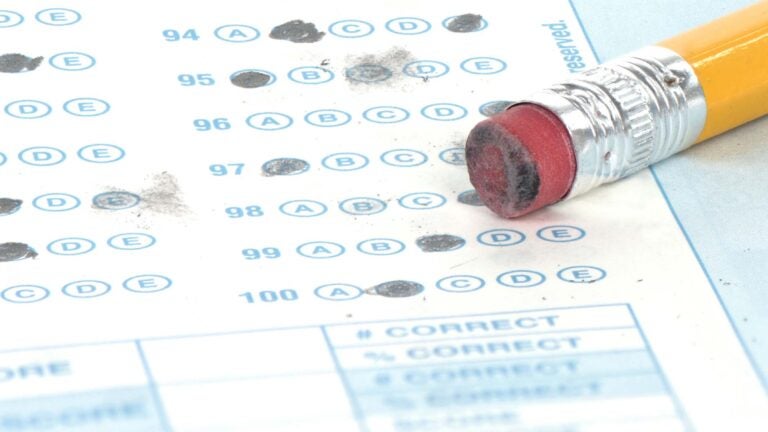 Massachusetts school test scores dropped significantly over the course of the COVID-19 pandemic, in what Gov. Charlie Baker called the predictable result of unprecedented lost in-person learning time.
However, teachers unions are pushing back on that narrative, arguing the scores are more reflective of long-existent funding gaps.
State officials released the statewide MCAS test results from the spring 2021 exam Tuesday morning, showing score drops in English language arts and, especially, math.
According to the Department of Elementary and Secondary Education, 33 percent of students in third through eighth grade met or exceeded grade-level expectations on their math scores, compared to 49 percent in 2019 (the 2020 spring MCAS exam was canceled due to the pandemic). In English language arts, 46 percent of students scored Meeting Expectations or higher, compared to 53 percent in 2016.
The trend was similar for high school test-takers.

According to DESE, 64 percent of students met or exceeded expectations for 10th grade English language arts, which was actually an increase from the 61 percent rate in 2019. But for 10th-grade math, the rate fell from 59 percent in 2019 to 52 percent this past spring.
"The results showed exactly what I think all of us believed we would see," Baker told reporters during an unrelated press conference Tuesday in Lowell.
"There have been several national studies that have already been done on the learning loss that was borne by kids across the country during the course of the COVID pandemic, primarily as a result of the loss of in-person learning," he said. "And Massachusetts was no exception to that."
Since last fall, Baker's administration consistently pushed schools to resume full in-person learning, and ultimately forced all districts to return last spring. Education Secretary James Peyser said Tuesday that the MCAS results "clearly illustrate how the disrupted school year of remote and hybrid learning impacted students' academic achievement."
That wasn't the only takeaway, however.
Teachers unions, which fought Baker's return-to-class mandates, argued that the MCAS results were more reflective of the pandemic toll on poorer students — and showed the need to do more to support them.
"Educators don't need a standardized test to know that our students have missed out on learning since the onset of the pandemic, or that they need extra help to get back on track academically, socially, and emotionally," said Beth Kontos, the president of the Massachusetts chapter of the American Federation of Teachers.
"In many of our highest-poverty schools, test scores dropped because students lost family members to COVID-19, or because they were supervising their siblings instead of fully concentrating on their own schoolwork, or because they were busy working to keep their family from being evicted." Kontos said. "This year's test results, as they do every year, reflect our failure as a society to support students living in high-poverty districts; they're not a reflection of our students' true potential."
Merrie Najimy, the president of the Massachusetts Teacher Association, which pushed to cancel the 2021 MCAS, said the test "simply measures the degree to which a community has been under-resourced and underfunded."
"Educators reject the narrative that students have experienced tremendous 'learning loss,'" Najimy said. "Rather, they have experienced dislocation and trauma. These issues are what the results demonstrate in cities and towns across the Commonwealth, including communities of color, which have been the hardest hit by the coronavirus."
Najimy added that the MCAS scores, which state officials use to assess student performance and school quality, instead "mostly measure the impact of structural racism in the form of underfunding of public schools and public health, along with housing, food, and income insecurity – factors that students bring to their learning environment."
"Yet the MCAS has become a weaponized system that reveals and protects racial biases in public education and curricula," she added.
The release of the test results comes a day after state lawmakers held a virtual public hearing Monday on a bill to scrap the MCAS test as a graduation requirement.
Supported by teachers unions, the legislation would replace the standardized test with what supporters describe as "a broader and democratically determined framework to measure school quality, along with more authentic forms of demonstrating student achievement" while creating a grant program to let teachers, students, parents and local school districts set goals for their public schools and identify what resources are needed to realize those goals.
The proposal would also require the state to offer multiple pathways for students to demonstrate that they "have met the mastery standard for the competency determination, including options that do not require a student to take a standardized test."
Baker indicated opposition to changing the current testing regimen, which he said Tuesday "would be to close our eyes" to student performance.
"I think it's critically important that we continue to have a regular annual comprehensive process here in Massachusetts where we all have a chance to see how our kids are doing and make adjustments accordingly," Baker said.
Backers of the bill say the legislation would not eliminate testing altogether, but replace it with more project-based evaluations that better assess skill sets beyond math and English, like vocational fields.
Families are scheduled to receive their children's individual MCAS scores after Sept. 30. And to some degree, state officials are deemphasizing the results of the 2021 test, which were delayed amid the full statewide return to in-person classes.
In a press release, DESE said that families of grade-school students should "keep in mind" that they were given shorter than usual tests, which can cause individual student performance to vary more than usual as compared to previous years.
"These variations even out as groups of students are aggregated, but the difference is worth keeping in mind when viewing individual results," officials said. "Families should also remember that MCAS results are only one measure of their child's growth and achievement."
The state's Board of Elementary and Secondary Education has also voted in June not to use the 2021 results for any district or school accountability purposes, due to the disruption of the pandemic.
Still, with school districts in Massachusetts about to receive $2.8 billion in federal and state COVID-19 relief funds between the current school year and fall 2024, Education Commissioner Jeff Riley said the 2021 scores could help "shed light on where additional support is most needed."
Baker said Tuesday that, while the English exam learning loss was "less significant than I think people anticipated," the slide in math scores was "pretty significant," suggesting that's where school districts focus the funds.
"We and our colleagues in local government need to put a lot of the federal resources that we both received to work on a variety of acceleration academies and special programs," he said. "I know a lot of folks did a ton of work over the course of the summer with summer school programs and enrichment programs to improve the performance of kids who missed out on a lot of school last year, but I think we all have a lot of work to do there."
Material from the Associated Press was used in this report.
Newsletter Signup
Stay up to date on all the latest news from Boston.com