Schools
Massachusetts to decide 'by early next week' on future of school mask mandate
The current universal mandate is set to expire on Nov. 1.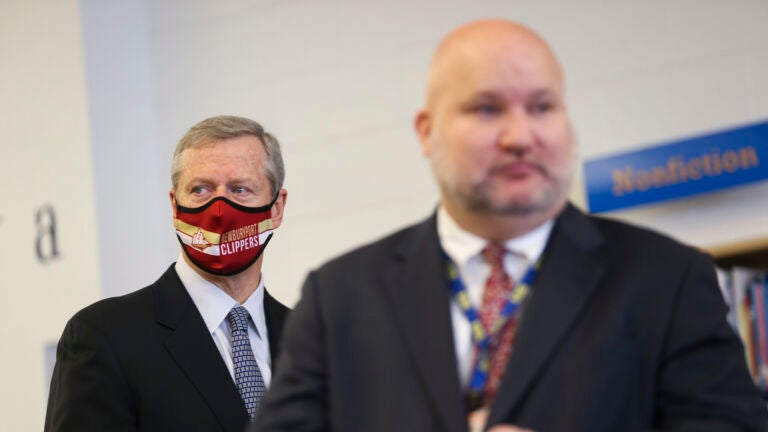 The top official in charge of K-12 public schools in Massachusetts hinted Tuesday that his decision on extending the statewide school mask mandate is coming soon.
"By early next week, a decision will be made whether or not as to continue masks," Education Commissioner Jeff Riley said during a Board of Elementary and Secondary Education meeting Tuesday morning.
"So that's important information that people need to know," he added.
The board first gave Riley the authority to impose the mandate in August, and he extended it late last month until at least Nov. 1.
The mandate requires that all students, staff, and visitors over the age of 5 wear a mask inside K-12 school buildings — regardless of their COVID0-19 vaccination status.
However, middle schools and high schools that reach an 80 percent vaccination rate among students and staff can ask for permission to lift the requirement for vaccinated individuals (unvaccinated individuals would still be required to wear a face covering).
Riley said Tuesday that the Department of Elementary and Secondary Education has gotten nine requests so far. According to a DESE spokesperson, four have been approved:
Ashland High School
New England Academy School (approved special education school in Beverly)
Corwin-Russell School @ Broccoli Hall (approved special education school in Sudbury)
Other requests are still being processed, the spokesperson said.
However, regardless of state approval, the decision to lift a mask mandate still rests with local school officials.
"Whether or not a district or school avails itself with the 80 percent vaccination off ramp is a local decision to be made by school and district leaders in consultation with health officials," Riley said Tuesday, noting that COVID-19 rates or participation in the state's school testing programs could also factor in.
A case in point was in Hopkinton, where local school officials are erring on the side on caution, even after their high school became the first in Massachusetts to get permission to lift its mask requirement for vaccinated individuals. The town's School Committee plans to revisit the subject Thursday.
At the same time, the Baker administration has faced pressure from parents who argue masks interfere with students' social and language development.
"We hear a lot more from parents who don't want masks on their children, but we are going to go with what the best medical advice is," Riley told The Boston Globe earlier this month. "There may be a silent majority who support the mask mandates, but we don't hear from them as much."
A MassINC poll in August found that over 80 percent of voters supported a universal school mask mandate.
Newsletter Signup
Stay up to date on all the latest news from Boston.com