Schools
Massachusetts is extending the statewide school mask mandate until at least mid-January
State officials say the move will "allow time" for elementary students to get the COVID-19 vaccine this fall.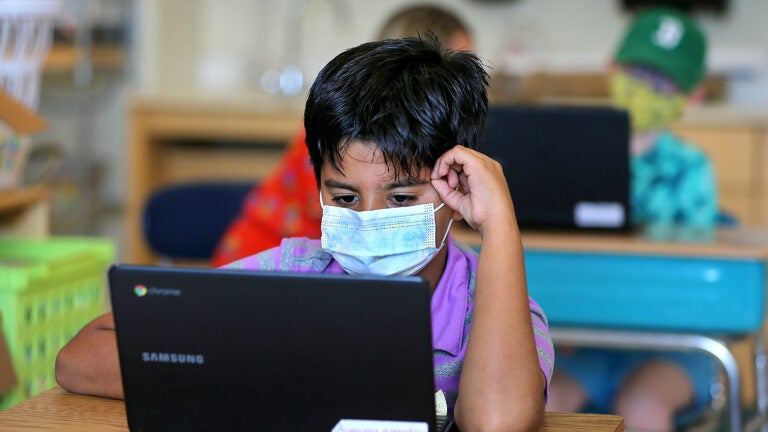 Gov. Charlie Baker's administration is keeping the statewide indoor mask mandate for Massachusetts schools in place through the rest of the year.
The state's Department of Elementary and Secondary Education announced Tuesday afternoon that Education Commissioner Jeff Riley had notified school districts that he will extend the current universal mask requirement in all K-12 public schools through at least Jan. 15, 2022.
In a statement, Education Secretary James Peyser said the move will "allow time for the elementary school population to receive the COVID-19 vaccine," ahead of the expected approval and rollout of Pfizer's vaccine for children aged 5 to 11. State officials have said they expect to receive doses of the pediatric vaccine by early November.
"This will be another big step forward in our efforts to keep school safe for our kids," Peyser said.
The extended mandate, which was set to expire Monday, will continue to allow high schools and middle schools to lift the indoor face covering requirement for vaccinated individuals if 80 percent of their students and staff are vaccinated. At least seven have received approval after reaching the threshold, and Hopkinton High School became the first public school in Massachusetts last week to move forward with plans to at least temporarily lift its mask requirement.
Unvaccinated individuals would continue to be required to wear masks indoors.
DESE said Tuesday that it will "evaluate and consider other criteria that could be used in the future to lift the mask requirement based on public health data," in collaboration with medical experts and state health officials."
"Masks remain a simple and effective measure to prevent the spread of COVID-19 and keep students in school safely," Riley said Tuesday.
Riley noted that the mask mandate complemented the state's school COVID-19 testing program, high vaccination rates, low transmission rates in schools, and "all the hard work in keeping our students safe" and in school.
Under the extended policy, all public school staff and students ages 5 and older are required to wear masks indoors in schools — except when eating, drinking, or during mask breaks, which state officials say "should occur when the windows are open or students are outdoors," if feasible. Masks are not required outdoors.
All visitors are also expected to wear a mask in school buildings, regardless of vaccination status. And state officials strongly recommend that students younger than 5 also wear a mask in school.

There are exemptions for students and staff who can't wear a mask for medical reasons, as well as for students who can't do so for behavioral reasons.
State officials noted that lifting the mask mandate in schools that meet the 80 percent threshold remains a local decision made by school and district leaders.
And in the state's largest school district, Boston mayoral general election finalists Michelle Wu and Annissa Essaibi George both said during a debate Monday night that they would keep Boston Public Schools' mask mandate in place, even if certain schools had 80 percent of their students and staff vaccinated. Essaibi George said she would keep it in place for the rest of the school year, while Wu she would keep it even if schools hit the 80 percent threshold (she did not elaborate beyond that).
Newsletter Signup
Stay up to date on all the latest news from Boston.com