Schools
When do Boston schools call 911? Councilors want data after student attack on principal
"We need to do something there. It's at a critical point."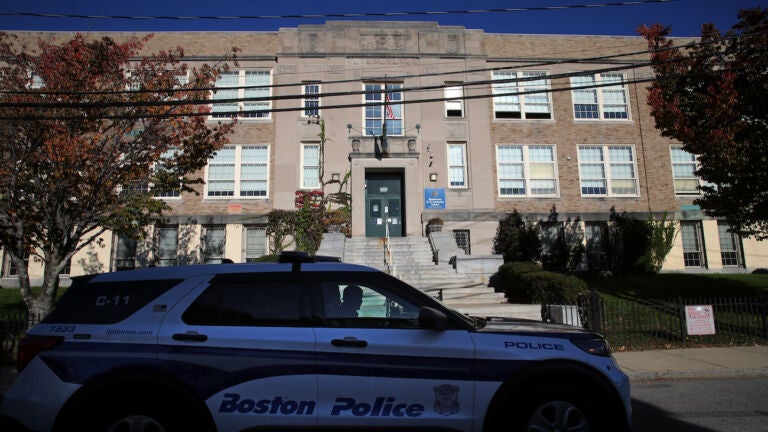 How often do Boston school officials call 911?
Frustrated by a lack of available data, Boston City Councilor Frank Baker is imploring Boston schools to release records on when educators have had to call emergency services and on what incidents have occurred but did not require outside intervention this school year.
Baker on Wednesday filed what's known as an 17F order — essentially the council's version of a public records request — that was immediately supported by his fellow councilors.
The filing comes after a 16-year-old student at the Dr. William W. Henderson Inclusion School in Dorchester attacked Principal Patricia Lampron during school dismissal on Nov. 3.
Lampron had ordered the female teen to leave school grounds. The teen, in response, allegedly punched Lampron with a closed first and pushed another staffer.
Lampron, 61, was left unconscious for four minutes and was treated for serious but non-life-threatening injuries, including a concussion, possible rib fracture, and swelling to the face and back of the head. The juvenile is now facing assault and battery charges.
"Since that happened, there's been multiple other incidents that have happened, and this isn't just teachers getting hurt or whatever. This is kids in school getting beat up, surrounded, bullied," Baker said on Wednesday. "And it's concerning."
Baker told councilors he went to the Henderson school the day after Lampron was assaulted and heard from upset and angry residents who want action from leadership.
"Half of the room was, 'We need help breaking up fights' and then the other half (was), 'We need to get to the core of the issue.' The reality is we need both," Baker said. "We need to figure out the response, the mental health response, that kids and teachers need now coming out of COVID and we also need some sort of presence there.
"I've said to the superintendent, I think we need mental health care professionals that are cross-trained in karate. Dress them like Jake from State Farm," Baker continued. "I don't particularly care what you do, but we need to do something there. It's at a critical point."
Baker also raised concerns that what happened at the Henderson school is not isolated to school grounds.
He called on the district to launch an independent investigation at the school, adding that officials there have "reason to believe that there were long standing other forms of intimidation happening."
Multiple teachers were intimidated, harassed, and even threatened over social media, he said.
"Many parents have complained in the past about actually removing their children from the Henderson because of bullying and other things, that they didn't think those concerns were taken seriously," Councilor Andrea Campbell said. "Some were not surprised by this attack, which is just really sad and distressing. There's a lot of angst in the community."
Campbell said schools must do more to inform families about incidents that occur on school grounds. Many learned about the Henderson school attack through the news media or by robocall, which she said was "absolutely unacceptable."
Baker's order filed Wednesday requires the district to inform the council what incidents, district wide, have required a police "and/or a 911" response since the start of the current school year in September. The order also asks for what incidents "have occurred but did not require a 911 response."
Police presence in Boston schools has been a fraught issue in recent years.
The district currently has the Boston School Police, who act to serve as some form of public safety in school halls.
But whether the district should continue to have school resource officers has been challenged by several city officials, who've argued police presence can often criminalize student behavior and push wayward students into the criminal justice system rather than giving them the supports they actually need.
Mayor Michelle Wu, now only days into her administration, has supported removing police officers from schools — a stance she stood by in the wake of the Henderson school incident earlier this month.
"It points to the need for us to really be investing in our young people, in our school systems, in the supports that are necessary," Wu told reporters on Nov. 4.
"All throughout the system we need — particularly in this moment coming out of the pandemic when there's been such stress, anxiety, trauma on our families — to be putting more resources into social and emotional supports, into the wraparound services that our schools should be providing," she added.
But Councilor Annissa Essaibi George on Wednesday suggested the conversations around police in schools have contributed to issues involving violence and aggressive behavior.
Essaibi George, a former Boston school teacher and Wu's mayoral election opponent, said the "significant lack of reporting" of school incidents is because of the "challenges and the worries about putting things on paper, especially as it relates to discipline, especially as it relates to violence."
"There's been a significant attack against school resource officers, school safety officers, in our school buildings, and it has created this dynamic in which our schools are very much unsettled," Essaibi George said on Wednesday.
Councilor Michael Flaherty said he's heard rumors that teachers are not allowed to call 911. He called that practice, if true, "absolutely absurd."
"I'm told that the 911 call in this instance (at the Henderson school) came from students' phones, it got that bad," Flaherty said.
Baker's order requires Wu to give the City Council the requested records within one week.
Newsletter Signup
Stay up to date on all the latest news from Boston.com