Schools
Over 1,000 Boston schools staffers call out for varying reasons as classrooms reopen
"If I have to go out and teach in a classroom, I'm going to do that," Superintendent Brenda Cassellius said.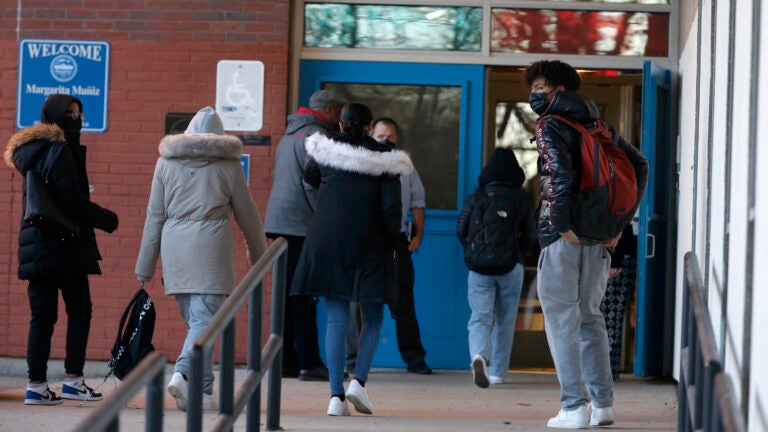 Over 1,000 Boston Public Schools teachers and staff members were out Tuesday for a variety of reasons, including being sick from COVID-19, as schools reopened from the holiday break, district officials said.
The total, or 1,074, is roughly a tenth of all district employees: Data from late 2019, the most recent available, shows BPS budgeted 10,380 staff positions for the 2020 school year.
"As the Mayor and Superintendent stated during their press availability this morning, we saw more than 1,000 school staff absences, which is inclusive of all people who work in schools — and not all of those are due to COVID, absences are being seen for a multitude of reasons," Jonathan Palumbo, a BPS spokesperson, told Boston.com in an email. "Of that 1,000, approximately 450 are teachers."
Palumbo wrote the district was in close contact with school leaders on Monday and into Tuesday as officials tried to cover as many absences as possible.
"We deployed 60 central office staff to cover core functions in schools and will stay in communication with schools and families all day," he wrote.
Superintendent Brenda Cassellius, addressing reporters outside the Margarita Muñiz Academy in Jamaica Plain, didn't rule out personally pitching in to help.
"We have our central office teams, many of us are licensed teachers, myself included. If I have to go out and teach in a classroom, I'm going to do that," Cassellius reportedly said. "But our goal is to keep classes going and keep students in person."
On Monday, BPS received and began to distribute 10,000 COVID-19 testing kits, according to WBUR. Teachers were also slated to receive 30 KN95 masks each as school officials work to navigate the surge in virus cases fueled by the omicron variant.
Cassellius said BPS has a pool of 105 stand-by replacement school bus drivers, but families should still check their "Where's My School Bus" transportation app this week as the district anticipates delays and shortages.
Newsletter Signup
Stay up to date on all the latest news from Boston.com