Schools
Michelle Wu suggests state's ban on remote learning — even due to staffing shortages — is too rigid
"DESE currently is not allowing for any remote learning whatsoever, even if it is due to staffing shortages."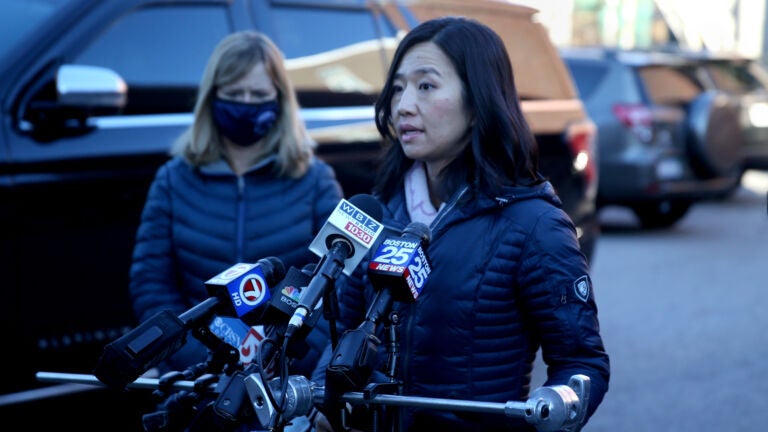 Boston Mayor Michelle Wu suggested Wednesday that she's hoping for more flexibility from Gov. Charlie Baker's administration when it comes to allowing temporary remote learning at schools dealing with staffing shortages due to the omicron variant of COVID-19.
While the Baker administration is allowing schools to use their allotment of snow days or swap out professional development days if they must cancel in-person classes due to staffing issues, state officials are not allowing remote learning days to count toward schools' required 180 days of classes.
The consistent stance comes after Baker's administration had ordered all K-12 schools to return to in-person learning last spring, criticizing schools that had stuck with remote learning for being too cautious at the expense of students' development and emotional health, given research suggesting that in-school transmission of COVID-19 is rare when precautions are in place.
However, officials are now facing a more of a math problem.
With COVID-19 infection rates soaring to unseen levels due to the omicron variant, many schools simply don't have enough teachers and staff.
In Boston, Wu said that some schools have "more than a quarter of staff absent because of positive COVID tests or other issues."
"We're doing the best we can," Wu said, adding that it "may get to the point where, on a school-by-school basis, we may need to move to a snow day."
"DESE currently is not allowing for any remote learning whatsoever, even if it is due to staffing shortages, and so we continue to talk with them about the rigidity of that policy," the mayor added. "And also we are expecting a snowstorm potentially Friday so there's lots in the mix about how we're managing the logistics and operations at the schools."
Officials say that roughly 1,100 Boston Public Schools employees were out Wednesday, including 658 teachers. The shortage has reached the point where dozens of the district's central office administrators — including Superintendent Brenda Cassellius — were forced to fill in as substitute teachers on Wednesday.
According to BPS, 47 buses were also without drivers on Wednesday.
A spokeswoman for the Department of Elementary and Secondary Education reiterated Wednesday evening that in-person learning is "critical" and that it would not allow remote learning to count toward a district's minimum school day requirements, unless the department provided permission.
Earlier this week, Baker also held firm on the subject, suggesting the local cities and towns could use federal COVID-19 funds "bring people in to deal with some of the issues they have around staff."
While he acknowledged that handling such staffing shortages could be "complicated," Baker said the "rules here are pretty simple."
"We count in-person school as school," he said. "If a school district is not open, at some point over the course of the year, they can use snow days until they run out of snow days, but they do need to provide their kids with 180 days of in-person education this year. And we'll do whatever we can to help them deliver on that."
Newsletter Signup
Stay up to date on all the latest news from Boston.com