Schools
NAACP's Tanisha Sullivan urges Boston School Committee to 'halt' superintendent search process
The School Committee chair, however, stands by the process.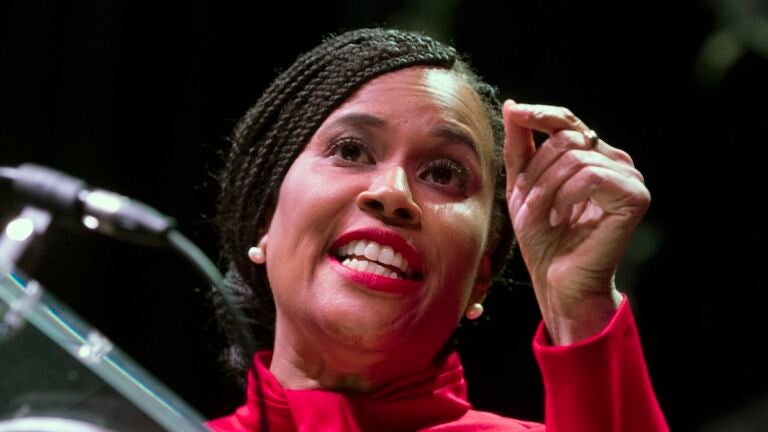 NAACP Boston branch President and Democratic candidate for secretary of state Tanisha Sullivan says the lack of diversity of and small pool of finalists for superintendent of Boston Public Schools should have raised concerns and caused the School Committee to halt the search process — an action she is now urging the committee to take.
In a letter dated Friday to committee Chair Jeri Robinson, Sullivan wrote the lack of representation in the finalist pool "should have immediately caused the process to pause, review, and reopen (if necessary).
"How can we hold school leaders accountable for representative candidate slates, if we are not leading by example at the top?" Sullivan wrote.
Last week, the committee announced and held public interviews for two finalists, Mary Skipper, the current superintendent of Somerville Public Schools, and Tommy Welch, Region 1 schools superintendent for BPS. Both have extensive experience in the school system.
The announcement followed a three-month search process. The School Committee is expected to make a final vote on Thursday.
Sullivan wrote her concern is not about Skipper or Welch. In fact, Sullivan and Skipper actually served together on the district's leadership team.
But, Sullivan wrote, ultimately, "the process is fundamentally flawed and not consistent with the principles we have worked so hard to instill and advance across the district."
"The city deserves a representative slate of finalists," she wrote, adding that, "Two finalists for a nationally respected district like Boston should raise an automatic caution flag in the process.
"Those of us who have worked with the district for years know that despite the challenges our district faces, we are still one of the best in the country and this job has historically been one of the most attractive," Sullivan continued. "The lack of interest should serve as an indicator that we need to rethink our process AND timing. The process timeline was always too rushed for a district of this caliber."
As Superintendent Brenda Cassellius departs the district on Thursday, the state Department of Elementary and Secondary Education Commissioner Jeff Riley is seeking for state education officials to declare BPS an "underperforming" district.
The designation would follow a state report last month that raised serious concerns about district operations, and after what Riley said were unsuccessful negotiations with city and district leaders to agree on an improvement plan for BPS.
Sullivan, in her letter, said the district will not be able to attract and retain a "diverse, highly qualified pool of candidates" for superintendent until the district finishes negotiations with Riley.
"All efforts and energy should be focused on working with Commissioner Riley to negotiate an agreement and avoid receivership," Sullivan wrote. "It is reasonable for any prospective candidate to be concerned about not knowing what job they will ultimately be asked to perform, and if we want our next superintendent to be successful, we should prioritize settling this significant open issue before moving forward with the selection process."
According to school officials, there were initially four finalists selected, two of whom backed out ahead of the public interview process.
In a letter responding to Sullivan, also dated Friday, Robinson wrote that of the four finalists, "one candidate was Black; one was Latinx; one was AAPI,
and one was white." Finalists were selected from an initial pool of 34 candidates.
Robinson also defended the process, writing that the committee is confident it yielded two finalists who are qualified and well suited for the job, and added the overall interview process has been "fair and comprehensive."
The committee has an obligation to students and families to appoint a permanent superintendent without delay, especially ahead of the new school year this fall, she wrote.
"While I share your disappointment that our search did not result in a more racially diverse group of public interviews, I stand by this process," Robinson wrote. "I am confident both candidates have the necessary qualifications and are uniquely positioned to lead our District forward."
Newsletter Signup
Stay up to date on all the latest news from Boston.com