Schools
Woburn schools close for 2nd day as teachers' strike continues
Late Monday night, a preliminary injunction was granted against the strike.
Woburn schools will be closed Tuesday due to an ongoing teachers' strike after the city and the local teachers' union once again failed to reach an agreement for new staff contracts.
A judge granted a preliminary injunction against the strike late Monday night, making it unclear how long the strike will last.
According to the Woburn Teachers Association (WTA), Woburn Mayor Scott Galvin and the Woburn School Committee refused to negotiate until 2:30 p.m. Monday, despite negotiations being scheduled to continue at 9:30 a.m.
The WTA, which represents 550 Woburn Public Schools Staff Members, said Galvin and the School Committee objected to the presence of "silent bargainers."
"Silent bargainers, composed of rank-and-file WTA members, are quiet observers during the negotiation process and have been part of negotiations since December," the WTA said in a news release Monday evening.
According to The Boston Globe, the state office of Labor and Workforce Development deems the use of silent negotiators permissible, but does not consider it an absolute right of bargaining parties.
Negotiations resumed in the afternoon, though it's not clear whether silent bargainers were present at that time. Negotiations ended when Galvin walked out at 8 p.m., the WTA said.
"This is simply unacceptable," WTA President Barbara Locke said in the news release. "Significant progress was made in the last few hours on improving wages for our paraprofessionals. We strongly felt that a contract could have been resolved tonight and that our educators would return to doing what they do best: teaching our Woburn students."
Galvin and the school committee agreed progress had been made during the day's negotiations in a joint statement issued Monday night.
"The Committee is steadfast in its commitment to conducting good-faith negotiations with the members of the WTA directly via its appointed collective bargaining team. We aspire to reach an agreement that's beneficial and fair to all our stakeholders, first and foremost Woburn's students, as well as faculty and our community at-large," they wrote.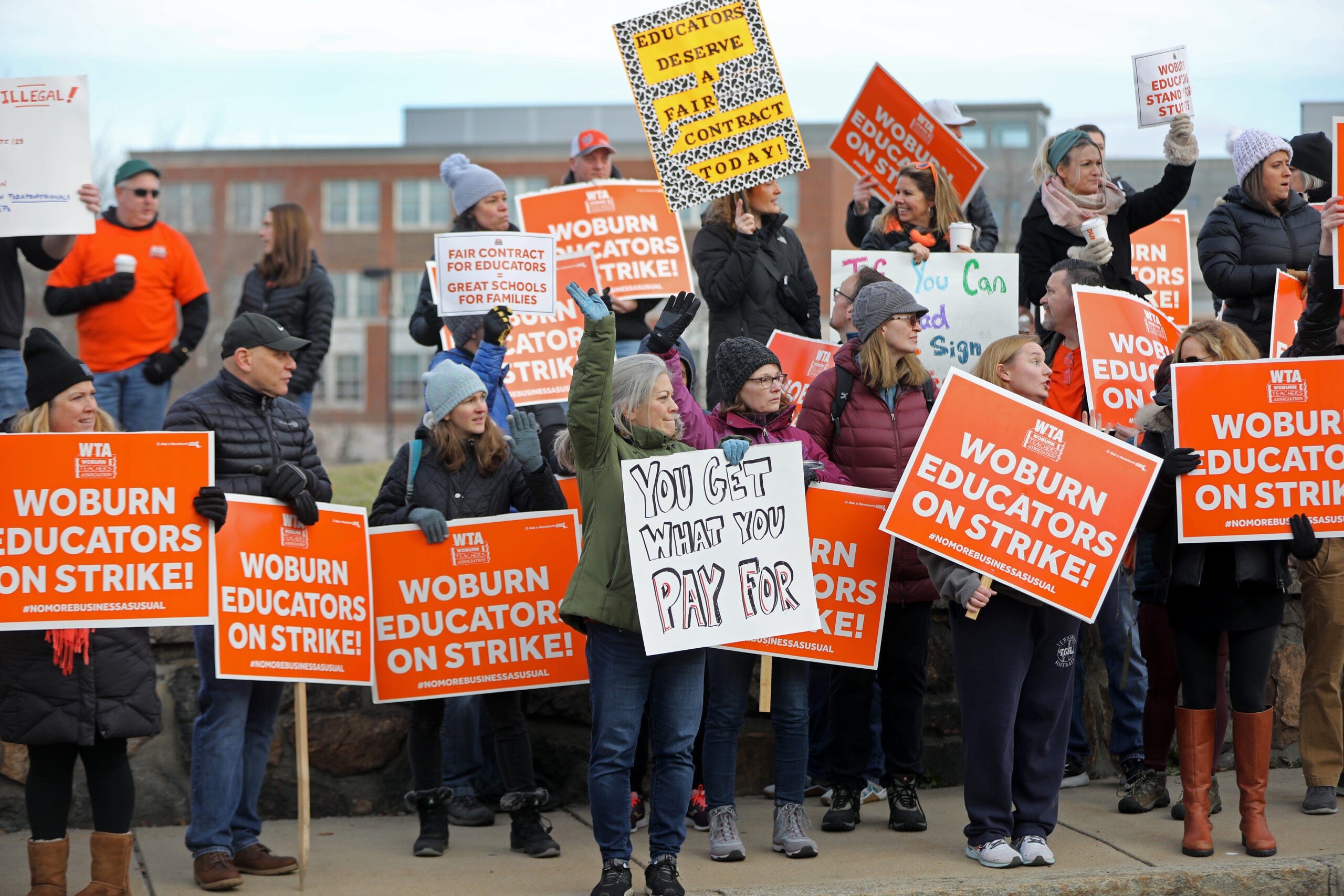 During negotiations Monday, the city moved to end the teachers' strike — a tactic that is illegal in Massachusetts — using the court system. The Globe reported that the city filed an injunction in Middlesex Superior Court, asking for the teachers to face fines if they don't come back to work.
"Their illegal strike is not going to be used as a bargaining chip and they're not going to use it to hijack negotiations," Galvin said, according to Boston 25 News. "The kids are going to be inconvenienced, the parents are going to be inconvenienced, and for the teachers to say they have no other options, it's outrageous."
The WTA was not immediately available for comment on the injunction Monday night, but said earlier that it hopes to conclude negotiations by the end of the day on Tuesday.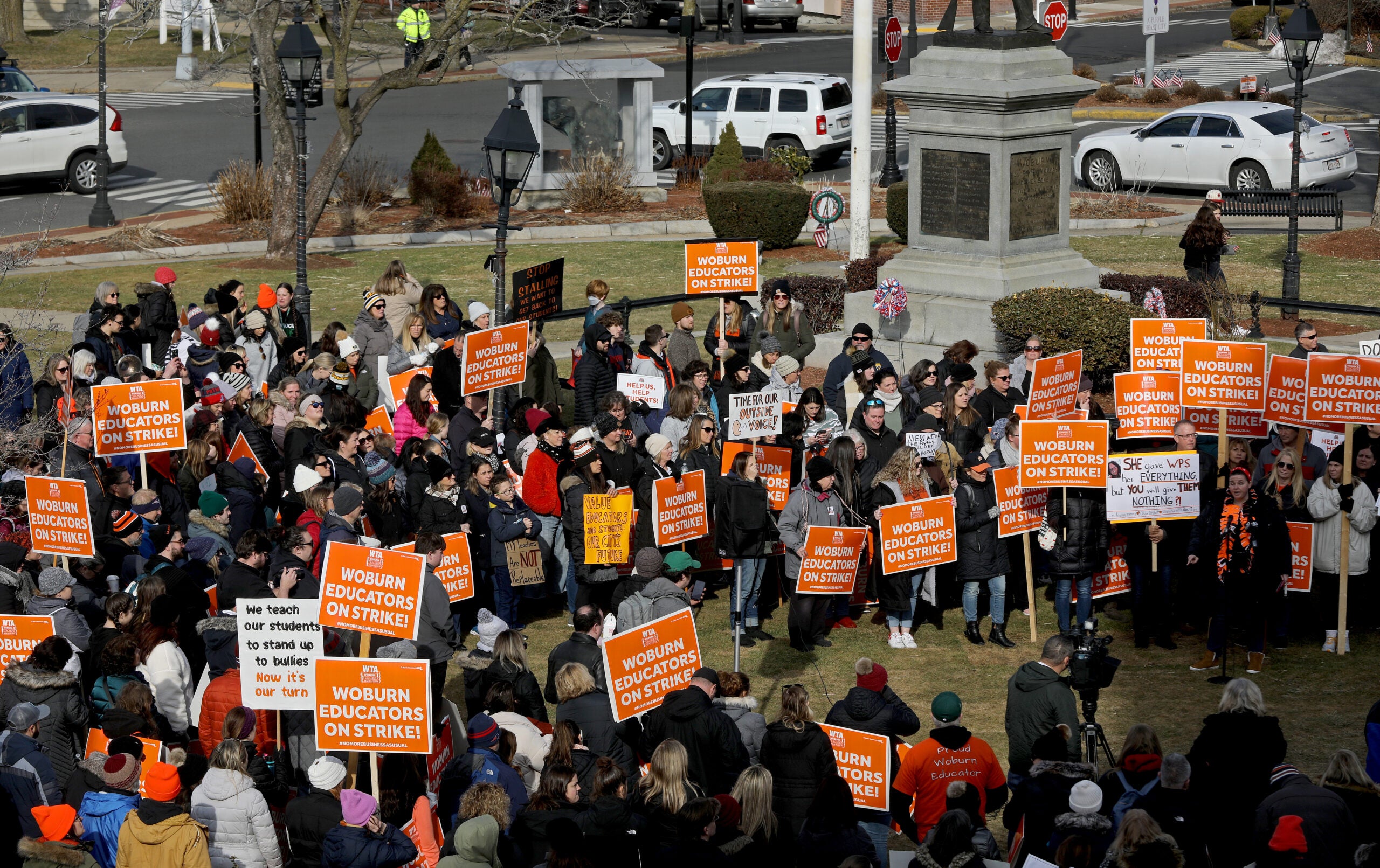 One of the biggest sticking points in the negotiations has been raising wages for paraprofessionals. The Globe reported that their current salary in Woburn is $22,000, and the union would like to see that increased to $27,000.
On Sunday, the WTA cited disagreements over compensation for paraprofessionals as the reason negotiations faltered just before 6:30 p.m. after about eight hours of negotiating.
A city spokesperson told Boston 25 News Monday that the union and the city have had about 25 negotiating sessions over the last 18 months.
The news station also reported that Galvin said the city had offered teachers a more than 10% raise over three years, but that the union is demanding a 14.75% raise, which he won't agree to.
Other goals of the WTA include mandating gym classes for elementary school children twice a week, smaller class sizes, higher wages for teachers, and pay for all workdays.
WTA members voted to authorize a strike Friday, having worked without a contract since last fall.
About 100 teachers, students, parents, and others rallied with signs and chants supporting the WTA and the strike on Monday during their fourth day of picketing.
Woburn Public Schools serves nearly 4,300 students. Students will be able to pick up lunches at their schools between 11 a.m. and 1 p.m. Tuesday, the district said.
Newsletter Signup
Stay up to date on all the latest news from Boston.com