Schools
Woburn teacher strike ends; classes to resume Monday
Schools were closed for five days as union representatives and town officials failed to reach a new contract agreement.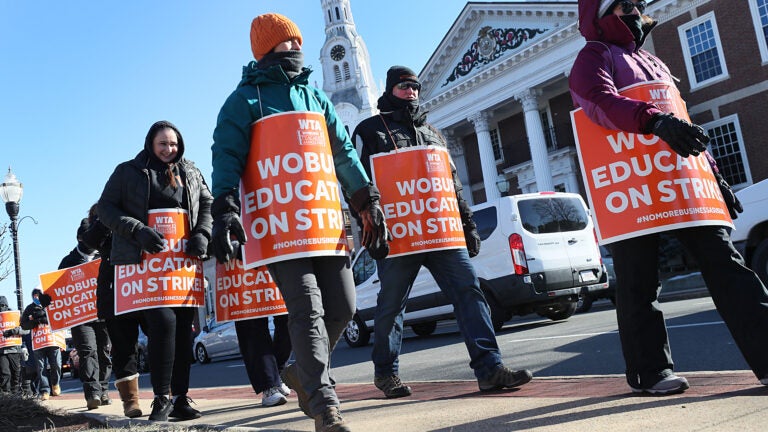 After a week of canceled classes, the teacher strike in Woburn is coming to an end. A tentative agreement was reached Sunday between the Woburn Teachers Association, Mayor Scott Galvin, and the Woburn School Committee.
Classes will resume Monday. The WTA announced the news in a release Sunday evening.
"The WTA is proud to announce a contract that significantly increases the pay for our essential Education Support Professionals," WTA President Barbara Locke said in a statement. "We are also pleased to announce a contract for our teachers that creates a more competitive wage and slightly lowers class sizes for grades 4 and 5. However, more work remains to be done."
Negotiations were halted late Friday night when Galvin "insisted on punitive fees related to return-to-work language," the WTA said. Both sides returned to the bargaining table Sunday, reaching an agreement after a daylong negotiating session.
Hundreds of teachers rallied outside Joyce Middle School Sunday morning to cheer on the WTA's negotiating team, The Boston Globe reported. Many passersby showed their support for the striking educators.
"We really took a leap when we got into this," Christy Nickerson, a second-grade teacher at Altavesta Elementary School, told the Globe. "I think that the community caught us and we are forever grateful for that."
Senator Ed Markey showed his support for the teachers Sunday, writing on Twitter that he believed a "fair and equitable" agreement could be reached.
Although striking is illegal for all public employees in Massachusetts, including teachers, educators in several communities have forced class cancellations recently due to unresolved contract negotiations. Haverhill schools were closed for four days in October due to a labor dispute, and a strike in Malden around the same time lasted one day. Last May, teachers in Brookline went on strike for one day as well.
The Massachusetts Teachers Association, which represents 115,000 employees throughout the state, has filed legislation that would give teachers the ability to strike.
"This outright ban on public employees striking is deeply unjust, prevents educators from bargaining on a level playing field with their employers, and unfairly restricts the ability of educators to take collective action in support of themselves and their families, their students and the communities they serve," the MTA said in a release about the issue.
In a recent interview with WBZ-TV's Jon Keller, Gov. Maura Healey said that she does not support the legislation. The new governor said that she wants to see educators getting adequately compensated, but that the priority needs to be keeping kids in class.
"Every day when I see kids out of school because of a strike, my heart just breaks because kids have been through enough in terms of learning loss and the like," Healey told Keller.
Newsletter Signup
Stay up to date on all the latest news from Boston.com