Schools
'Extremely concerned:' Mass. inspector general urges BPS to get school buses running on time
Boston school leaders may soon sign a new contract with a bus vendor that has struggled to get students to class by the first bell.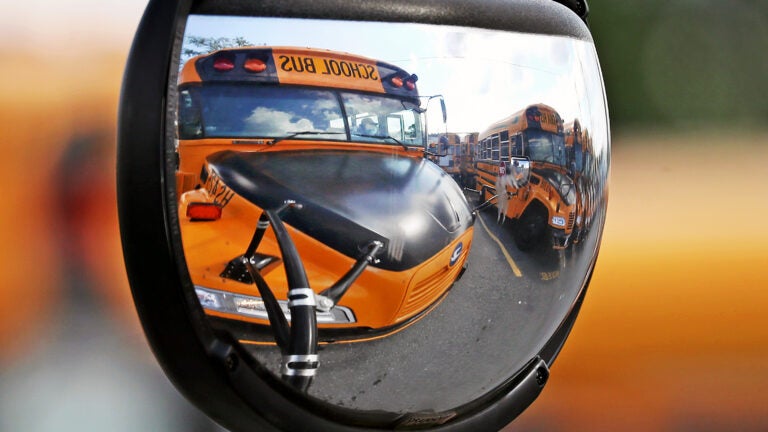 The Massachusetts inspector general's office expressed serious concerns over the Boston Public School's bus vendor's ability to deliver students to class on time as the district is anticipated to re-sign the company despite longstanding issues with on-time arrivals.
"The office remains extremely concerned about Transdev's failure to consistently deliver students to school on time in the past and questions whether Transdev will be able to do so in the future," Inspector General Jeffrey Shapiro wrote in a letter to BPS Superintendent Mary Skipper on Tuesday.
The comments come following a two-month state probe into how Transdev Services, Inc., the district's transportation provider since 2013, came to be the sole bidder as BPS seeks to fulfill a new, five-year contract.
According to Shapiro's letter, the Boston School Committee could vote on the contract later this month after a presentation from Skipper.
On-time bus arrivals have long plagued BPS.
A separate review by the state Department of Elementary and Secondary Education published Friday found that between October 2021 and October 2022, late buses and those that failed to arrive for students at all denied students with disabilities the safe ride to school the district is legally obligated to provide.
The district is also bound by an agreement with DESE to improve on-time bus performance.
Last year, under the city's deal with DESE to avoid a state takeover of BPS, officials agreed to achieve a district-wide school bus on-time arrival rate of 95% or better each month and to ensure 99% of buses arrive at schools within 15 minutes of the first bell.
Still, late buses and other transportation woes persisted into the fall.
On the first day of school in September, only half of buses arrived before the start of classes, with 77 percent of buses arriving within the first 15 minutes and 92 percent of buses eventually making it to school within the first 30 minutes. Punctuality improved on the second day of classes, though the district fell short of the 95% threshold, with 72% of buses arriving on time.
Reporting accurate bus arrival data has also been an issue for BPS — another point Shapiro addressed in Tuesday's letter.
Geofencing around each school building is supposed to signal when a bus arrives via a GPS system, Shapiro wrote. But the fencing, over time, "has become misaligned and no longer corresponds with the bus stops at some schools" and a handful of GPS units regularly malfunction, Shapiro's letter noted.
"This must change," Shapiro wrote. "Improving the procedures, assigning properly skilled and dedicated staff to this critical business function and moving manual processes to automated ones must be a priority of yours for any contract that results from this procurement to be successful."
Shapiro's letter also outlined how BPS should craft its forthcoming contract to provide more accountability, but did not write about any perceived flaws in the bidding process.
In a statement Wednesday, a BPS spokesperson told Boston.com the district appreciates the inspector general office's expertise and guidance and is "thankful for the opportunity to have had the IGO review the bid process to help ensure public accountability for this critical procurement."
"The IGO's recommendations for contract administration will facilitate better outcomes for our students, especially given the complexity of the district's transportation needs," the spokesperson said. "In line with the IGO's recommendation, BPS has already completed the majority of the work necessary to prepare a fully integrated contract.
"We look forward to our continued work with Transdev and partners across the city and state to keep improving our transportation systems for our young people," the spokesperson's statement continues. "BPS is committed to a continuous effort to provide safe, reliable, and on-time transportation for our students."
According to Shapiro, the five-year agreement, if approved, could allow for the district to grant five, one-year extensions of the contract.
Shapiro said BPS should evaluate whether the district should continue working with Transdev by the beginning of the third year.
"If BPS delays that decision until later in the contract period, it risks the new contract becoming a ten-year contract," Shapiro wrote.
Newsletter Signup
Stay up to date on all the latest news from Boston.com