Schools
'The most terrifying 20 minutes of my life': How swatting is affecting Mass. communities and what authorities can do to help
Hoax active shooter calls negatively impact students, teachers, parents, first-responders, and even taxpayers.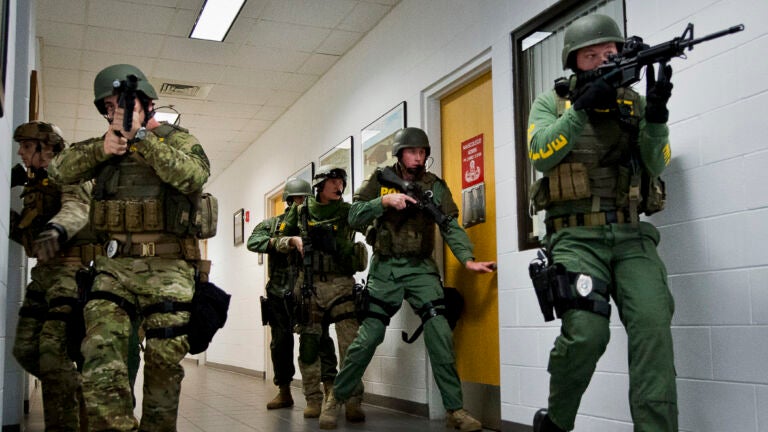 Ardyth Hulse was just about to leave Malden Catholic High School Tuesday morning after dropping of her 17-year-old son when Malden police burst through the front door.
"He said, 'Where's the shooter?! Where's the gun?!" Hulse recalled.
Hulse and the other people in the front office were confused and didn't know what to do, but soon the school's principal came out and told everyone to go into lockdown.
The school nurse pulled Hulse and a few other people into the nurse's office before locking the door and turning off the lights.
"We had no idea what was going on," Hulse recalled.
Hulse waited with the others in the dark, terrified of what might be happening to her son.
"I thought my kid was in the library, which is a wide open space with all these windows," she said. "It's a beautiful library, but not the best place to be if you're trying to hide from someone."
Hulse said she was scared to call or text her son for fear his phone would help a shooter locate him.
"I'm having all these horrible visions in my head," she said.
Over the next 20 minutes, Hulse said, people in the nurse's office with her cried, panicked, and prayed.
Finally, someone came to tell them the active shooter call was fake, and that it was safe to come out.
"It was about 20, 25 minutes from start to finish, but it was the most terrifying 20 minutes of my life," she said.
How swatting is impacting people inside schools
Mac Hardy, director of operations of the National Association of School Resource Officers, said one of his biggest concerns about so-called swatting calls is the emotional harm they can do to students.
"Can you imagine the impact of the fear, the emotional trauma on the adolescent brain?" he said.
Even though Hardy has yet to see a student become severely traumatized by a swatting incident, he said it doesn't help that students are still recovering from emotional setbacks caused by the pandemic.
"We're hoping the schools are looking at the mental toll that it's taken on these students," he said. "And don't forget the teachers, because they're responsible for those 20 to 30 students in their care at that time."
What schools can do to help
Hardy said schools should provide students and teachers with crisis teams they can go to for emotional support after a swatting incident. School councilors may also want to hold group sessions where students can talk about their experiences and lean on each other.
"We need to make sure that we're covering the emotional needs of everybody involved," he said.
But even before a crisis happens, Hardy said it is important for teachers and other staff to make sure every student feels there is at least one adult at the school that they can go to when they are in distress.
"Make sure that every student in the building has a trusted adult, that there's an adult inside the building that has a relationship with every student. We don't want students left out," he said.
How swatting is impacting people outside schools
As scary as swatting incidents are for people inside the schools, they can do harm to people outside the schools as well. Hardy said the public safety response these calls generate pulls police coverage from the rest of the city or town, leaving them more vulnerable to crime and other dangerous situations.
This is an even bigger problem now that the trend with swatting calls is to concentrate on one geographic area. First-responders from nearby towns normally help cover a city or town when that municipality's own first-responders are tied up, Hardy said. But with swatters targeting an entire region, those first-responders may now be responding to their own crisis at the same time, making them unable to help their neighbor.
Additionally, Hardy said, such a big public safety response costs municipalities lots of public money.
Swatting calls can also impact first-responders and parents personally. People forget that the emergency personnel responding to the calls often have children attending those schools, Hardy said. One officer in Georgia even got in a car accident because he was driving too quickly while trying to respond to a swatting call.
And after the tragic school shooting in Uvalde, Texas, Hardy said, police are seeing parents put themselves in harm's way by rushing to a school after a report of a shooting to try to save their children themselves.
What police departments can do to help
The biggest thing police departments can do to help mitigate the impact of a swatting call is to have a school resource officer at the school at all times, Hardy said. That way, if someone reports a shooting at a school, the officer can quickly assess the situation and determine whether the call is real or likely to be a hoax.
If the school resource officer thinks the call is probably a hoax, Hardy said, they can tell other first-responders that they don't need to rush, and that they can send a "limited response."
Even so, Hardy said, police departments should always take reports of school shootings seriously and be ready to handle such a situation if it arises.
"We don't want to say, 'Well, we're not going to really respond until we find out if it's true,' because, as we've seen in so many of these active shooter situations, seconds count," he said. "So that initial response needs to be us responding as if it's a legitimate call."
Public safety dispatchers can also help first-responders determine if a school shooting call is a hoax. Hardy said that if the shooting is real, a dispatch call center will almost certainly be inundated with calls. But if there's only one call reporting the shooting, it's likely to be fake.
Additionally, Hardy said, a hoax caller may sound robotic or scripted instead of frantic and scared like a person reporting a real school shooting would sound. Sometimes, when the call is fake, dispatchers can even hear people laughing in the background.
What happens now
Unfortunately, Hardy said, because modern technology has made it easy to disguise the number someone is calling from and their location, law enforcement is having a hard time tracking down the people who are making swatting calls.
The calls could easily be coming from out of state, or even from outside the country, Hardy said, a possibility confirmed by an FBI official in November, according to the Associated Press. Police also can't seem to figure out why people are making these calls.
"Is it to cause trauma in the schools? There's just no purpose for the calls besides that. So it's unnerving."
Scared in Malden
At Malden Catholic, it turned out, Hulse's son had gone to the cafeteria to finish his breakfast instead of the library. From there, he was evacuated from the school and taken to the Malden police station.
While Hulse was worrying about her son's exposure in the library, he was safely away from the school and worrying about her, knowing she was still there.
"He's varsity football, tough guy … But when I came out he practically tackled me and was sobbing uncontrollably because he was really scared that something had happened to me," she said.
Hulse brought her son home even though the school encouraged students to stay. After that experience, she said, she didn't think he'd be able to concentrate.
Newsletter Signup
Stay up to date on all the latest news from Boston.com