Schools
A proposed book policy in Western Mass. could allow elected officials to override school librarians
The American Civil Liberties Union says the book policy would be unconstitutional.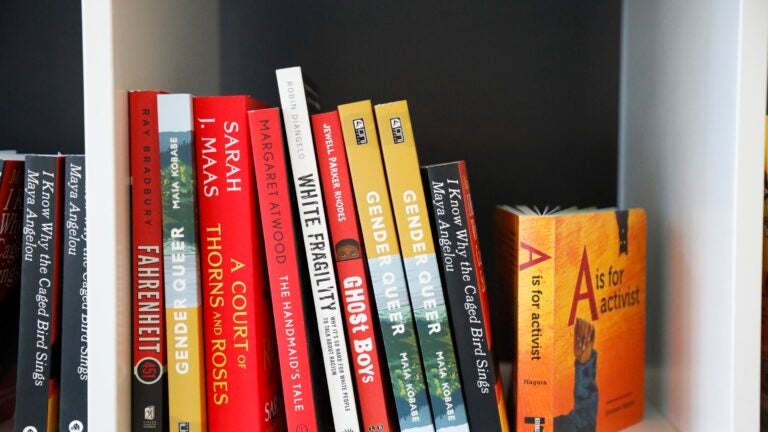 As libraries nationwide face a record number of book challenges in recent years, some parents and officials are bringing the fight to a Western Massachusetts school district.
Last month, a Ludlow School Committee member proposed a school library book policy that could allow elected school committee members to override a librarian's authority to place materials in the library catalog. It also aims to redefine materials — such as content defined as sexually explicit by the policy — for certain age groups.
Jennifer Varney, president of the Massachusetts School Library Association, said it would also make it easier to remove books from the library's collection.
Proposed Ludlow School Library Book Policy on Scribd
The school committee had an open meeting about the policy on May 23, which resulted in a two-hour conversation amongst community members, both for and against the proposal. Another round of discussion is scheduled for the next committee meeting on June 10.
Joao Dias, the school committee member who proposed the library book policy, said the intention is to set up "guardrails" and give clear guidance on what should be allowed in library circulation. He also said there currently aren't any guidelines "readily available" for parents who wish to challenge books.
The policy, he added, would help librarians by specifically defining sexually explicit content.
"In the event that a librarian feels that something is objectionable because it violates those policies, they're able to not bring in a book that might otherwise be offensive and against the law to have in the library," he said. "It also allows a librarian to bring in material that's relevant and has all viewpoints open and available to everyone, as long as it's not violating obscenity and pornography laws."
Obscenity access vs. free speech
At this point, the American Civil Liberties Union is involved. Ruth Bourquin, an attorney at the ACLU, wrote a letter to the district, calling on them to reject the policy.
"[The policy] is written so broadly and so vaguely that it will suppress things that aren't really even consistent with people who are promoting it," she told Boston.com in a phone call. "It's bad from top to bottom."
She added that she believes the policy in Ludlow violates the state's constitution, and no one parent or group of parents "have a right to suppress other children's access" to library materials.
Dias he said as far as he is concerned, the ACLU has "no standing in the policies that a local community makes." He added that the policy is meant to deal with obscenity and pornography access, not free speech.
"It clearly defines parameters," he said. "It doesn't target any viewpoint, it doesn't target any group, it doesn't target anyone. So I'm not exactly sure whose rights we're violating. The First Amendment doesn't give anyone the right to expose children to pornography."
Ludlow is currently following guidance from the American Libraries Association, and decisions for adding or removing library materials are made by librarians and sometimes school administrators. It is abnormal for an elected official to have a say in what materials are permitted in the school library.
Varney of the Mass. School Libraries Association said she believes this policy would be "the first of its kind" in the state in terms of allowing such measures from elected officials. She called the proposal "unnecessary," and added that librarians are trained to determine what is appropriate for their catalogs.
"They have extensive training," she said. "They're very thoughtful about their purchases, and it's really part of their professional duties. So this seems like an extreme level of oversight that isn't necessary."
She compared the policy to one that would require approval before the school nurse administers an ice pack.
For and against 'Looking for Alaska'
One of the books in Ludlow school libraries that is currently being called out for sexual content is "Looking for Alaska," by John Green, which was referenced in the May meeting. Community member Bella Soares read a passage from "Looking for Alaska" that references oral sex.
She said it was "pornography" and lamented that it was available for sixth, seventh, and eighth grade reading, when students are typically 11-13 years old. The fight, she added, is not about LGBTQ issues, but about obscene and pornographic materials available in the school library collection.
This is not the first time the book has faced public backlash.
In 2015, Green — also the best-selling author of "The Fault In Our Stars" and other novels — made a YouTube video in response to "Looking for Alaska" being the most challenged book of the year, commenting that "teenagers are critically engaged and thoughtful readers." He added that his descriptions of a sexual act are far from pornographic.
"I don't think readers find it titillating," he added.
He highlighted that he is not one of the "highly trained, criminally underpaid" librarians trained to decide what is appropriate and should be included in a catalog.
'Reason above prejudice'
Genevieve Sarnak, a librarian at Baird Middle School whose full-time job was recently cut, said at the meeting that "librarians place principle above personal opinion and reason above prejudice in the selection of" library materials. She added that they strive to have diverse topics in the system, including books that represent all groups.
"The library provides materials that aim to stimulate growth in factual knowledge, literary appreciation, aesthetic values, and ethical standards," she said. "The goal of these materials is to provide background information that enables students to make intelligent judgments, as well as to offer opposing views of controversial issues in order to develop the practice of critical reading and thinking."
Ludlow's proposed policy is based on school library guidance put in place in a Philadelphia area school district last year.
More than 50 books are currently or have been under review in that district, according to the library's website. Last month, two books involving LGBTQ+ subject matter — "Gender Queer" and "This Book is Gay" — were taken out of circulation, WPVI Philadelphia reports.
Bourquin said the Philadelphia district is "notorious for being a hostile environment for children who may be LGBTQ," and that it's telling that they have a policy like this in their libraries.
"It does not speak very well for those who would copy such a place," she added.
Note: This story has been updated to more specifically reference the location of the Phildelphia district that pioneered this type of policy.
Newsletter Signup
Stay up to date on all the latest news from Boston.com