Schools
Former social worker who posed as Boston student 'has severe mental health challenges,' lawyer says
Shelby Hewitt posted $5,000 bail, but was ordered to stay away from Boston schools, and was barred from practicing social work.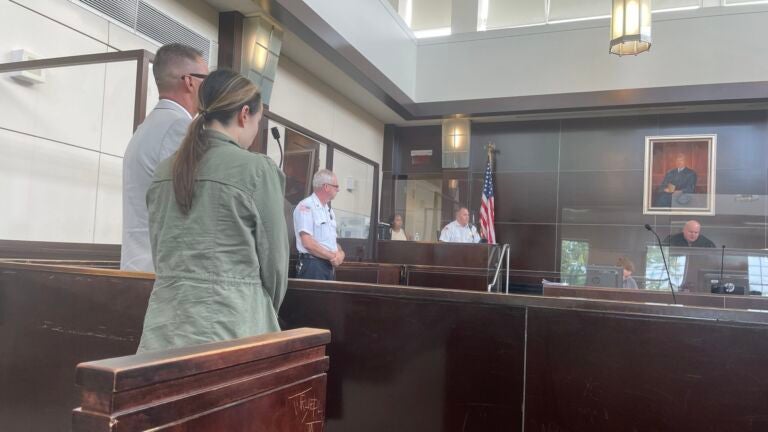 A former state social worker who posed as a Boston Public Schools student was released on bail Monday during her arraignment for fraud charges, NBC10 Boston reported.
Canton resident Shelby Hewitt, 32, was arraigned in West Roxbury Municipal Court on charges relating to allegations that she attended three Boston high schools during the 2022-2023 school year under fake identities and used forged documents to register with the schools.
Authorities have charged Hewitt with four counts of document forgery, two counts of uttering a false writing, and one count of identity fraud.
Hewitt allegedly attended Jeremiah E. Burke High School in Dorchester, Brighton High School, and English High School in Jamaica Plain under fake names such as "Daniella" and "Ellie."
Hewitt was discovered in June when a man posing as her father told staff at English High School that he was going to transfer her to a new school because she was being bullied. This prompted an administrator to look more closely at her registration paperwork, which they quickly realized was suspicious.
Hewitt's arraignment
During Hewitt's arraignment, she didn't speak, but got red-eyed and teary and could be seen shaking, The Boston Globe reported. Her lawyer, Timothy Flaherty, entered a not guilty plea for her.
"This is a young lady that has severe mental health challenges, and she has been dealing with it on a life-long basis. It is well-documented, and she is continuing to deal with it," NBC10 Boston reported Flaherty saying.
Flaherty reportedly said Hewitt has been receiving mental health treatment since she was charged, but would not elaborate on any specific diagnoses. He told reporters that she was "unsettled" by the arraignment, and people in the courtroom could hear her crying after she exited the room, the Globe reported.
Hewitt has a master's degree in social work from UMass Boston and no criminal record, the Globe reported.
The judge set Hewitt's bail at $5,000. She was also ordered to stay away from public Boston schools, to cease contact with two people involved in the case — including a person who posed as her parent, and was barred from practicing social work, the Globe reported.
Why did Hewitt pose as a student?
When asked why Hewitt posed as a student, the Globe reported that Flaherty deflected the question.
"I think the 'why' is sort of irrelevant frankly," Flaherty reportedly told the news media. "If I were a person of authority in charge of safeguarding our students, I would be asking 'how.'"
Flaherty said during the arraignment that he didn't think authorities would uncover any "sinister activity" by his client, the Globe reported.
Hewitt attended public Boston schools beginning Sept. 7, 2022, and ending June 14, the Globe reported. No reports have emerged of Hewitt harming any students or staff at the schools.
Students at the schools she attended said previously that she was quiet and very intelligent, but that her life story kept changing. They said she was suspiciously well-dressed, drove a car to school, and looked too old to be in high school.
The students also said Hewitt was known for having emotional outbursts at school. She even joined the girl's basketball team, and one of her "parents" came to games to watch her.
What evidence police have uncovered
Last month, police executed a search warrant at a Jamaica Plain home where Hewitt lived with two people who allegedly posed as her parents, the Globe reported. The Boston Herald identified those people as John Smith and Rebecca Bernat, both 48.
At the home, police found five Lowell Juvenile Court documents forged with the names of two people whose initials match names Hewitt is said to have used, the Globe reported. Those names belong to real people, one of whom told police she hadn't given Hewitt permission to use her name and that she didn't even know Hewitt.
Police also found fake documents purported to be from the Department of Children and Families with custody information for the two fake identities, the Globe reported. The social worker listed on the documents does not seem to exist.
The department said previously that Hewitt worked for them off and on beginning in 2016 up until February 2023, the Globe reported.
Hewitt is due back in court on Aug. 29 for a pre-trial hearing, the Herald reported. She faces up to 10 years in prison if convicted.
Newsletter Signup
Stay up to date on all the latest news from Boston.com