Schools
Police investigating after Scituate schools' diversity director targeted with makeshift grave
"We know what it looks like when we feed negativity, when we feed the mentality of war kind of thing. We know how that works."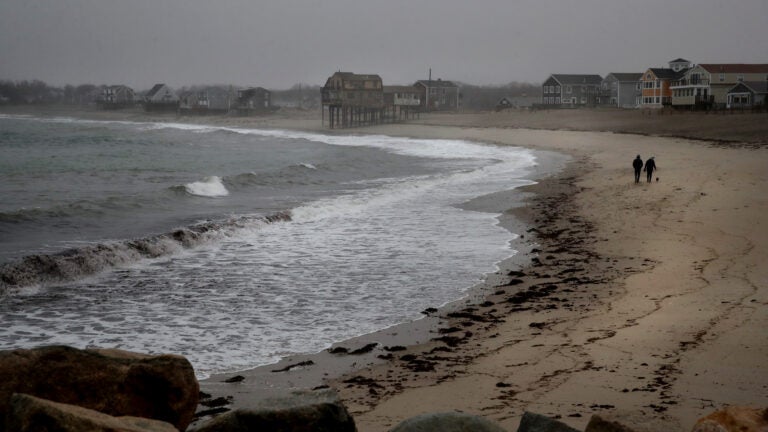 Community groups in and around Scituate are speaking out after a mock grave and tombstone on a local beach appeared to target the school district's director of diversity, equity, and inclusion.
Scituate parents recently sent Superintendent of Schools Bill Burkhead two photos taken on Museum Beach, which appeared to show a grave in the sand and a makeshift headstone, according to a July 21 letter from the town's School Committee and Select Board.
The marker featured the words, "In loving memory of…" and a misspelled name that town leaders believe referred to DEI Director jamele adams, the letter explained. adams, who styles his name with lowercase letters, joined the school district in 2021.
He said in a phone interview Thursday that he was celebrating a recent graduation with his daughter when Burkhead called him with the news. At first, there was disappointment, anger — a lot to process.
Then adams "locked in on love."
"OK, how do we rise out of this, and what do we need to do and how do we allow love to be present," he recalled thinking.
adams said the incident strengthened his commitment to his DEI work and gave it clarity, fueling the focus on love, inclusion, and trust. He wants those responsible for the headstone to feel that unity, too.
"We know what it looks like when we feed negativity, when we feed the mentality of war kind of thing. We know how that works," he said. "We also understand the sustainability of love and the power of love. … It's different and infectious."
Scituate responds
In their joint letter, school and town officials condemned the "vile act," extending an apology to adams and offering "unequivocal support" for the school official and his work in the community.
"Scituate takes pride in being a welcoming, inclusive community," the letter reads. "Any words or actions that threaten or demean members of our community are unacceptable, will not be tolerated, and will be addressed with appropriate consequences. We urge parents to talk with their children about the impact of their words and actions."
The Scituate Police Department has launched a formal investigation, according to the letter, which Burkhead and Town Administrator James Boudreau co-signed. Separately, the Select Board is also working with the town's Diversity, Equity & Inclusion Committee on the matter.
Scituate Police Chief Mark Thompson told Boston.com in an email that the incident remains under investigation, and authorities believe it was an isolated act.
"Our community will not tolerate acts of bias, hate, or destructive criminal behavior," Thompson wrote. "We continue to work collaboratively with the school district and community partners; while urging parents to speak with their children about the impact of their words and actions."
Scituate police are asking anyone with information to call 781-545-1212 or submit an anonymous tip online.
'We must do more as a community'
Meanwhile, several community groups throughout the South Shore have voiced support for adams.
The DEI-minded community organization Scituate Together for Representation, Inclusion, Diversity, and Equity (STRIDE) wrote on Facebook that adams has lent expertise and knowledge not only to the town's schools, but also the wider community.
"Incidents like this one demonstrate just how entrenched racism and bigotry are on the South Shore and in Scituate," the group wrote. "We are heartened that the Scituate Police Department is treating this incident with the seriousness it deserves and are grateful that the Selectboard and the School Committee have jointly condemned the actions of this person/s. But we must do more as a community."
Scituate Pride, a nonprofit organization focused on the town's LGBTQ+ community, said in a statement that adams "has been a beacon of love and kindness." Several South Shore community groups also co-signed a letter condemning the act and expressing solidarity with adams, who said he's received emails and texts from throughout the community.
He said some of the most powerful words have come from Scituate students, ranging from elementary schoolers to teens and alumni.
"It's important to emphasize the response of the community is so important — it's everything, and it makes all the difference," adams said.
He added: "When hate shows up, show them more love."
Newsletter Signup
Stay up to date on all the latest news from Boston.com