Schools
4 takeaways from the Globe Summit panel on the future of higher ed
Three local university presidents discussed how the industry is rebounding from the pandemic years.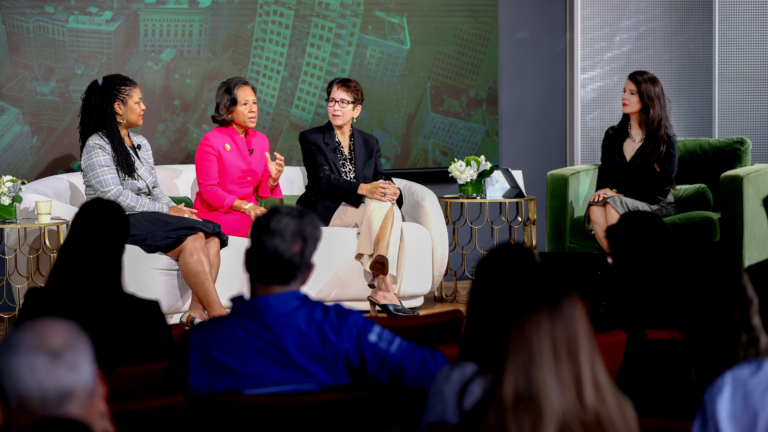 What does the future of higher education look like? That's the question Boston Globe Media CEO Linda Henry posed to three Massachusetts college and university presidents Tuesday morning, asking them to forecast the industry's response to political upheavals and students' changing expectations as we emerge from the pandemic era.
The panel kicked off the third annual Globe Summit — a public forum hosted by The Boston Globe convening industry and thought leaders from across Boston and New England, on topics from AI to urban development to youth leadership.
Benjamin Franklin Cummings Institute of Technology President and CEO Aisha Francis, Wellesley College President Paula Johnson, and Suffolk University President Marisa Kelly lead markedly different institutions. Franklin Cummings Tech is a two-year technical and trade college; Wellesley is a highly-selective liberal arts college; and Suffolk is a medium-sized research university. But the three presidents found common ground on many of the trends shaping higher education today. Here are four takeaways from their conversation.
Campuses are coming alive again.
Francis, Johnson, and Kelly agreed that there's a renewed energy on their campuses this fall.
"Our campus is alive in a way that it hasn't been in a while," Johnson said. "Last year we were kind of emerging from the pandemic, and this year really feels like we are back."
"We are so excited to be fully back," Kelly agreed.
That's not to say that transitioning back to fully in-person instruction and programming has been without its challenges.
"There was a mental health crisis [exacerbated by] the pandemic," Johnson acknowledged. "Students lost some of their critical social development years." Wellesley is committed to supporting students' development outside of the classroom, she said, knowing that their education was disrupted for years by COVID-19.
Colleges and universities are thinking carefully about how they market themselves to students.
As colleges and universities emerge from the shadow of the pandemic, they're conscious of the fact that expectations of higher ed have evolved.
Students are "more interested than ever in flexibility," Francis said. That means new course modalities, and "shorter bursts of higher education" in the form of certificate programs and accelerated courses.
Prospective students want to know that a Franklin Cummings Tech education will create tangible value in their lives, Francis said.
"Making sure that folks know that we are educating today's workforce is really important to us," she said. "Inclusivity, belonging, and relevance … is what's important to us."
Suffolk, too, is reminding students and community members alike of the practical value its degrees confer.
"We're an important economic engine for this state," Kelly said — both as a job creator for thousands of faculty and staff, and in terms of the 70% of graduates who choose to live and work in Massachusetts after they leave Suffolk.
The SCOTUS affirmative action decision could have implications for higher ed institutions of all types.
Institutions of higher education are more than just job creators, though. They train students to engage with their communities, explore their passions, and connect across differences. But the Supreme Court's recent decision to ban the consideration of race in college admissions will threaten some schools' ability to do that, the panelists said.
Wellesley will likely feel the impact of the SCOTUS decision the most, Johnson said, because it's a highly-selective school that previously used affirmative action to diversify its student body.
"Our commitment to maintaining the diversity that we have is significant," Johnson said. "We've invested more in admissions, there's more on-the-ground work in terms of continuing to build relationships with high schools and community-based organizations."
Suffolk considers itself an "access and opportunity institution," Kelly said, that's been able to attract a diverse student body without considering race in admissions. But that doesn't mean the university will be spared from future battles over race in higher ed.
"What's the next shoe to drop?" Kelly wondered aloud. If lawmakers restrict universities from tracking students' race once they've enrolled, for instance, Suffolk would struggle to monitor post-graduation outcomes for its students of color, which would set back its career equity initiatives.
Students are as curious and engaged as ever.
Despite recent upheavals in the field, all three educators remain optimistic about their work.
Francis admires how "hyper-focused our students" — many of whom hail from Boston's Dorchester, Roxbury, Mattapan, and Hyde Park neighborhoods — "are on their local neighborhoods and communities."
"On the whole, higher ed is a hopeful place to be," Johnson agreed. "[Students'] excitement about coming to college, learning, getting the skills, thinking about the major issues of the world they want to be a part of — that's real, and it's tangible. And that's our job, to keep that fire alive."
Correction: A previous version of this article incorrectly attributed this quote, "We're an important economic engine for this state," to Wellesley College President Paula Johnson.
Newsletter Signup
Stay up to date on all the latest news from Boston.com