Schools
Will top schools continue 'legacy' admission preferences? Many say yes.
Yale, Cornell, Duke, Brown, Vanderbilt and Emory universities all confirmed this week that they would consider the legacy ties of high school seniors who apply.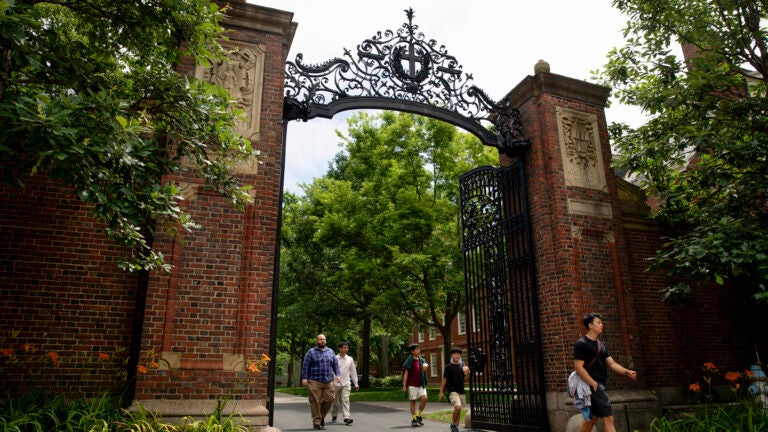 Many big-name colleges will continue to boost applications from children of their alumni, despite intense scrutiny of so-called "legacy" preferences from government officials and others after a landmark court ruling against race-based affirmative action.
Yale, Cornell, Duke, Brown, Vanderbilt and Emory universities all confirmed this week that they would consider the legacy ties of high school seniors who apply to enter next fall. Dartmouth College had said the same last month. Harvard University's admissions website continues to state that "Among a group of similarly distinguished applicants, the children of Harvard College alumni/ae may receive an additional look."
Legacy preferences, which often favor the White and wealthy, often raise admission chances significantly at colleges that deny 80 percent or more of applicants.
Some schools, though, are publicly rejecting the practice. New York University, Michigan State University and Bryn Mawr College all told The Washington Post they do not use legacy preferences and will make that clear on a survey, known as the Common Data Set, that had previously shown otherwise. Carleton College announced on Aug. 31 it will no longer consider family connections in admissions.
"We believe that our goal of expanding access makes this the right time to discontinue legacy preference," Carleton's president, Alison Byerly, said in a statement. With that, the liberal arts college in Minnesota joined a small group of private schools that ignores alumni lineage when choosing a class. Among them are the Massachusetts Institute of Technology, Johns Hopkins University and Amherst College.
On Thursday, a report from the Education Department urged colleges to consider eliminating legacy preferences, asserting that they "can hinder socioeconomic and racial diversity and further benefit privileged students instead of expanding opportunity."
But the broader movement to end legacy preferences appears to have hit a wall.
Relatively few of the most competitive private colleges and universities have renounced the legacy factor. Even some public universities, such as William & Mary and the University of Virginia, are continuing the practice. William & Mary said children of alumni tend to accept admission offers at a rate comparable to those who have visited the campus or participated in an admission interview, and they enroll at a far higher rate than other admitted students. That is one reason the legacy factor plays a crucial role for colleges mindful of the imperative to meet enrollment targets.
The University of North Carolina at Chapel Hill told The Post it will continue to take an extra look at legacy applicants from out of state. "This does not guarantee they will receive admission," the university said. This preference is not given to children of alumni from within the state.
Some universities have postponed the issue by appointing task forces to study admissions procedures. "Colleges are just hoping that nobody's going to notice they haven't done much of anything to actually remove barriers to access in admissions," said James Murphy, an opponent of legacy preferences with the group Education Reform Now.
Questions about legacy policies come at a sensitive moment for higher education. In June, the Supreme Court struck down race-conscious admissions programs at Harvard and UNC-Chapel Hill in a ruling with consequences for colleges across the country. Higher education leaders fear the decision will lead to lower enrollment of Black and Latino students and others from underrepresented backgrounds.
Meanwhile, critics say legacy preferences give an unfair edge to many White students whose parents and grandparents happened to graduate from elite schools. President Biden has questioned the fairness of legacy admissions. A Washington Post-Schar School poll last fall found 75 percent of Americans say it is inappropriate to give preferential treatment in admissions to children of alumni.
The Education Department opened a civil rights inquiry into Harvard's admissions practices after a group complained in July that the university's legacy preference discriminates against applicants of color.
Harvard has said it is reviewing its admissions policies to ensure they comply with the law "and to carry forward Harvard's long-standing commitment to welcoming students of extraordinary talent and promise who come from a wide range of backgrounds, perspectives, and life experiences."
But the university has shed no light on what specific changes, if any, it might make on legacy preferences. It declined to answer a question from The Post about whether its customary practice concerning children of alumni – namely, taking legacy status into account as one of many factors in a holistic review – would continue through this admissions cycle.
Williams College also declined to answer the question. Of 30 prominent colleges and universities The Post queried, fewer than half as of Thursday had provided a straight yes or no answer. Several didn't respond.
Princeton University said it "has made no changes to its policy regarding legacy admissions." Columbia University, likewise, has made no changes. Stanford University said: "We continue to practice our holistic review in our current admissions cycle while we assess whether changes in admissions policy should be made."
At Georgetown University, several hundred students, faculty members and others have signed a petition urging the Jesuit school to end its legacy preference.
"It could not be more clear that this is what is necessary going forward," said Asher Maxwell, 20, a sophomore from Nashville who signed the petition. He described himself as "somebody who cares about campus diversity" and wants to end admissions policies amounting to "an aristocratic system that rewards wealth and privilege."
Mark Giordano, a professor of geography and a vice dean in Georgetown's prestigious School of Foreign Service, also signed. Emphasizing he did not speak for the administration, Giordano said the university must make clear it upholds principles of fairness and diversity. "To talk about equity and justice and Jesuit values, and then have the sign out that says you're more likely to be admitted if your family members went here, it certainly doesn't help," he said.
Georgetown, asked about the petition, was circumspect. There is no indication that it is shifting its legacy policy.
"We are aware of a national dialogue around admissions practices and a petition from members of the Georgetown community, and we share their commitment to access and equity," the university said. "While we are doing a thorough review of the Supreme Court ruling and our practices and engaging this question, we have no updates to announce at this time."
Susan Svrluga contributed to this report.