Science
Why the view straight across the ocean from Massachusetts doesn't always lead to Europe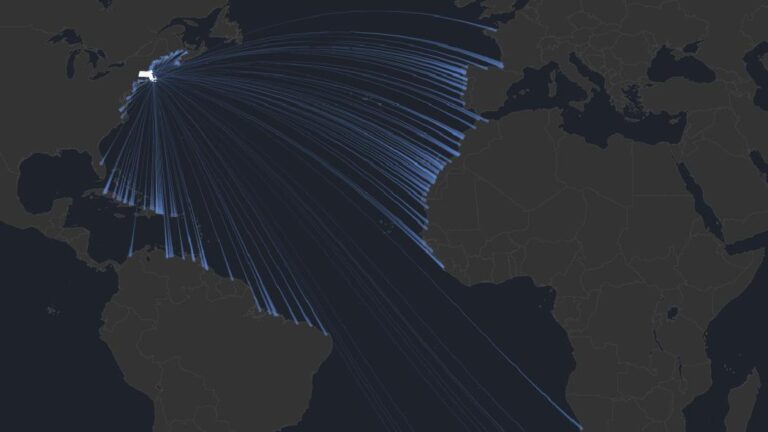 Massachusetts beach-goers this summer gazing out on the ocean, imagining what lies across, may very well visualize the quaint coastal cities and sandy shores of Europe.
But odds are, if you're looking out on an ocean from a Massachusetts beach, you're actually looking at Africa, Andy Woodruff, a Cambridge-based cartographer, told Boston.com.
And in fact, those of you standing of Revere Beach are actually facing a tiny island between South Africa and Antarctica ("if not Nahant or the Cape," Woodruff noted). From Good Harbor Beach in Gloucester, the view leads straight to Australia.
Woodruff recently mapped where sight lines from destinations across the world would eventually lead, when taking into account the angle of coastlines and the Earth's curvature.
While popular belief may assume Europe is on the other side when one looks straight across the Atlantic Ocean from the United States, Woodruff finds it is more likely to be South America or Africa.
Following an inquiry by Boston.com, Woodruff generously did a few more calculations for local Bay State spots, determining the coastline angles and projecting where the view straight across the ocean from each of them would lead.
"Of course a lot of Massachusetts also looks back at itself (especially where the Cape comes into play) or up to Maine and Nova Scotia," said Woodruff—who works for Axis Maps, a cartography company that specializes in interactive web maps, and blogs for Bostonography.
For example, Ipswich's Crane Beach and Hull's Nantasket Beach face Maine and Nova Scotia, depending where you stand.
"If there are several destinations listed," he noted, "that just means I looked at several points along a beach."
Depending where exactly one stands along the beach at Plum Island, you could be facing either Nova Scotia—or Morocco. The view from Castle Island also leads to the northern African country. And sightlines from Duxbury Beach do too, as well as Portugal and Spain.
Meanwhile, from Singing Beach in Manchester-by-the-Sea, according to Woodruff, you would face the southwestern African country of Namibia. And the southern shores of Martha's Vineyard and Nantucket lead to Brazil, Venezuela, Guyana, and Colombia.
Plymouth Beach, lastly, looks across to France. So the previously mentioned visualization can stand for beach-goers there.
Interested by previous latitudinal coastal sight-line maps, Woodruff wrote on his blog that he became "interested in answering the question more strictly: standing on a given point and facing perpendicular to the coast, if you went straight ahead, never turning, where would you end up?"
"There are two reasons why following a line of latitude won't answer the question," he wrote in his original blog post. "1. Coastlines are crooked and wacky. 2. The earth is round."
Long story short, lines of latitude are not actually perpendicular to lines of longitude. On his blog, Woodruff goes into more of the specifics of his procedure on his blog—which also has more maps!
In turn, straight lines drawn across the Earth can appear twisted when shown on a flat map, perhaps best demonstrated by the sight lines to Australia and Oceania.
As Vox's Libby Nelson wrote: "I plan to adjust my ocean gazing and waving at friends across the seas accordingly."
That means say "G'day, mate," Good Harbor Beach.