Science
Another freakishly human-like robot is coming to Massachusetts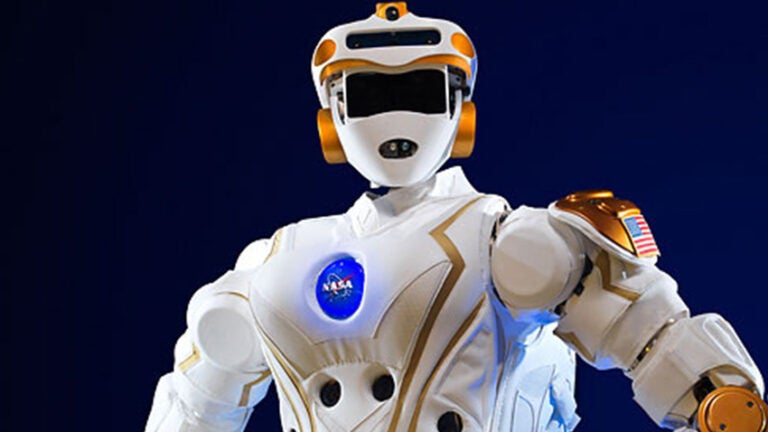 A robot that may one day pave the way for astronauts to explore the final frontier has arrived in Massachusetts.
Valkyrie, or "Val," landed at the New England Robotics Validation Experimentation Center at UMass Lowell Wednesday morning, where it will stay for two years as part of a research collaboration between UMass Lowell and Northeastern University, which were selected by NASA to host the robot. At 6 feet 2 inches tall and weighing around 300 pounds, Val is one of only four robots of its kind with advanced, human-like movements, video cameras and sensors to navigate its surroundings, and the ability to interact with humans.
"Valkyrie will be the first one to have a pair of legs, arms and life-like, articulated hands and fingers, so we can study bipedal locomotion, two-handed grasping and manipulation, object recognition and 3-D modeling of the environment, among other things," Adam Norton, the center's manager, said in a release. Val's predecessors were bound by their dependence on wheels and tracks to move around, but the latest model is more independent.
The universities will use Val as a research tool to develop a course for next year's Space Robotics Challenge, while also studying ways to advance the robot's independence. Eventually, NASA and other researchers hope the robots will be able to pioneer space expeditions and build permanent bases on the Moon or even Mars for astronauts. Researchers will study how well Val would fare collecting rock samples and operating equipment on an exploratory mission in the absence of  humans.
With eerily accurate human-like capabilities (including the potential to function independently of its operators), Val is yet another advanced humanoid to emerge in the area. Still, there's one thing to keep us from worrying about an impending robot takeover of Boston — researchers know Val's Achilles' heel: water.