Science
Why you shouldn't even peek at the eclipse without proper eye protection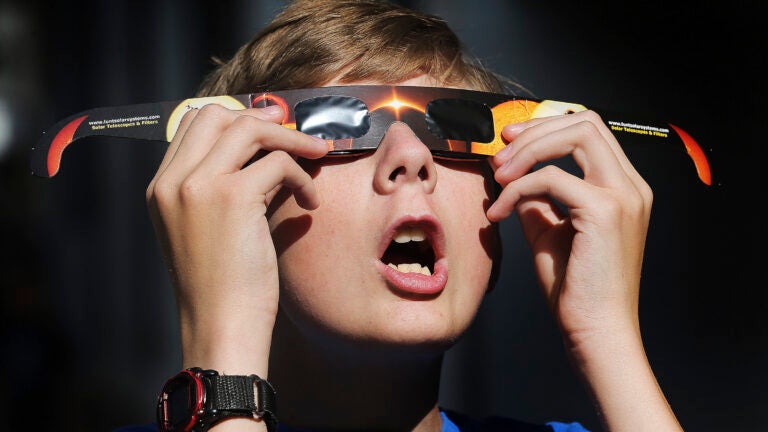 Bostonians will get a chance to witness a partial solar eclipse Monday afternoon, but experts are warning anyone tempted to take even a quick peek at the phenomenon that they must protect their eyes.
Looking at a partial eclipse even for a short period of time could result in severe, permanent damage to your eyes that experts call solar retinopathy.
"It's dangerous to stare into the sun – sometimes vision comes back, and sometimes it doesn't," Jason Comander, associate director of Mass. Eye and Ear's Inherited Retinal Disorders Service, said of the damage, which is sometimes called "eclipse burns."
The symptoms include loss of central vision, altered color vision, and distorted vision.
Sweta Kavali, an opthamologist at Saint Louis University, which falls under the path of the total solar eclipse, said in a Facebook video that damage from looking at the sun and partial eclipse is "typically irreversible" and that there is no treatment. She warned that regular sunglasses simply won't cut it.
"The way the damage occurs on a cellular basis is that the UV rays from the sun induces a photochemical reaction that damages the photoreceptors in the retina, and the part of the retina that's damaged is the part that's responsible for your central vision," she said.
The solar eclipse is just a few days away. Hear from SLUCare ophthalmologist Dr. Sweta Kavali on how to view the eclipse safely.

Posted by Saint Louis University on Friday, August 18, 2017
NASA says the only safe way to look directly at the partially eclipsed sun is through eclipse glasses that have special-purpose solar filters. The space agency advises inspecting the glasses before you use them to ensure that they're from a reputable vendor. If they're scratched or damaged you shouldn't use them.
Additionally, NASA warned against looking at the sun or partial eclipse through a camera, binoculars, or telescope. Doing so will cause damage to your camera — and seriously injure your eyes.
Space experts and ophthalmologists aren't the only ones warning against the safety risks of looking at the sun.  Two men who innocently glanced up at a partial eclipse in the 60s are sharing how they each permanently damaged vision in one eye.
"We didn't know right that second that we damaged our eyes," Roger Duvall told The Washington Post. "At that time, we thought we were invincible, as most teenagers do."
Duvall told the newspaper his left eye bothered him after he looked up at the eclipse for about 20 seconds. His friend, Louis Tomososki, felt the effect on his right eye. Later, according to the Post, the friends learned they'd permanently damaged their retinas.
"We were just doing it for a short time," Tomososki told the Today show. "I have a little blind spot in the center of my right eye."
If you don't have the special glasses required to look directly at the eclipse, you can make a pinhole projector or watch coverage of the event on TV or online.
Can't get solar viewing glasses? You can view #Eclipse2017 by building your own pinhole projector. Safety first! https://t.co/gEh5ycEo6g pic.twitter.com/jEzsroq92m

— NASA (@NASA) August 21, 2017
Or, CBS Boston suggests, if you're near a tree, look out for tiny eclipses projected through holes in the leaves.