Science
Harvard study: Sea level rise from melting ice sheet would be worse than previously thought
The study says that current models underestimate sea level rise by 18 percent by the end of the century.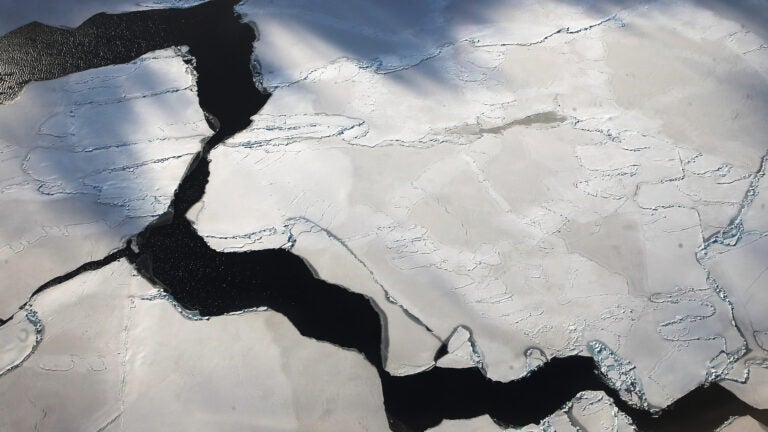 Global sea level rise would be markedly higher than expected if the West Antarctic ice sheet collapses, a study from Harvard researchers reveals.
Compared to existing estimates, the new calculations show that a total collapse of the ice sheet would lead to about an extra centimeter in sea level rise by the end of the century and an extra meter in the next millennium.
The new figures are based on what researchers call a "water expulsion mechanism." As the ice sheet melts, its weight will decrease, allowing the solid bedrock the sheet rests on to rise and push water outward.
Previous research dismissed the water expulsion effect as mostly insignificant, the study states. The study's researchers learned that the low viscosity of the Earth's mantle under West Antarctica would make water expulsion much faster.
The study was published in Science Advances last week and was lead by graduate students Linda Pan and Evelyn Powell.
"If the West Antarctic Ice Sheet collapsed, the most widely cited estimate of the resulting global mean sea-level rise that would result is 3.2 meters," said Powell for Harvard's news service. "What we've shown is that the water-expulsion mechanism will add an additional meter, or 30 percent, to the total."
"No matter what scenario we used for the collapse of the West Antarctic Ice Sheet, we always found that this extra one meter of global sea level rise took place," Pan said. "The damage we are doing to our coastlines will continue for centuries," Pan said.
Pan emphasized that sea level rise "doesn't stop when the ice stops melting," and that scientists should revise models and projections with water expulsion effect in mind.
"Every published projection of sea-level rise due to melting of the West Antarctic Ice Sheet that has been based on climate modeling, whether the projection extends to the end of this century or longer into the future, is going to have to be revised upward because of their work," said Harvard professor Jerry X. Mitrovica, a senior author on the paper.
Get Boston.com's browser alerts:
Enable breaking news notifications straight to your internet browser.