Shopping
What to expect for Black Friday and holiday shopping during COVID-19
"You're not going to see the barn-burner, door-buster type of deals that haven't already been available."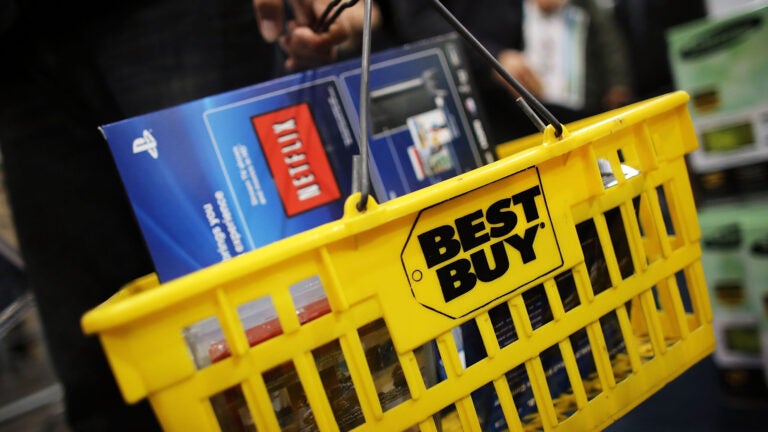 With Thanksgiving soon to be in the rearview, the mad dash to the holidays begins, unofficially, with Black Friday, typically among the busiest sales days of the year in the United States.
Yet there's little in life the coronavirus pandemic has not altered in some way this year — and holiday shopping is no exception.
Shoppers may have already noticed the savings to be had on what's traditionally the biggest deals day are not limited to just Nov. 27 in 2020.
"In general, I think what the retailing community has been pushing is that Black Friday is no longer a day, similar, like, [to how] Small Business Saturday is no longer a day, you know — it's a season," Jon Hurst, president of the Retailers Association of Massachusetts, told Boston.com.
"You're not going to see the barn-burner, door-buster type of deals that haven't already been available," he added.
Many stores have spread around their savings to customers over the course of November, offering promotions both in-store and online as retail went heavily virtual when pandemic-related measures first kept shoppers home in the spring.
With cases and virus transmission rates on the rise once more, those trends show no signs of stopping. The U.S. Centers for Disease Control and Prevention, in fact, considers shopping in crowded stores "just before, on, or after Thanksgiving" a higher-risk activity.
Some major retailers have bulked up their staffing to handle curbside and delivery orders to meet anticipated demand. Walmart, for example, announced last week it more than doubled its personal shopper ranks over last year's staffing levels to manage the influx.
Hurst expects to see many more transactions taking place online this year. Previous holiday seasons saw 18 to 20 percent of sales happening online, he said. For 2020, he projected that number to jump to 30 to 33 percent, at least.
But just because consumers are shopping differently this season, they aren't expected to be spending less, even with the financial havoc wreaked by the global health crisis.
On Monday, the National Retail Federation forecasted holiday sales to grow between 3.6 and 5.2 percent this year in November and December, compared to those months last year. Sales could total between $755.3 billion and $766.7 billion, excluding purchases made at car dealers, gas stations, and restaurants.
Last year, sales topped $729 billion. On average, spending has increased at a rate of 3.5 percent annually over the past five years, according to the NRF.
"We know this holiday season will be unlike any other, and retailers have planned ahead by investing billions of dollars to ensure the health and safety of their employees and customers," NRF President and CEO Matthew Shay said in a press release. "Consumers have shown they are excited about the holidays and are willing to spend on gifts that lift the spirits of family and friends after such a challenging year."
Here are a few things to keep in mind about Black Friday (Nov. 27), Small Business Saturday (Nov. 28), and holiday shopping this year:
COVID-19 safety, guidelines, and other tips
While state regulations cap occupancy limits at 50 percent of permitted capacity for most retail buildings (or 10 people per 1,000 square feet in non-permitted spaces), CDC guidelines say to limit virus spread, it's best to avoid crowds, including in stores.
The CDC also recommends shopping online sales on Black Friday and in the days before the winter holidays; using contactless services, such as curbside pick-up; and shopping in "open-air markets" while maintaining six feet of space from others and wearing a mask.
Many retailers also have their own coronavirus–related policies shoppers may want to check out online before heading to the stores.
Even with the holiday season turnout, Hurst doesn't expect shoppers will find long lines outside stores or other occupancy issues on Friday. He pointed to the state's sales tax holiday in August — which has historically drawn larger turnout for some RAM members than Black Friday — and said retailers didn't experience those kinds of challenges.
"The stores' owners have learned a lot on sanitation and customer service, and we as consumers have learned a lot about sanitizing, wearing masks, and keeping our distance," he said. "We anticipate no problems there."
Hurst advises consumers to consider heading to the stores at different times than they usually would this holiday season. With many working from home and no longer having to face long commutes, shoppers may want to use that extra time to peruse shops on weekday mornings and evenings rather than on the weekends, he said.
"Why not on a Monday morning, for instance? We have more flexibility today than what we did in the past, and you're going to have a pleasant shopping experience: nobody in the store [and] lots of service from employees," Hurst said.
Plus, because of the pandemic, many stores have been more conservative in the inventory they order than in the past, according to Hurst. Being an early bird and getting that shopping done quickly this year could have extra perks.
"The earlier you shop, the more selection you're going to have on inventory and consequently, the later you shop, the less selection you're going to help whether it's in-store or even ordering online," Hurst said.
Deals and savings
Many major retailers have already started Black Friday deals, extending savings events at stores for the entire month of November.
Target launched its "Black Friday Now" deals on Nov. 1, which will run through Saturday.
"Our completely new approach to Black Friday is giving guests flexibility to safely get the best holiday deals on their own terms," Christina Hennington, executive vice president and chief merchandising officer, said in a statement this week.
At Walmart, the "Black Friday Deals for Days" campaign offered shoppers savings at three different events over the course of the month. The final of the three began online Wednesday, with new deals hitting stores at 5 a.m. on Friday.
"We've been very thoughtful as we planned this year's event. By spreading deals out across multiple days and making our hottest deals available online, we expect the Black Friday experience in our stores will be safer and more manageable for both our customers and our associates," Walmart Executive Vice President and Chief Merchandising Officer Scott McCall said in a statement.
And at electronics giant Best Buy, Black Friday began on Nov. 22, although other events were held throughout November and sales aren't over yet, of course.
On Saturday, The Greater Boston Chamber of Commerce, Small Business Strong, and The Boston Globe, are hosting "Shop Small Saturday" — a virtual marketplace open from 11 a.m. to 3 p.m. that puts shoppers in touch with small businesses around the commonwealth.
"With the pandemic and holiday shopping season, the Greater Boston Chamber recognizes the importance of supporting small businesses that are struggling to navigate the pandemic and shopping season … The Shop Small Saturday virtual marketplace allows shoppers to connect directly with Massachusetts small businesses to buy local from entrepreneurs when they need it most," a chamber spokesperson told Boston.com in an email.
Hurst said consumers can definitely shop safely this holiday season. But it's also important to keep in mind where they spend their money, he added.
"The consumer is literally 70 percent of our economy," he said. "And we get it that today, with a few strokes of their smartphone, they can send their dollars anywhere around the world. But, you know, it does matter for our local economy that you got to shop like jobs depend on it because they do."
Store hours on Black Friday
Malls
Burlington Mall: 6 a.m. to 9 p.m.
Copley Place: 8 a.m. to 7 p.m.
Cape Cod Mall: 6 a.m. to 9 p.m.
Liberty Tree Mall: 6 a.m. to 9 p.m.
Liberty Tree Strip: 6 a.m. to 9 p.m.
Natick Mall: 7 a.m. to 9 p.m.
Northshore Mall: 6 a.m. to 9 p.m.
The Shops at Chestnut Hill: 8 a.m. to 8 p.m.
Solomon Pond Mall: 6 a.m. to 9 p.m.
South Shore Plaza: 6 a.m. to 9 p.m.
Square One Mall: 6 a.m. to 9 p.m.
Wrentham Village Premium Outlets: 6 a.m. to 9 p.m.
All malls listed above are closed on Thanksgiving Day.
Retailers
Best Buy: 5 a.m. to 10 p.m.
Target: Stores open at 7 a.m.
Walmart: Stores open at 5 a.m.
All retailers listed above are closed on Thanksgiving Day.
Get Boston.com's browser alerts:
Enable breaking news notifications straight to your internet browser.