Shopping
2 Christmas Tree Shops in Massachusetts to close after bankruptcy filing
The shops, located in Falmouth and Sagamore, will close along with eight other stores following a Chapter 11 Bankruptcy filing.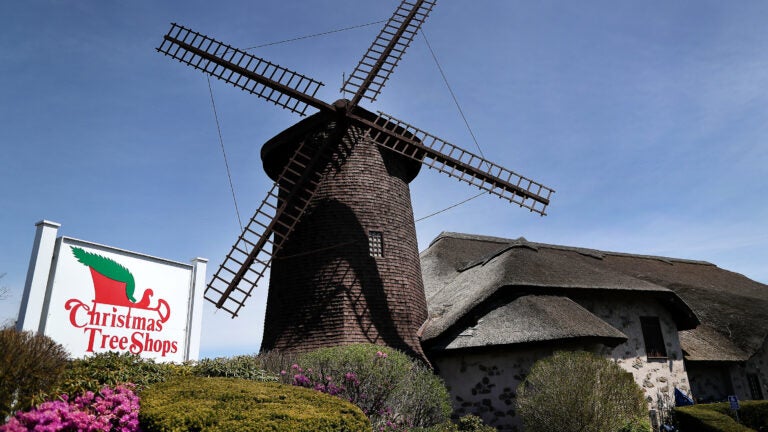 Christmas Tree Shops is closing 10 stores, including two near Cape Cod, where the Massachusetts-based discount store chain got its start, according to court records.
Closures are scheduled for the Falmouth and Sagamore stores following a Chapter 11 bankruptcy filing last week.
There are 82 total Christmas Tree Shops across 20 states, according to the company. It sells home goods, as well as seasonal and holiday decorations. The Sagamore location, near Sagamore Bridge, is well known for its large windmill.
Company Chairman Marc Salkovitz said in a press release that the move is "strictly a financial restructuring and the company's "operations are sound." During the restructuring, Salkovitz said customers can expect things to be "business-as-usual."
"By increasing our financial flexibility, we will be able to focus on continuing to delight our loyal customers with a wide selection of unique goods at affordable prices," he said. "We continue to believe that given its storied history and strong customer loyalty, CTS has tremendous potential, and we remain committed to the long-term success of the business."
He added that "customers will see no disruption in service or product quality" and the company "will continue to honor all gift cards and our suppliers can expect timely payments."
Christmas Tree Shops started off as a small store located in a barn in Yarmouth Port during the 1950s, according to Good Housekeeping. The store – then called The Christmas Tree Gift Shop – was owned by Chuck and Doreen Bilezikian, who kept it open May through October, when other holiday-themed shops would close.
In addition to ornaments and festive goods, the store also sold candy and other items, Good Housekeeping reports. Eventually, the store became the discount chain it is today, expanding across the state and country.
The chain's ownership has changed hands a few times. It was bought up by Bed Bath & Beyond in 2003, but has been under Handil Holdings, LLC ownership since 2020. Handil Holdings is an investment management company based in Sudbury and owned by Marc Salkovitz and his wife Pam Salkovitz, according to Forbes.
Greg Bilezikian, the son of Chuck and Doreen, told The Boston Globe he is heartbroken to hear about the store closures, but he's not surprised.
"It was a lot of fun for a lot of people," said Bilezikian, who runs "Just Picked Gifts" in Yarmouth. "[The bankruptcy has] brought up emotions for different parts of the family now. But I understand. The world has changed. It's evolving, and it's hard to be an entrepreneur in retail today."
The other eight closures are happening in Florida, Georgia, Michigan, New York, Pennsylvania, and Virginia. CTS says it will provide updates on this website as the case proceeds, and the first hearing is scheduled for Tuesday.
Massachusetts customers told The Boston Globe they were sad to see the company had filed for bankruptcy. One customer, Bonnie Sestito, said she went to the Somerville store in the event it's next on the closure list.
"Today, I'm here just to be here," she said. "It's a really nice place to shop."
---
What are your most memorable purchases/experiences at Christmas Tree Shops?
Newsletter Signup
Stay up to date on all the latest news from Boston.com