Soccer
A Dorchester soccer stadium would require traffic fixes first, Walsh says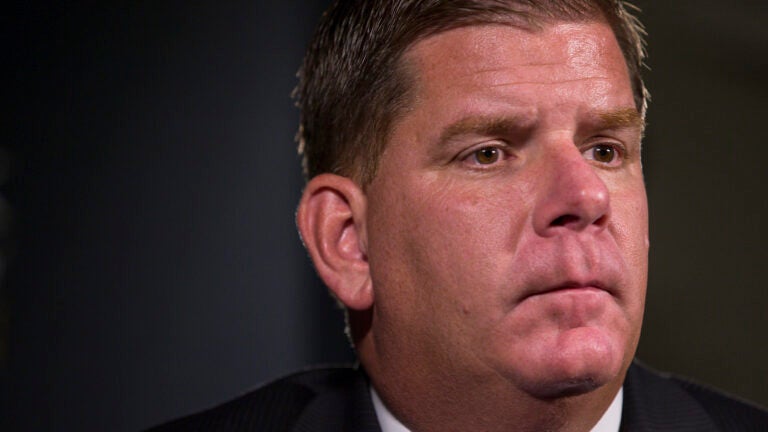 Traffic improvements in the surrounding area should be a prerequisite for the New England Revolution to build a Major League Soccer stadium at the Bayside Expo Center site in Dorchester, according to Boston Mayor Marty Walsh.
Walsh told Boston.com a stadium would make sense at the parcel — provided the iffy infrastructure is addressed first.
"If there's an opportunity for solutions to traffic, I think it would be a great fit," he said.
Walsh, who has said since the 2014 World Cup that he'd like the team to move to Boston and who is close with Revolution and New England Patriots owner Robert Kraft, also suggested that infrastructure improvements should be at least partially publicly funded.
"I think it has to be a public solution. I think it could be a little bit of both [publicly and privately funded], but ultimately it has to be a public solution there," he said.
The transportation trouble near the Bayside site is highlighted by Kosciuszko Circle, a devilish rotary at the epicenter of several major roads in Dorchester and South Boston that counts I-93 among its feeders.
The state transportation department's five-year capital project plan does not include proposed funds for fixing Kosciuszko. The ill-fated Boston 2024 Olympic bidding group — for which Walsh was the chief political supporter — sought to build athlete housing in the same area, and it estimated that turning the traffic circle into a four-way intersection and otherwise dealing with the roads would cost between $120 million and $220 million. That plan called for the state and city funds to pay for the transportation fixes. (Kraft representatives last October requested Olympic infrastructure planning documents from officials at UMass, which owns the Bayside site.)
Walsh thinks the rotary needs reworking, regardless of what the Bayside site becomes.
"I think there has to be a traffic solution there anyway, even with nothing there. … That circle is chaotic," he said.
The mayor said he'd expect many fans to travel to a soccer stadium by public transit. The MBTA's JFK/UMass Red Line station is nearby.
Walsh said he has not met with the Krafts or UMass to discuss the plans since they became public in June. Strictly speaking, UMass property is not under Walsh's jurisdiction, but a project of a stadium's scale would need mayoral support to have a realistic chance.
The Revolution currently play their home games in Foxborough, where they share 68,000-seat Gillette Stadium with the Patriots. But for a decade, Kraft has been seeking sites for a smaller soccer stadium in or near Boston along public transit, mirroring trends across MLS.
Kraft representatives and officials at UMass have been talking since last year about turning the site into a stadium. Those discussions came after the Kraft Group apparently moved on from a city-owned lot on the South End-South Boston border they had previously targeted. The Krafts have also looked at sites in Roxbury, Revere, and Somerville in the past.
Neighbors of the Bayside site — including the area's elected officials — have voiced concerns with the stadium proposal, largely because of the traffic issues. Some officials also criticized the stadium news by saying the neighborhood should be more closely involved in the parcel's planning.
A publicly prepared master plan for the area was approved by the Boston Redevelopment Authority in 2011. It suggested residential, retail, restaurant, and office space at the Bayside site. It noted, however, that UMass had recently bought the land and had not finalized or publicized any ideas for how to use it.
Walsh seems intrigued by the Revolution plan, saying "a stadium would be a great addition in our city." But he said it would need to withstand public feedback.
"It would be exciting, I think, to build the first open-air stadium in the city of Boston … since I think Fenway Park," he said. "We'll see what happens as time goes on. There's a bit of a process to go through, vetting the community and things like that."
Kraft sought to build a Patriots stadium in South Boston in the 1990s, an effort that transformed into an intense political drama and ultimately saw the plan defeated.