Sports News
Dartmouth coach: Tackle-free practice reduces concussions
"I love football, but I love my players more."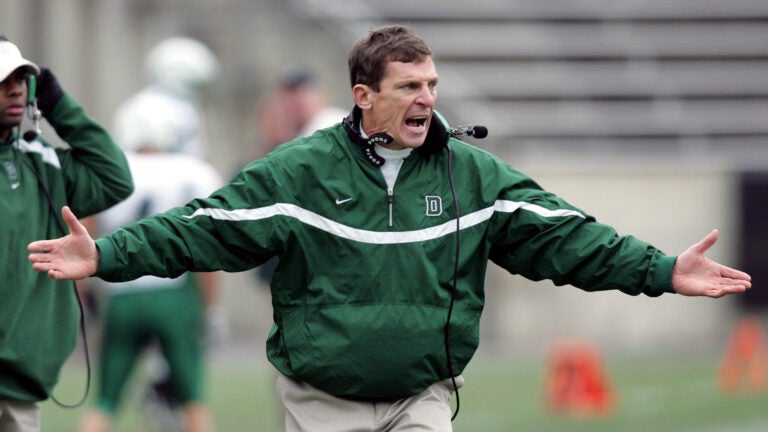 WASHINGTON (AP) — Dartmouth football coach Buddy Teevens makes a promise to recruited players before they take the field: "In four years, you will never tackle another Dartmouth football player."
Teevens, a former Dartmouth player who has coached at the Ivy League school for 15 years, has eliminated all live tackling from practices, including spring and preseason. He told Congress Friday the result has been far fewer concussions, less practice time missed due to injury — and wins.
Since cutting back on tackling in 2010, Dartmouth has not had a losing record. Last year, Big Green tied Harvard for the Ivy League championship. Just as important to Teevens: No defensive player suffered a concussion in 2015.
Instead of practicing on each other, Teevens' players practice on pads and dummies, including a robotic tackling dummy.
"I love football," Teevens said, "but I love my players more."
In February, Ivy League coaches voted to eliminate all full-contact hitting from practices during the regular season, the most aggressive measure yet to combat growing concerns about brain trauma and other injuries in the sport. The decision still needs approval by the league's athletic directors, but passage is expected.
Teevens and other experts said Friday that the tackle-free practices need to spread to youth teams and high schools.
"Unless we change the way we coach, we won't have a game to coach," Teevens told a House Energy and Commerce subcommittee.
Terry O'Neil, a former network TV producer who founded "Practice Like Pros," an advocacy group that pushes for increased safety measures in youth football, said studies show that in high school football, 60 to 75 percent of head-trauma incidents occur in practice, not in games.
In the NFL, that number is 3 percent.
O'Neil called the high rate of head trauma during high-school practices "the worst, most shameful statistic in football, because coaches and administrators control the rules of engagement in practice."
While he saluted Ivy League coaches for the proposed rule change, O'Neil said youth leagues need to go further and convert to flag football until ninth grade.
He also called for a ban on full-contact practice in spring and summer, with contact limited to 30 minutes per week during football season, and said schools should have a full-time athletic trainer or comparable medical professional on every team, with emergency medical workers on site at every game.
Kelli Jantz, whose 14-year-old son died after suffering a concussion while playing football, said more research is needed on the causes and consequences of concussions in youth sports. Jantz was a leading force behind the Jake Snakenburg Youth Concussion Act, a 2011 Colorado law named for her son. The law requires middle and high and high school coaches to receive training on how to recognize a concussion, remove players if a concussion is suspected, and ensure that players are cleared by a medical professional before returning to play.
All 50 states and the District of Columbia have passed similar legislation.
Even so, many youth coaches need more training on the risks of concussion, and equipment used by young athletes needs to be made safer, Jantz said. She called on Congress to approve a $5 million request by President Barack Obama to allow the Centers for Disease Control and Prevention to collect data on concussions in youth sports.
"These children are our future. It is our responsibility as parents, coaches, teachers, medical professionals, policy makers and the community as a whole to make sure we do all we can to support the necessary culture change to make youth sports as safe as possible and protect our children," Jantz said.