Aly Raisman
Aly Raisman tells Today: 'I stand here with all the other survivors'
The Needham native spoke about the alleged sexual abuse she suffered and why she's pushing for change within USA Gymnastics.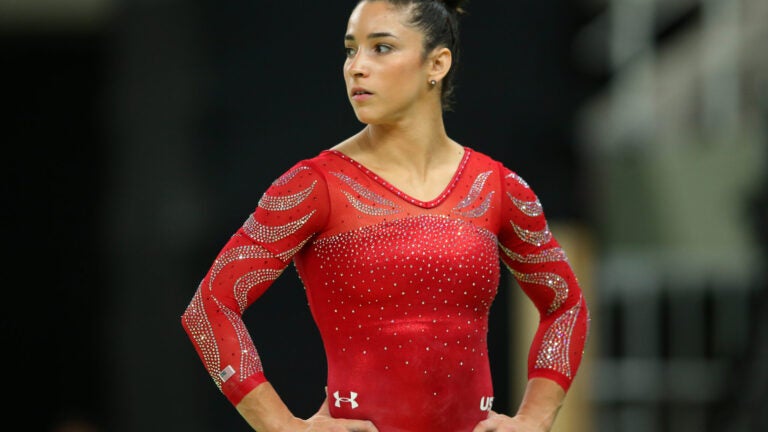 Aly Raisman said Monday during an interview with the Today show that it's still hard to talk about the sexual abuse she says she endured from a doctor for the USA Gymnastics team.
The six-time Olympic medalist revealed the abuse during an interview with 60 Minutes that aired Sunday night and writes about her experience in her forthcoming book, Fierce. Raisman, 23, explained that while she always thought Dr. Larry Nassar "was weird," she didn't realize until later that what he had done to her was abuse. The doctor began treating her when she was 15.
"Even right now, it's uncomfortable," the Needham native told Hoda Kotb. "And it's hard for me to talk about but it's made me into a stronger person."
"I wanted to include the best moments of my life but also the worst moments of my life." @Aly_Raisman on why she included abuse in book pic.twitter.com/9CntICR5TV

— TODAY (@TODAYshow) November 13, 2017
Nassar is in prison in Michigan after pleading guilty to federal child pornography charges in July. He has pleaded not guilty to separate criminal sexual conduct charges and is being sued by more than 100 women who allege he sexually assaulted them in civil court.
"I really didn't know what was happening to me," Raisman said. "You know he was a doctor and he told me that his treatment would help heal all of my injuries. And I was so young I had never really worked with another doctor or trainer before and everyone said he was the best."
Raisman called the team doctor a "master manipulator." She said he bought her gifts and made her think he was her friend.
"I think that's what is important for people to understand is that these monsters are so good at manipulating you so you're so brainwashed to think — I thought he was so nice," she said.
"He always seemed like he had my back. He was such a master manipulator…These monsters are so good at manipulating you." –@Aly_Raisman pic.twitter.com/EZEyKKoGee

— TODAY (@TODAYshow) November 13, 2017
"It's such a horrific thing to happen and I stand here with all the other survivors who have been abused by Larry and other people who have been abused by anyone," Raisman said. "It's disgusting."
From the bottom of my heart THANK YOU for all of the love and support.

— Alexandra Raisman (@Aly_Raisman) November 12, 2017
During her interview, the two-time Olympian called for an end to victim-shaming. She said that from the moment that she realized what happened to her, she has wanted to talk about it and knew it was "the right thing" to do.
In August, after she publicly called for changes inside the USA Gymnastics organization for its handling of the abuse allegations against Nassar, she got a letter from a 14-year-old girl who said she'd had the courage to tell her mother that her father had been abusing her thanks to Raisman's statements. 
"I realized that letter is more important to me than any medal I've ever won in my life," Raisman said. "She changed my life because she made me realize this is the right thing, and if I can help one person then that's totally what it's all about."
WATCH: "We have to stop that because it's awful." @Aly_Raisman on victim shaming pic.twitter.com/jeEfbGHaN5

— TODAY (@TODAYshow) November 13, 2017
The gymnast said she still doesn't think USA Gymnastics is doing enough. She claims that when she said she wanted to talk more about what she experienced with Nassar, she was "basically told to keep it quiet" by the organization.
"I'm just getting started," Raisman said. "And I'm not going to stop until I get what I want, which is change."
https://twitter.com/TODAYshow/status/930053469842608128