Sports News
Aly Raisman blasts USOC statement on USA Gymnastics resignations
"What's it going to take for you to do the right thing?"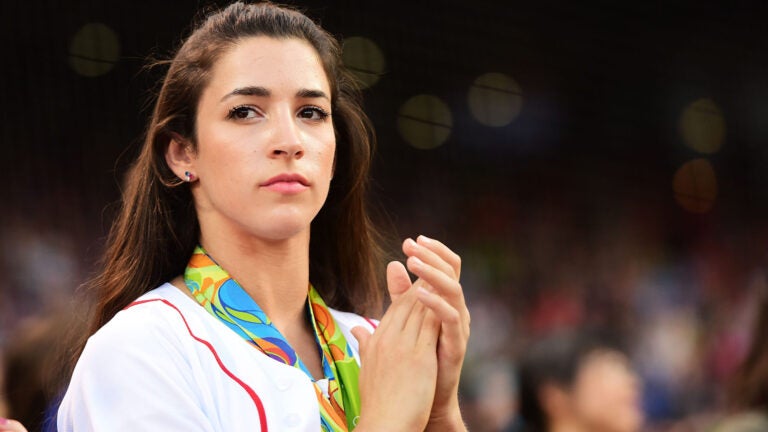 Needham native and Olympic gymnast Aly Raisman is continuing her call for an independent investigation of U.S. Olympic Committee and USA Gymnastics related to the handling of sexual abuse allegations against sports doctor Larry Nassar.
"What's it going to take for you to do the right thing?" the three-time gold medalist asked the athletic organizations on Twitter.
Raisman posted her comments in response to a Monday statement from USOC CEO Scott Blackmun on the resignations of three USA Gymnastics board members in the wake of the Nassar abuse case.
"For the past week, survivors came forward to courageously to face a perpetrator of evil and to share their painful stories," the Needham native wrote, sharing her "thoughts" on the CEO's statement. "Many of them, myself included, claim the USOC is also at fault. Was the USOC there to 'focus on supporting the brave survivors'? No. Did they issue a statement then? Crickets… ."
Raisman accused the USOC of "shamelessly taking credit" for the USAG resignations, "as though they're addressing this problem."
Thoughts on USOC's statement pic.twitter.com/hygTV6nNXd

— Alexandra Raisman (@Aly_Raisman) January 23, 2018
The 23-year-old is among more than 140 young women who have read victim impact statements during Nassar's sentencing hearing, which continues this week with more statements.
Watch Needham Olympian Aly Raisman address her abuser during sentencing hearing
"I am here to tell you that I will not rest until every last trace of your influence on this sport has been destroyed, like the cancer it is," Raisman told Nassar in a Michigan courtroom Friday. "Your abuse started 30 years ago, but that's just the first reported incident we know of. If over these 30 years just one adult listened, and had the courage and character to act, this tragedy could have been avoided. I, and so many others, would have never, ever met you. Larry, you should have been locked up a long, long time ago."
Nassar the former USA Gymnastics team doctor, is facing a minimum of 25 to 40 years in prison for molesting girls at Michigan State University and his home. He has already been sentenced to 60 years in federal prison for child pornography crimes.