Sports News
Honey, they shrunk the seats (at TD Garden) — but a change may be coming
"We recognize there are some areas of concern."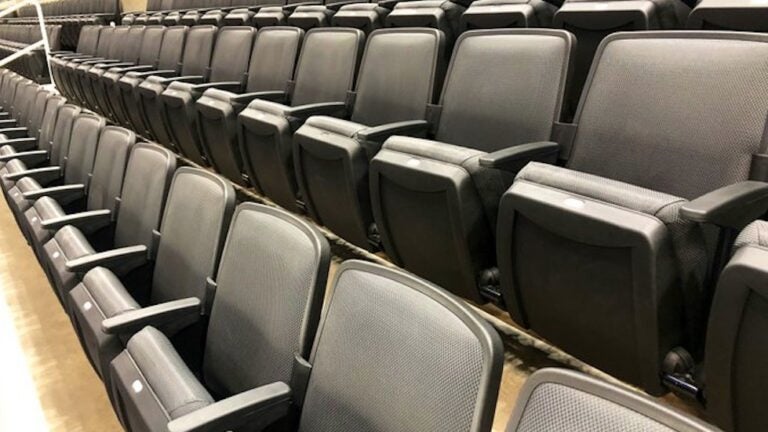 As TD Garden unveiled its shiny new seats, disgruntled fans took to Twitter to show off the "upgrade." One popular form of commentary was the knees-smashed-against-the-seat-in-front-of-me-photo. Another en vogue option was the my-hips-won't-fit-between-these-armrests shot.
@tdgarden @celtics these new seats are terrible … Not impressed as a 6 ft + basketball enthusiast … This is going to be a rough season pic.twitter.com/wFon4MuDuD

— Michele Perry (@maperry44) October 5, 2019
My husband would like you know: the tight new seats won't allow him to enjoy the "double cheeseburger w/ bacon & donuts as the bun". Let's be honest, us Bs fans aren't getting any smaller. But the seats are? So Sad. pic.twitter.com/dCzscA4eX8

— Jenny Lukiewski (@jennylukiewski) October 3, 2019
According to my notes the only person who's on record saying they like the new @tdgarden seats is Stick Stickly from Nick in the Afternoon. https://t.co/8NnLUIAVWG pic.twitter.com/cZo5fy2IkK

— Matt Dolloff (@mattdolloff) October 8, 2019
A few compared the new seats to Fenway's notoriously cramped grandstand. Many said they'd opt to watch the Bruins from their couches this season.
It is unclear how much the seats actually shrunk. The Garden did not respond to requests for specific measurements. Here's what we do know.
The Garden boasted a "seating upgrade" to all seats in the arena bowl, describing the new all-black seats (straying from the gold was another thing fans weren't happy about) as modern and ergonomic.
Most of those claims appear to be true. Anyone who has been to a "modern" restaurant knows that might just mean the food is smaller than usual, and "ergonomic" is defined as "designed for efficiency." (The seats are nothing if not space-efficient.)
A spokesperson for the Garden said the new seats' padding, which the old ones didn't have, might contribute to their smaller feel. She added that while some seats "did change in size," the average width of loge and balcony seats is the same as it was last year — despite around 20 seats being added to those sections.
The more substantial seat additions, which numbered around 500, were added to new areas and did not contribute to the tight-squeeze situation.
As pressure from sports fans, concert-goers, and others who enjoy sitting mounted online, the Garden opted to release a couple of statements on the debacle.
On Monday, the message was, "it takes some time to get used to such major changes." The tune had changed by Tuesday.
"We recognize there are some areas of concern," the latest statement reads, "and have re-engaged our industry seating experts to evaluate and provide assessment."
Bruins CEO Charlie Jacobs also told WEEI even he has gotten some emails about the seats.
"There may have to be some fixes involved," he told the station. "I'm not sure we can do those overnight."
The seat overhaul was just one part of TD Garden's $100 million transformation., which also included a parking garage expansion, new grand entryway, and a scoreboard update.
Though the seat qualms are already abundant, the Bruins haven't even played their home opener. Let's see what happens Saturday.