Sports
All 3 Mass. casinos found taking illegal sports bets
Sports betting in Massachusetts has been legal for two weeks. In that time, every approved casino has broken the Commonwealth's rules.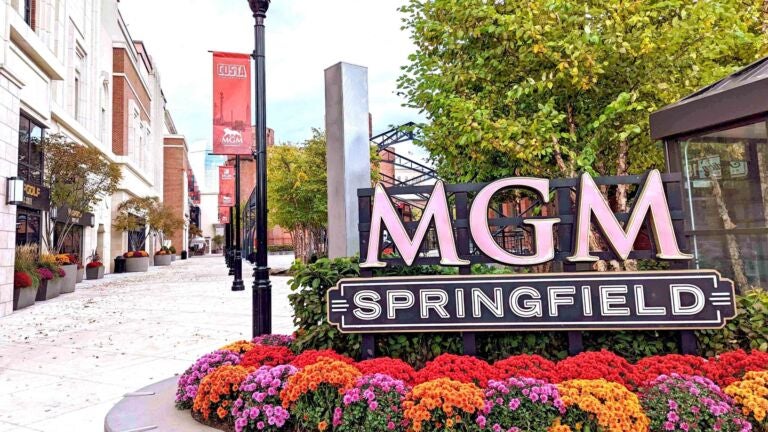 In the two weeks that sports betting has been legalized in Massachusetts, all three casinos that were approved to take sports wagers have violated the Commonwealth's ban on in-state collegiate sports wagers.
Two casinos — Plainridge Park Casino and Encore Boston Harbor — were found in violation of the Massachusetts' regulation last week. And now, MGM Springfield, the Commonwealth's third casino approved to take sports bets, has been found to have accepted wagers on two Harvard men's basketball games– a 57-68 home loss to Yale Feb. 3 and a 65-68 home loss to Brown Feb. 4.
The Massachusetts Gaming Commission, who oversees sports gambling in the Commonwealth says that the violations, which initially occurred days after sports betting was legalized Jan 31., appear to be small kinks for the commissions, casinos, and vendors to work out.
"We've had three of these now in a week and a half's time," Commissioner Nakisha Skinner said in a commission meeting on Tuesday. "I don't know what the volume is going to be, but certainly as we were reviewing operator applications we learned that these are relatively routine — and I'm not sure if we use the word routine — but they're relatively routine matters."
More information regarding MGM Springfield's violation will be provided in the future, the commission says. But Tuesday's meeting was also able to shed some light on the other casinos' transgressions.
Plainridge Park Casino
Plainridge Park Casino accepted bets on a Merrimack women's basketball 76-59 home victory against Long Island University Feb. 2 between 11 a.m. and 6:20 p.m. Thirty-three bets were placed, with most at the casino's kiosks. Four wagers were made at the betting counter with a "writer" or teller. A total of $6,848 was wagered, with bettors winning $4,270.
According to Chief Enforcement Counsel Heather Hall the violation occurred because Kambi, a sportsbook vendor, "[mistakenly assigned the participant school state for Merrimack College as Florida instead of Massachusetts." The issue was resolved when a teller notified the casino, who then reported the violation to the commission.
In the past week, Plainridge Park Casino and Kambi have taken several "remedial measures" to verify the validity of future wagers. These include removing all un-approved schools from the vendor's system and ensuring a manager signs off on daily bets.
"The goal is to create a culture of commitment to compliance as the top priority, and to encourage [the casino's] staff to promptly report non-compliance," Hall said.
Encore Boston Harbor
Also on Feb. 2, Encore Boston Harbor took bets from 12:45 p.m. until about 5:45 p.m. on a Boston College women's basketball 72-59 home loss to Notre Dame. Only one wager was placed, part of a five game parlay totaling $70, but the casino realized the error and cancelled the unapproved money line parlay leg before it could be cashed. The better took home $23.
According to Hall, one of Encore's vendors, GAN, "mistakenly omitted the NCAA women's basketball from the prohibited wagers list."
Encore and GAN will begin to conduct twice daily audits on the list of Massachusetts schools participating in events as well as assign a dedicated auditor.
Moving forward
During the meeting, the commission discussed possibly holding a adjudicatory hearing to "set goalposts," where the Investigations and Enforcement Bureau and operators could offer information that could potentially lead to future penalties.
Lawyers also presented the commission with a catalogue of FAQ questions that could help guide wager operators in the future.
"I want to set the goalposts with my fellow commissioners early on, and then see how it's working," said Commissioner Jordan Maynard. "And I know that's going to create a little bit more work on the front end, both for the commissioners and for the IEB … but I think later on, it's gonna be very beneficial to the entire organization."
Mobile betting is still planned to launch March 10, with the recent violations providing stakeholders insight on how to set guidelines going forward.
Newsletter Signup
Stay up to date on all the latest news from Boston.com