Technology
FCC Collects 677,000 Net Neutrality Comments, But Janet Jackson's Nipple Got Way More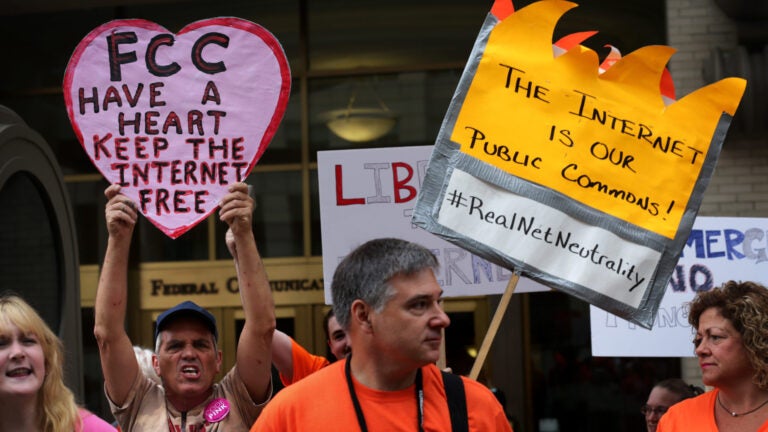 The FCC collected about 677,000 comments regarding its proposed "net neutrality'' regulations before the public input period partially ended yesterday.
(Update: The FCC has extended the deadline for public input to midnight Friday after users experienced difficulty in adding their comments online ahead of the previous deadline. And the FCC tells Boston.com the number of comments is now—as of 4 p.m. on Tuesday—780,000.)
The FCC's new open Internet regulations would allow for internet service providers to strike "commercially reasonable'' deals with Internet companies for faster service for end users. Much of the web has reacted negatively to the proposal, saying it violates net neutrality principles.
Some, including the FCC, have pointed out that this sounds like a lot until you realize Janet Jackson's nipple exposure during halftime of the 2004 Super Bowl managed to wrangle up 1.4 million comments.
Not that it really matters which got more input, aside from providing an opportunity to mock the public's priorities. But that's a bit of an apples and oranges comparison. Complaints about Jackson's exposure came from viewers after the event and were not called on by the organization, whereas the FCC's rule change proposal invited public input. Whether that makes Jackson's total more or less impressive, I'm not sure. (The FCC confirmed this reading in an email to Boston.com.)
Anyway, Janet isn't even the queen of FCC rabble rousing. As for public comments on a rule proposal, the FCC's 2003 initiative to expand television broadcast ownership rights generated about 2 million, according to The Wall Street Journal.
The public input process for net neutrality isn't entirely over. People can still let their thoughts be known for a couple more months, until Sept. 10, in the form of reply comments to the comments already submitted. So depending on how the FCC tallies these things, catching Jackson may still be possible.
The FCC extended the deadline to midnight Friday after this article was originally published. As of Tuesday at 4 p.m., the total number of comments had topped 780,000.