Technology
Emoji Halloween Masks Exist, So Emojis Are Officially Dead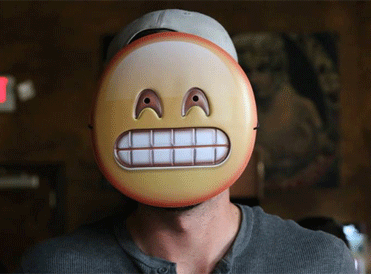 We'll never forget the emoji.
In an era when every second is precious and the speed of communication is accelerating, the emoji gave us the perfect way to express ourselves without even using words. Who doesn't remember telling that special someone how they feel using only a kitten with hearts over its eyes? And has informing a friend you're at a funeral ever been easier than just sending the face of an old person, a ghost with its tongue out, and a little face with a halo and wings?
Emojis, invented in Japan in 1998, were cute, practical, and more popular by the day. But then emojis flew a little too close to the sun.
With Halloween right around the corner, emojis saw yet another opportunity to worm their way into our lives: Affordable, topical costumes!
For just five bucks a pop, you could be a "sly guy emoji,'' a "heart eyes emoji,'' or even a "poop emoji.'' In our Era of Emoji, this idea couldn't miss, could it?
Well, take a look for yourself. Does the image below look like an idea that is both great in theory and great in application?
[fragment number=0]
No, no it does not. Not a single reasonable person is walking into a Halloween party wearing poop on his or her face. They're just not.
We're sorry, emojis. Everyone loved you, us included. Spending debate night translating gubernatorial candidates' talking points into your language remains one of our fondest memories. But your time has come.
RIP.