Technology
From Concert Goers to Big Business Concerns, Inside the Fight Over Paperless Tickets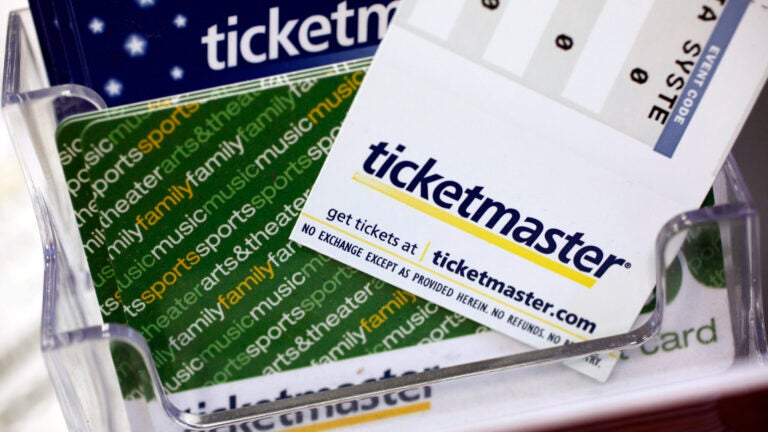 Shortly after buying her ticket to see Garth Brooks at TD Garden, Sudbury resident Debbie Murray realized she was double booked. The date of the concert—Jan. 24—is shared by her sister's birthday, she said, and her sister's birthday was not to be missed.
So she needed to find a way to get rid of the ticket. The problem? It wasn't all that easy to do so. She had bought what Ticketmaster, the massive ticket vendor owned by the entertainment giant Live Nation Entertainment, calls "paperless'' entry. Otherwise referred to as credit card entry, the paperless ticket format requires a customer to present the card he or she used to pay to attend the show, as well as an ID, in order to get into a venue, and the tickets can't be transferred to somebody else. If you hold a paperless ticket and can't make a show, there's generally no easy way to get rid of it.
Murray is on the hook for three tickets worth more than $200, and without the ability to sell them or give them away, she hasn't been able to find a solution with just a couple of weeks to go before the show. She fired off a letter to the attorney general's office about the issue, which put her in touch with a regional consumer assistance office. That office suggested she call Ticketmaster and gave her a customer service number, but Murray said she spent the better part of an hour on the phone, unable to reach anybody.
She's not the first to deal with a problem with paperless tickets, which have become a central issue across the ticketing industry over the last few years.
Ticketmaster says the intent of the paperless system—which are not used by all artists, and which very few artists use as the only option for a show—is to keep tickets off the resale market. That paperless tickets can't be transferred from one user to the other is the point of the system. The company says credit card entry allows actual fans to buy their tickets at face value without having to worry about getting priced out of a concert by scalpers and resellers, who often buy tickets in bulk ahead of fans and bring them to the secondary market. Companies like StubHub and TicketLiquidator, which allow users to put their tickets out to auction, are among the best known of the many companies that allow users to buy and sell tickets, and they would seem to be right in the crosshairs of the credit card entry initiative.
Regardless of why paperless tickets are in play, they can be cause frustration for some ticket holders. There are issues like Murray's of a double booking, or maybe an unforeseen event pops up. The paperless system can also ostensibly make it difficult to buy tickets for somebody as a gift. If a mother, for instance, buys a couple of paperless concert tickets for her son and a friend for Christmas, she would need to go to the event in order to get them into the show. (The fine print isn't really of issue. When a customer purchases a paperless ticket through Ticketmaster, they need to check a box acknowledging that they will need to swipe their credit card in order to entrance, and the entry method is noted on the site in other places as well.)
Ticketmaster spokesperson Jacqueline Peterson told Boston.com that the best way for a paperless ticket holder to deal with a challenge posed by the system is to contact the event's venue. She said she "is not aware of any venue'' that won't help a customer with these types of issues. For its part, TD Garden said in a statement: "Overall, paperless ticketing has been successful and regardless of the form of ticket delivery, we handle any customer service issues on a case by case basis.''
So that would seem to be the fix for a consumer. If something comes up, or you need to put the paperless ticket in a gift recipient's name, call the venue and see if they'll help you out. It will take a chat with an actual person—which, as anybody who's ever dealt with a customer service issue anywhere knows, can be difficult enough to arrive at—but the problem can be solved, at least in theory.
These types of one-off consumer issues are an element of the fight between secondary market sellers like StubHub, consumer advocacy groups, artists and promoters, and Ticketmaster/Live Nation over paperless ticketing. The debate is a riptide of concerns and interests, but the central question brought by the ticket resellers and advocacy groups is this: Should the person who pays for a ticket be able to decide on how it gets used?
Those parties say yes, of course, and that the paperless option gives Ticketmaster even greater control over the ticketing market. A model for their goals is a New York State law passed in 2010 requiring vendors like Ticketmaster to give customers the option of receiving a ticket in a transferable form. Similar bills have come up in other states, though only New York has made it law. A bill like New York's was proposed in Massachusetts last legislative session, but it didn't get a lot of attention and never came out of committee. A spokesperson for State Sen. James Eldridge, who sponsored the bill, said he planned to file a similar bill this session.
The largest ticketing advocacy group's line to the secondary market is pretty direct. It's a D.C.-based nonprofit called Fan Freedom. Fan Freedom has garnered the support of consumer organizations, but it got off the ground four years ago with funding from eBay-owned StubHub, which remains its biggest backer. Fan Freedom says it supports initiatives to prevent scalpers from using online bots from making big bulk purchases of tickets as soon as they go on sale, and that its intentions are to keep the secondary market in fans' hands.
As a platform that allows people to sell their tickets, StubHub has become a very big business itself, and controls a huge portion of the secondary market (about half of it, Billboard reported last year). It has a lot to lose to non-transferable paperless entry, and it's no surprise that it's on the opposite side of Ticketmaster on the issue.
Secondary ticket sellers are not the only business voices aligned against paperless access, though. Locally, the New England Ticket Fairness Alliance is working as a regional advocate, pushing for similar laws to the New York example. It is partnered with Fan Freedom (meaning it receives research and other information from the national group) but is not funded by it, or by StubHub. According to a spokesperson, the group's funding comes from the Massachusetts Chamber of Commerce, which is based in Western Massachusetts and aims to represent business interests statewide. Among the constituents is the Massachusetts Bus Association, a coalition of charter bus companies.
Mark Sanborn is the leader of the bus association. He said the rise of paperless tickets could be troubling for charter companies that look to offer travel and tickets in a package deal. If that package were to involve paperless tickets, it would mean that whoever buys the tickets would need to be on-hand to get all those customers in the doors. That may not be all that big of a deal if the bus company uses a company credit card, but as he sees it, "it becomes complicated if there are restrictions. … The more you complicate something, the harder it is to put together these package deals.''
Peter Picknelly, the head of the Springfield-based Peter Pan Bus Company, testified at the State House last winter on the issue at a hearing of the Joint Committee on Consumer Protection & Professional Licensure, saying in prepared remarks: "…the rise of restricted or 'paperless' tickets to live events in Massachusetts absolutely impedes our ability to provide this package service to Red Sox games and would prevent us from expanding our business to provide packages to other live entertainment events such as concerts.''
Other examples of business interests that could be turned off by credit card entry include hotels, who may offer tickets at concierge desks, and companies who give tickets to employees but may not be so comfortable handing the corporate credit card out to lucky office raffle winners in order to give them access to an event.
Peterson at Ticketmaster stressed that the paperless option makes up a small percentage of tickets, comprising 0.1 percent of total sales, she said. Peterson said it's unlikely such issues would pop up, though she acknowledged more artists are using paperless tickets year-over-year. If they did occur, she said, concerns like Sanborn's could be addressed case-by-case, person-to-person. "I'd say, let's have a conversation about it,'' she said. "We both want the same thing. We want to get people to an event.''
There is a another side to the debate—the side of artists and event promoters. They're the ones who decide whether to go with the paperless ticket option, not the venue (the Garden) or the vendor (Ticketmaster). The reason an artist may do so, as Ticketmaster says, would be to prevent tickets from getting into scalpers' hands and ensuring they wind up with their fans at a reasonable price. And artists can get pretty serious about that sort of thing. Cat Stevens cancelled a New York show last year due to the state's paperless ticketing legislation, citing prices that had gone too high on the secondary market.
"My fans will understand and I thank them for informing me about the extortionate tickets prices already being listed on some websites. I have been a longtime supporter of paperless tickets to my shows worldwide and avoiding scalpers,'' Stevens wrote about the show's cancelation.
Whether Ticketmaster itself actually has such a tsk-tsk approach to the secondary market is a very open question. The company has for years allowed ticket holders to use its own resale platform to sell their transferable tickets (i.e., those that don't require the buyer's credit card for entry) at a price of their choosing. A recently released system, TM+, even allows for resale tickets to be listed alongside face value tickets for Ticketmaster events. The company says that by keeping ticket resale in-house, it can verify that the ticket being sold isn't a fake. But in any event, Ticketmaster's own ambitions in the secondary market probably indicate that non-transferable paperless tickets will remain just a sliver of the overall ticket market, at least for the time being.
At the microcosmic level, that would mean issues like Debbie Murray's will stay relatively rare. That doesn't make them any less of a headache, though. Murray said she's left multiple messages with customer service at the Garden about her Garth Brooks tickets, but as of late afternoon on Jan. 9, she had not yet heard back.
Probably unnecessary disclosure: The CEO of TicketNetwork, a prominent ticket resale company, is named Don Vaccaro and is not related to me.