Watch: Boston Dynamics has a robot that can run free in nature
They can chase us now.
Atlas has moved on from gymnastics to cross country.  
Boston Dynamics shared a new video Thursday of its famous humanoid robot jogging across a lawn and up a hill.
"Getting some air, Atlas?" the Waltham-based robotics company titled the video.
A log in its path is tackled with a graceful hop.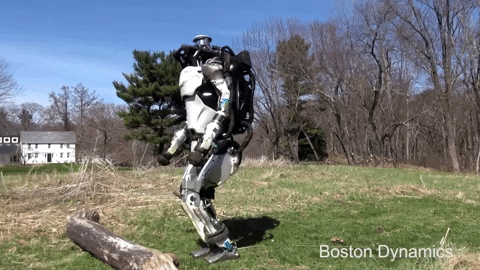 According to the Boston Dynamics website, Atlas is part of a line of "advanced humanoid robots" being developed by the company, which started as a spinoff from MIT.
"Atlas' control system coordinates motions of the arms, torso and legs to achieve whole-body mobile manipulation, greatly expanding its reach and workspace," the company says of the two-legged robot. "Atlas' ability to balance while performing tasks allows it to work in a large volume while occupying only a small footprint.  
Previously, Boston Dynamics has tested Atlas' jumping and backflip skills and ability to stand up despite being knocked around by its human creators.