Technology
Electric scooters have flooded cities across the country. Could they ever come to Boston?
Here's what you need to know about the new, polarizing mode of transportation.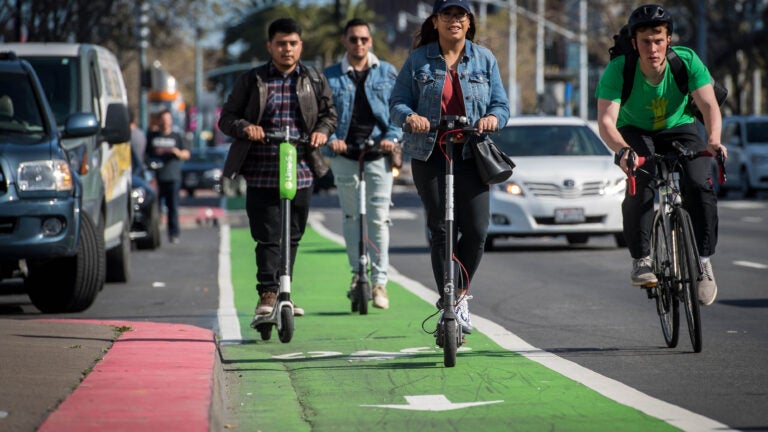 Dockless, electric scooters could be the next Uber, for better or worse.
The controversial, beefed-up versions of your childhood kick scooter are a new transit option in an increasing number of cities across the country. Depending on your perspective, they're either the next frontier in urban mobility or a disruptive public nuisance.
They've also got their eyes on the Boston area.
But first, how do they work?
Less expensive than Uber or Lyft and less sweaty than a bike, e-scooters provide an environment-friendly city alternative to cars that can fill in the gaps and routes that public transportation doesn't serve.
E-scooters basically work under the same principles as dockless bike sharing programs. Not to be confused with docked bike share programs, like Boston's Blue Bikes, in which individual bikes are parked at designated stations, dockless programs allow riders to park, digitally lock, and leave their vehicles wherever they conclude their trip.
Anyway, there are three major e-scooter companies — Bird, Lime, and Spin — and they all work pretty much the same. Users download the company's app and provide their credit card (and, if required under state law, their driver's license) information. They then use the app's GPS to locate an available scooter, which they can unlock using their phone.
For each of the three companies, it costs $1 to begin a ride and an additional 15 cents for each minute of the trip. So if you were to take a 10-minute trip, it would cost a total of $2.50. A half-hour trip would cost $5.50. The scooters can go a maximum of 15 mph and have a range of 15 to 37 miles, depending on the company.
Once users reach their destination, they use the app to re-lock the scooter. They're asked to park it on the side of the road or sidewalk where it is not blocking vehicle or pedestrian traffic (and, if possible, at bike racks).
Transit experts say e-scooters provide a relatively cheap, convenient, and fun solution to the "first mile-last mile" problem, connecting people's homes or workplaces with their closest public transit stops.
E-scooter companies also pay people to collect and charge the scooters when their batteries are drained. Those contract workers then drop off the scooters at designated pickup areas once they're recharged.
How popular are they?
E-scooters started on the West Coast, where they've flooded the streets in certain cities, and are gradually creeping east.
Bird launched last September in Santa Monica, California, and has since expanded to Atlanta; Austin, Texas; Charlotte, North Carolina; Denver; Los Angeles; Miami; Nashville, Tennessee; San Diego; San Francisco; San Jose; Scottsdale and Tempe, Arizona; and Washington, D.C. Lime, which was founded last year as a dockless bike-share company, has brought its scooters to three East Coast cities: Charlotte, Miami, and Washington, D.C. Spin has only launched scooters in San Francisco, but currently operates its dockless bike-share program in roughly 50 markets.
New York Times technology columnist Kevin Roose recently wrote that he originally "wanted to hate the scooters," but came around to them after taking a dozen rides of distances varying from "a few blocks to several miles" in Los Angeles.
"E-scooters might look and feel kind of dorky, but they aren't an urban menace or a harbinger of the apocalypse," Roose wrote. "In fact — sigh — they're pretty great."
Investors apparently agree.
Bird has raised $150 million in funding and is reportedly looking to double that number, putting its valuation at $2 billion. Lime, which is reportedly raising up to $250 million in capital, is valued around $1 billion. A distant third, Spin raised $8 million in the bike and scooter sharing companies' latest funding round last month.
So why exactly are they controversial?
Like Uber, e-scooter companies have gotten the reputation for descending on cities without warning.
In April, San Francisco sent Bird, Lime, and Spin cease and desist letters after the companies deployed hundreds on scooters without permission (the city has since launched a permit program). Denver and Nashville have also recently clashed with Bird and Lime for operating in their cities without a permit. Bird even paid a $300,000 fine to Santa Monica for launching in the city without its approval.
Resident backlashes have resulted in scooter companies being targeted by literal smear campaigns.
City officials have claimed that e-scooters — both whizzing through their streets and left out on the sidewalks — present a public safety hazard. When not parked correctly, the scooters can obstruct sidewalks or entrances and impede handicap accessibility.
However, similar arguments could be made against earlier modes of transportation. Far more people are injured, not to mention killed, in car crashes than in scooter accidents. Cities could also provide designated parking areas for scooters, like they have done for bikes and, of course, cars.
"Go back to the early 1900s, and people would have a similar reaction to cars because they were used to horses," Travis VanderZanden, the former Uber executive-turned-CEO of Bird, told The New York Times in April. "They had to figure out where to park all the dockless cars."
Could scooters be on the horizon for Boston?
Lime and Spin are already set to flood the Boston suburbs with thousands of dockless bikes this summer. The Metropolitan Area Planning Council announced in April that the two companies had been selected to provide their bike-share programs to 15 communities in the Boston area.
Lime already has dockless bikes in Chelsea, Everett, and Malden. However, a border war of sorts has kept dockless bikes from making inroads in Boston, Brookline, Cambridge, and Somerville — where Blue Bikes has exclusive bike-share rights.
But what about e-scooters?
Lime and Spin aren't ruling anything out (Bird declined to comment for this story).
"We do not yet operate scooters in New England, but hope to do so in the future," Scott Mullen, Lime's expansion director for the Northeast, told Boston.com in a statement.
Noting the company's bike-share program in the Boston area, Mullen added that "providing additional convenient, affordable transportation options can only further benefit the metro community."
Euwyn Poon, the president and co-founder of Spin, said the company is exploring "multiple cities" for expansion, including Boston, though he couldn't offer a timeline for their potential growth.
"It's a large, dense city that's experiencing its share of traffic issues, so that makes it desirable for scooters," Poon told Boston.com. "Additionally, there's a huge student population in Boston."
Campuses are "ideal markets" for companies like Spin, he said, since students are often "limited by traditional transportation options" and looking for more affordable ways to get around the surrounding area. What better place than the metropolitan area with the second most students per capita in the country?
Still, it wouldn't just be about college students.
Chris Dempsey, the director of the local transit advocacy coalition Transportation for Massachusetts, says there are a lot of short everyday trips in the Boston area where scooters provide an easier option — whether it's a commute from Dudley Square to Cambridge or a trip from Allston to visit friends in Somerville's Union Square.
"These trips today can be made with various combinations of walking, biking, transit, [ride-hailing companies], etc., but scooters add another option," he said.
Could they run into problems here?
Of course, Boston poses some unique challenges compared to the warm, West Coast cities where e-scooters are now ubiquitous.
The first, perhaps obviously, is weather. Poon admits that Boston's "extreme weather" would make it "harder to operate scooters during the snowy winters." But again, winter weather isn't necessarily a scooter-specific problem.
"Boston's weather can be challenging for all forms of transportation," Dempsey said. "Scooters will probably have to get through a few winters before we know if they are reliable or not."
Lime says its dockless bikes in the area are prepared to operate in all four seasons, though some municipalities restrict winter operations. According to Dempsey, if e-scooter companies are willing to do the same, "it's worth trying out."
There's also the issue of the historic area's infamously archaic street patterns and design, which Poon says could be "challenging," but not prohibitively so.
"Boston also has some older streets with narrow sidewalks that will make parking scooters a bit more challenging than a more modern city, but these things definitely don't mean it's not a desirable city to have scooter-share in," he said.
The Spin co-founder, who has pledged to be more cooperative with cities than his competitors, added that Boston isn't the only city with "unique challenges."
"With each city we launch in, there will be unique challenges to address and work through with city officials to ensure that our scooters are being deployed safely and responsibly," he said.
How would e-scooters be regulated here?
Massachusetts enacted a raft of regulations on motorized scooters in 2004. According to state law, motorized scooters are allowed on public roads. However, riders must have a driver's license or learner's permit, they cannot go faster than 20 mph, and are not allowed on highways where signs specifically prohibiting scooters or bicycles have been posted. Riders are also required to wear helmets.
Those rules follow the basic framework under which scooter-sharing companies are already operating (Bird will even send free helmets to riders who live in cities in which they operate), but there are some areas where certain kinks would have to be worked out.
Dempsey says there will need to be "clear rules" about whether e-scooters are allowed in bike lanes and on sidewalks. Currently, state law says motorized bicycles can operate in bikes lanes, but doesn't directly address e-scooters, other than to say that they must keep to the right side of the road.
The law also states that scooters are prohibited "any time after sunset or before sunrise" and must be outfitted with "operational stop and turn signals so that the operator can keep both hands on the handlebars at all times."
Dempsey thinks it's too early to be considering changes to the law, but says he knows the state legislature wants to "get ahead of the curve as new transportation options arise."
"There is consensus that we have a mobility crisis in Greater Boston, and we all need to get comfortable with experimentation, testing, and change if we're going to solve that crisis," he said.