Technology
Meet Kai Kloepfer: A 21-year-old who left MIT to build a 'smart gun'
"We're really trying to build something that can solve the root problems of gun violence."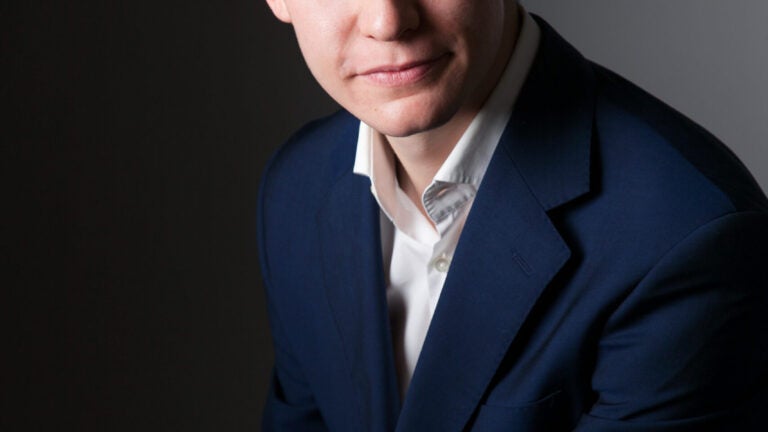 For six years, Kai Kloepfer has worked on trying to help solve a major problem in America: gun violence.
But his solution isn't a call for tighter firearm laws or for taking guns away.
It is, in fact, a gun.
Kloepfer is the 21-year-old founder of Biofire, a Boston-based startup that's creating a handgun with fingerprint-sensing technology that allows only its authorized user to fire it.
The "smart gun" could help save lives, according to Kloepfer.
"In the world where every device that we own (locks automatically) … it strikes me as a little behind the times that we have dangerous firearms that are accessible to anyone who comes across them," he told Boston.com.
Biofire's prototype has been in the works since 2012, when Kloepfer was a high school sophomore in Boulder, Colorado, and not long after the mass shooting at an Aurora movie theater left 12 dead.
The deadly attack — which unfolded about a 40-minute drive away from Kloepfer's hometown — prompted him to consider how technology and engineering could help prevent similar incidents, which eventually led to an early prototype as a school science fair project, he said.
The gadget snowballed into more research, and, about two years ago, the effort became Biofire, a startup company backed by California investors and one that's a part of the MassChallenge startup accelerator program, according to Kloepfer, who took an indefinite leave of absence from the Massachusetts Institute of Technology a few weeks ago to pursue growing the business.
The company is now working to create a handgun to be market-ready in the next year and a half.
"We're really trying to build something that can solve the root problems of gun violence," said Kloepfer, who made Forbes magazine's "30 Under 30" list for consumer technology in 2017.
While he acknowledges that the gun is not a firearm all gun owners would be interested in having, Kloepfer pictures the smart gun as a device that could prevent accidental shooting deaths and suicides — the latter of which make up about two-thirds of firearm-related deaths in the United States.
"If we can have an impact there, then we can measurably reduce the effects … which very much are a public health problem, without affecting the rights of gun owners," he said.
Any time one of Biofire's smart guns is picked up by anyone that's not its owner — be it a child or a criminal — the firearm will lock.
"We can prevent situations that could have gone very badly," Kloepfer said.
An opportunity for a new kind of product also exists in the gun industry, he said.
As a whole, gun manufactures have strayed little from the kinds of firearms they offer, according to Kloepfer, who, as an example, pointed to the popular 1911 pistol that has had roughly the same fundamental design since its invention in 1911.
"It's definitely really hard to get into this space … but if there's any way you're going to do it, it's going to be a small, scrappy startup that can ignore a lot of the conventions in the industry and make your own path for it," he said.
"In the long run," Kloepfer continued, "I want to build an environment where it's normal to innovate on firearms because that's where we get a much more safe and forward-looking paradigm."
Still, Kloepfer, who plans to return to MIT once Biofire is up and running, said he sees smart guns as only one piece of a larger solution — one that includes new legislation — to reducing gun violence.
"I think across the board it's a very complicated problem. It's going to take a multifaceted approach. I think technology is one of those solutions."