Technology
A local startup has unveiled a flying vehicle that runs on hydrogen fuel
Hopkinton-based Alaka'i Technologies says Skai could be a solution to Boston's traffic congestion.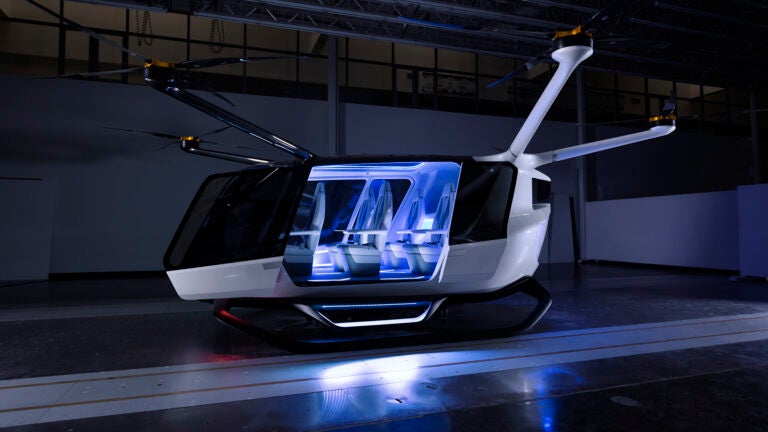 If you've ever been stuck in Boston's notorious gridlocked traffic, it's likely this thought has crossed your mind: What if you could just fly over all the congestion and save yourself the headache?
Enter Skai, a first-of-its-kind hydrogen-powered flying passenger vehicle, unveiled last week by Hopkinton-based startup Alaka'i Technologies.
The sleek, electric air vehicle boasts a cab big enough to fit four passengers — and a pilot — and their luggage, all the while running on clean energy, the company says.
CEO Steve Hanvey said Alaka'i sees air mobility as a key solution to urban congestion.
Spaces such as parking lots could prove viable landing zones in the future, opening up opportunities like say, flying from Worcester to Logan Airport in 20 minutes.
"What we see is a market pool of people saying, 'I didn't know I could do that,'" Hanvey recently told Boston.com.
Skai utilizes electric vertical takeoff and landing, and is powered by hydrogen fuel cells, which are reusable and recyclable, that allow it to travel farther and carry more passengers and cargo — up to 1,000 pounds — according to Alaka'i officials.
The vehicle, outfitted with a luxury interior, can fly up to four hours, or as far as about 400 miles, without the need to refuel, the startup says. A pilot-operated model would be launched first with autonomous versions available later.
Passenger comfort was at the forefront of the project rather than a sole hyper-focus on just the engine components — an approach that generally goes against the grain of what's usually done in the aircraft industry, Hanvey said. (As far as power goes, Skai has six motors, all electric.)
If Skai's design looks vaguely familiar, it may be because of Alaka'i's partnership with Designworks, the design innovation studio for the BMW Group.
"Our focus for this project was to help building a new consumer facing brand from scratch – considering and designing all touch points – digital, physical and service," Designworks President Holger Hampf said in a statement. "And as a result, delivering an all-encompassing user-centric experience which is purposeful and highly desirable in all aspects."
According to a spokesperson, Alaka'i is not currently disclosing a projected price tag for Skai, but said the company is "implementing automotive-scale production techniques to make air mobility via Skai more accessible for everyone."
Alaka'i, led by aerospace experts and engineers from NASA, Raytheon, and the Department of Defense, among other industry leaders, was founded in 2015 by President and Chief Technology Officer Brian Morrison.
According to Hanvey, the startup secured its investments for Skai and held its first board meeting a year ago. Then things moved quickly, from Morrison's designs to the launch of the full-scale prototype, he said.
"I've never had it happen this fast," he said, adding that Alaka'i anticipates receiving its needed FAA certifications soon.
The startup sees a lot of initial potential in Skai's ability to serve as an emergency response or disaster relief vehicle, which it calls "SkaiMed"; to transport freight by "SkaiCargo"; and to use for personal travel.
Future plans include a vision for a passenger service Alaka'i has dubbed, "SkaiCab," which would run like current ride-sharing businesses or "just like a taxi cab in Boston," Hanvey said.
"All of those are open doors for us," he said. "The simple answer is we're not just trying to be a manufacturer."