Technology
5G is coming to Boston. Here's what that actually means.
And where you'll be able to access it.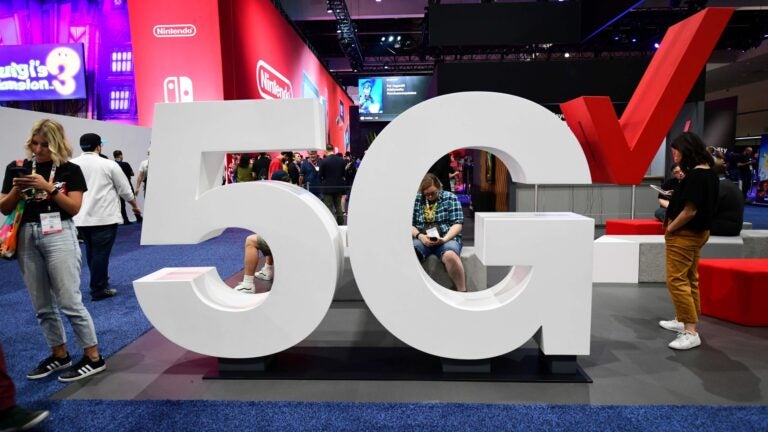 5G — the potentially transformative, if opaquely understood, new wave of network technology — is making inroads in Boston.
The nation's two biggest wireless providers recently announced plans to expand "5G" services to Boston. Last week, Verizon announced that its customers now have access to its 5G network in the Fenway neighborhood. And a few days later, AT&T said it would be rolling out a "low-band" 5G network across eastern Massachusetts in the coming weeks.
The dual expansions have key differences, but together will deliver a noticeable impact in the immediate future — at least for some.
Here's what you need to know:
What exactly is 5G?
5G stands for the fifth generation of cellular network technology and, at its core, simply promises increased data speed and bandwidth for cellphones, tablets, and other mobile devices.
To understand what that means, it's helpful to look back at the first four generations of cellular technology. The first, retroactively known as 1G, brought the advent of the cellphone itself. 2G made it possible to send text messages. 3G paved the way for widespread mobile internet browsing and GPS use. And 4G allowed for high-quality streaming and more reliable video calls.
Wireless providers tout 5G as another big jump in data speed, enabling things like even better streaming, no-lag video chats, and augmented reality capabilities. But it could offer even more. As 5G is expanded and utilized, experts say the ultra-high-speed networks could facilitate a new wave of interconnected and futuristic technologies, such as self-driving cars, smart city services, and all sorts of "internet of things" devices.
But for now, most of those developments remain on the horizon and, particularly in Boston, 5G is just getting started.
Where is it available?
Verizon has rolled out its 5G service to a total of 18 cities in the United States. Boston was included in the latest batch announced last Tuesday. The company says its 5G Ultra Wideband will allow those with 5G-compatible devices (more on that below) to stream 4K movies with "virtually no buffering" and video chat with near-zero lag, plus experience quicker downloads, more responsive gaming, and augmented reality that responds in near real-time.
However, the proximity that customers must have to the small cells installed in the area to receive the increased speed and capacity benefits of 5G means that coverage starts off limited to a patchwork of streets in the Fenway neighborhood. Specifically, Verizon customers can access the network on the streets surrounding Fenway Park, along Brookline Avenue near Beth Israel Deaconess Medical Center, and around the campuses of Emmanuel College, Northeastern University, Simmons College, and Harvard Medical School.
Verizon has a map on their website of the exact streets where 5G coverage is available in Boston.
AT&T will offer much broader coverage, though a company spokesperson acknowledged that their 5G service won't be as fast as what Verizon is offering in Fenway. It will solely rely on low-band spectrum — the same radio waves used for 2G, 3G, and 4G services — which has better range, but slower speeds.
Still, the 5G network will be significantly better than 4G services, specifically offering lower latency (meaning faster buffering), "massive connectivity," and faster speeds.
According to the company, their version of 5G will be rolled out in the Boston area in the "coming weeks" as part of their new AT&T Unlimited Extra and AT&T Unlimited Elite mobile plans. A spokesperson for the company said it's expected to be complete by the end of the year.
The coverage map for the low-band network includes virtually all of Greater Boston, swathes of eastern Massachusetts, Providence, and much of southeastern New Hampshire.
Who will be able to use it?
5G isn't just a matter of "where."
Individuals also need to have a compatible device to reap the benefits of the network. And currently such devices are still working their way into the mainstream.
Verizon's website names six smartphones and mobile devices that can connect to their 5G network (otherwise, when outside the coverage area, they connect to the carrier's 4G network), including the Samsung Galaxy Note10+ 5G and Samsung Galaxy S10 5G. The list notably doesn't include any iPhones, though there are rumors that Apple will release a 5G compatible phone next year.
For its part, AT&T began accepting preorders for the Samsung Galaxy Note10+ 5G, which is the company's first consumer 5G device, on Monday.
What comes next?
Verizon says it will have 5G networks available in a total of 30 cities by the end of the year, while AT&T plans to offer its low-band version nationwide within the first half of next year. Verizon is also working with innovators at local "labs," including one in Waltham, to develop new technologies that 5G could support, from holograms to the medical field to augmented reality shopping.
"We are building our 5G Ultra Wideband network to support the type of transformative breakthroughs people imagine when they think of next-generation connectivity, and we're working to build those services with leaders in manufacturing, publishing and entertainment, and in our 5G Labs," Kyle Malady, the company's chief technology officer, said in a statement.
AT&T also has plans for a 5G+ network, which is roughly the equivalent of what Verizon has already rolled out in certain pockets in terms of speed and, like Verizon's network, relies on the shorter-range, faster-speed millimeter wave spectrum.
The company has been offering 5G+ to businesses in a collection of 21 cities, but intends to make it publicly available in 30 cities early next year. Currently, there's no timetable for when it may hit Boston, according to their spokesperson.