Technology
Mass. State Police have been trying out Boston Dynamics' robot dog
"The idea is to avoid having to have a person go through that door to see what's going on."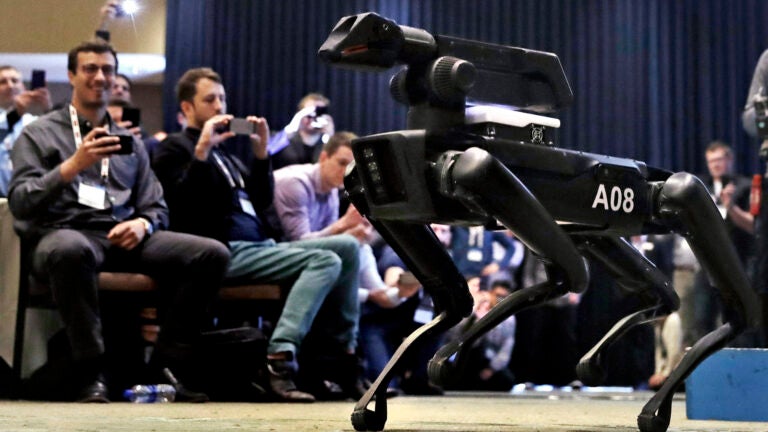 Massachusetts State Police have been quietly testing and — in a couple cases — actually using Boston Dynamics' famous dog-like robot.
For what? It's not 100 percent clear.
WBUR reported Monday that the internationally known Waltham-based robotics company leased Spot, its four-legged semi-autonomous robot, to the state's bomb squad for "mobile remote observation device." That means things like checking out an explosive or helping troopers locate a potentially dangerous suspect.
However, some are concerned that the department — the first law enforcement agency in the country to try out Spot — lacks a concrete policy around its use.
Mass. State Police got to use @BostonDynamics' Spot the robot dog for three months this year. That's raising questions about what kind of policies there should be about how police can use robots. https://t.co/SVTjc0J2bJ pic.twitter.com/px22Ooj5Yr

— ally jarmanning (@allyjarmanning) November 25, 2019
The lease, which was revealed by records obtained by the Massachusetts branch of the American Civil Liberties Union, ran from Aug. 7 to Nov. 7. A state police spokesman told WBUR that Spot was utilized in two unspecified, real-life incidents — in addition to testing — to help "provide situational awareness of potentially dangerous environments."
"The idea is to avoid having to have a person go through that door to see what's going on," Marc Raibert, the CEO of Boston Dynamics, said at a tech conference last spring, noting that the robots could be remotely controlled from extremely long distances (such as from the other side of the country or even an airplane).
Raibert presented video at the time showing Spot robots opening a house door and walking through thickets of grass and piles of snow at a state police property for testing hostage situations and bomb scare responses.
Boston Dynamics recently began leasing Spot to a wide range of companies. According to the company, the leases strictly prohibit customers from using the robots to harm or intimidate people. And state police told WBUR that they have never weaponized any of its robots.
Still — given the potential to do so, as well as other privacy and transparency concerns — the ACLU is calling for a clear written policy around when and how state police use robots. So far, one hasn't been produced. Kade Crockford, the director of the technology for liberty program at the ACLU of Massachusetts, tweeted Monday that the public  "probably never would have known" about the three-month lease if not for their records request.
"We just really don't know enough about how the state police are using this," Crockford told WBUR. "And the technology that can be used in concert with a robotic system like this is almost limitless in terms of what kinds of surveillance and potentially even weaponization operations may be allowed."