Technology
By detecting early signs, Boston fitness tracking company WHOOP says it's helping further COVID-19 research
"I think everyone right now should be asking themselves, 'Is there something I can do to help fight this virus?'"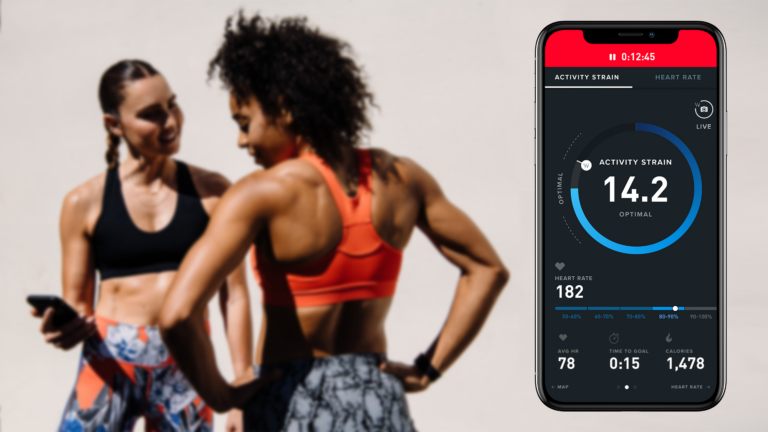 With the number of COVID-19 cases rising around the country, understanding one's body (especially when exhibiting symptoms) is more important than ever.  Amidst a global pandemic, doctors' appointments and non-urgent surgeries are being canceled in many states. Anxiety levels are high as the medical field is trying to better understand the most effective treatment methods, and the virus itself.
That's where WHOOP, a Boston-based fitness and performance company, has stepped in to help conduct research on detecting early signs of the virus before symptoms even show up.  Founded in 2012 by Will Ahmed, John Capodilupo and Aurelian Nicolae, all of whom attended Harvard, WHOOP is a fitness strap-band designed to help people better understand their bodies and how to efficiently perform. Using a built-in sensor that collects data  50-100 times per second, it specifically monitors sleep, recovery, and strain based on heart rate variability, resting heart rate, and sleep cycles.
Worn by high-profile athletes such as Lakers' forward LeBron James and Olympian Michael Phelps, it's the "first fitness product to tell you not to exercise," Ahmed told Boston.com. Unlike other bands like the Fitbit and Nike's Apple Watch, Ahmed said, WHOOP tells you what's going on in your body even when you're not training.
From the minute a user wakes up, WHOOP sensors calculate their "recovery score" based on their baseline metrics and how they slept that night. It then shows a red, yellow or green light to tell them how prepared they are to perform, and throughout the day, it accounts for the strain their body is undergoing, whether it be from work, stress or exercise, and indicates what type of training can help them reach "maximum efficiency." If it's red, they likely need to rest that day.
But how does that pertain to COVID-19?
Over the past three years, his WHOOP team has discovered that when users were getting sick, their data would show signs of "physiological changes" — increase in heart rate, a decrease in heart rate variability — and they were getting red recovery signals.  The company also developed an algorithm to capture respiratory rate (the number of breaths you take per minute) while WHOOP users were sleeping.
That information could now be useful in revealing more about how COVID-19,  a respiratory illness, is affecting the human body.
"Respiratory rate appears to be a specific indicator of COVID-19," Ahmed said. "It looks like everyone who reports COVID-19, and being sick due to it, has an elevated respiratory rate two-three days before they actually feel symptoms."
WHOOP's sensors have been able to accurately detect changes in respiratory rate, making it the first wrist-worn wearable device to do so based on a study done by the University of Arizona's Health Sciences Center for Sleep and Circadian Sciences. Researchers believe that detecting signs of an elevated respiratory rate could help further research on how to identify the virus early on.
"One of the things that makes the COVID-19 disease and the SARS-CoV-2 virus that causes it so problematic is that while people are incubating it, before they're consciously aware that they have symptoms, they're highly contagious," said Emily Capodilupo, WHOOP's VP of Data and Science Research (who also studied neurology at Harvard). "Which is not true of a lot of other viral infections. So, the real trick of where WHOOP comes into all of this is the ability to see maybe 48 hours before somebody is actually showing signs. There is data that you're not consciously aware of, but it would show up in your WHOOP."
The company has partnered with the CQUniversity in Australia and the Cleveland Clinic to conduct and publish research gathered from "hundreds" of WHOOP users who say they have had COVID-19. The data WHOOP gets could be beneficial to doctors and essential workers, specifically, who are exposed to large populations and are at risk themselves and to others. The strap can even be worn on the upper bicep, which is handy for doctors and surgeons who cannot wear jewelry while working.
"If someone is wearing a wearable like WHOOP, if we see their respiratory rate going up, their resting heart rate going up and we see that a day or two before they're like, 'I feel sick,' we could be that send-them-home moment [for them]," Capodilupo added. "Our big interest in working in hospitals is you not only have thousands of essential workers, but you have [those who] are surrounded by high-risk people. You definitely don't want an OB delivering babies if she's COVID-19 positive. Or a janitor who is cleaning every single person's room, you don't want them carrying it."
Ahmed stressed that while WHOOP cannot detect if you have a cold,  flu, or even COVID-19, it can give medical insight on what the body is going through. He also said that the company is "having conversations" with hospitals in areas such as Boston (although he did not specify which ones just yet) to get their product into health care spaces to help fight COVID-19.
"I think everyone right now should be asking themselves, is there something I can do to help fight this virus? Because, it's the first time maybe in human history that humanity has been united against the common cause — which is to beat this f— virus. So, in our case, we're doing everything we can to, one, try to inform all of the people wearing WHOOP how they can monitor their bodies, and two, try to provide research to society at large to beat this thing."
WHOOP even launched a journal app that allows users to monitor their behaviors and symptoms by checking in with them daily.
"People are realizing there's a lot of value in having this wearables that are a lot more accurate than they were a half a decade ago. There is use of these devices that people hadn't really thought of as being relevant as part of keeping us healthy," " Capodilupo said. "Now people are realizing there's …a lot of value in knowing your baseline and what's normal for you and what's not.
"I do think there's a lot of interesting opportunities around monitoring health care workers in general," she added. "So, what I think is going to change more than anything else is not what WHOOP can do, but what people are open to using WHOOP for. Whether it's the insurance companies paying for these things, I think you're going to see more corporate wellness programs paying for these devices and more doctors asking for them."