Technology
Video: Turns out the Boston Dynamics robot dog can jump rope now
It can also pick up laundry, tend to a garden, and pull extremely menacing levers.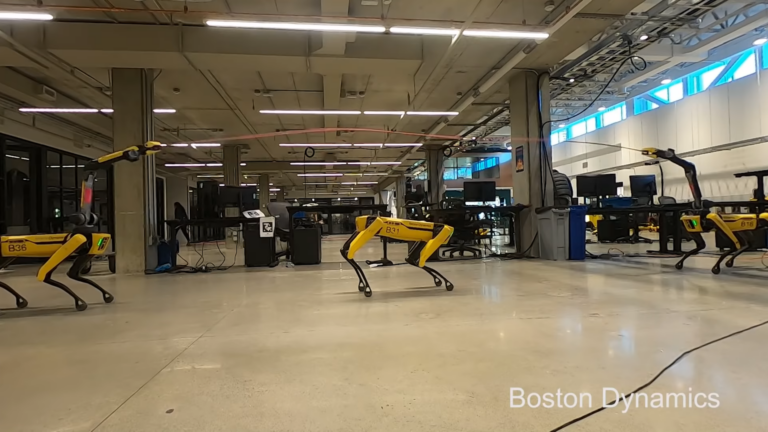 Count the days until Spot the robot dog can play fetch better than your actual dog.
Boston Dynamics, the Waltham company known for viral videos featuring their astonishingly capable robots, shared a new video Monday showing off the fine motor skills of their staple yellow quadruped Spot and its nimble arm extension.
Versions of Spot's arm have been around for a while now, but the video seems to show greater strength and precision than what we've seen before. One moment Spot effortlessly drags a cinderblock around a parking lot, the next it delicately outlines large stenciled letters in chalk. It can pick up your dirty laundry, pull valves, levers, and handles, and even plant your hydrangeas.
But perhaps Spot's most impressive new feat is jumping rope. One clip shows two of the bots swinging a long rope around as a third effortlessly hops over it.
"Now that Spot has an arm in addition to legs and cameras, it can do mobile manipulation," Boston Dynamics wrote. "Motion of the hand, arm and body are automatically coordinated to simplify manipulation tasks and expand the arm's workspace, making its reach essentially unbounded. The behavior shown here was programmed using a new API for mobile manipulation that supports autonomy and user applications, as well as a tablet that lets users do remote operations."
Boston Dynamics says it will show off new Spot products in a livestream Tuesday morning. The robots were first sold commercially for close to $75,000 last summer.
Get Boston.com's browser alerts:
Enable breaking news notifications straight to your internet browser.