Technology
Is there really such a thing as a private Google search?
Brian Walshe's searches are shaping up to be a big part of the murder case against him. It raises the question: Can an internet search ever be truly private?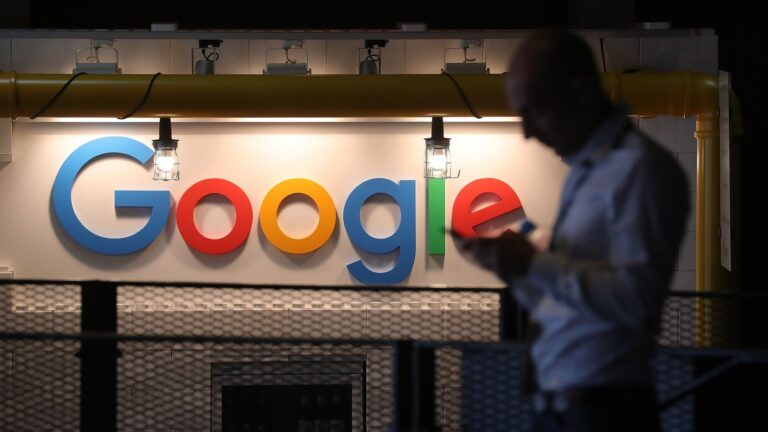 As they build their case against Brian Walshe — who was charged last month with murdering his wife, Ana Walshe — prosecutors are claiming one piece of evidence clearly shows what was in the Cohasset resident's thoughts both before and after the alleged murder: his Google searches.
On Dec. 27, Brian Walshe allegedly googled, "What's the best state to divorce for a man," just days before a family member reported Ana Walshe missing Jan. 1 around 4 a.m. According to prosecutors, Walshe spent the subsequent hours googling instructions on how to deal with a dead body.
Reactions to Walshe's searches have varied. Some have likely spent time deleting their search history for good measure, and others have grappled over whether large tech companies can, or should, flag users' search histories to the police. But one question remains at the heart of these concerns:
Is there really such a thing as a private internet search?
The short answer is no. The long answer is a bit more complicated and is outlined thoroughly in Google's privacy policy. But here's what you need to know:
How does Google collect data?
Google stores two main types of data: data users provide and data the site collects. The first category involves information users explicitly provide when making a Google account, or content that is created or uploaded. The second category refers to information like a user's IP address, the type of device they are using, purchase history, or terms users search for.
Once Google collects this information, they are able to give users personalized advertisements, develop user-friendly services based on users' preferences, and optimize performance.
According to Google, the only circumstances in which Google will share this data is if a user consents to it, a domain administrator accesses it, or if the government requests it. And in cases where the government has requested user information, Google, despite a robust evaluation process, often turns it over —disclosing 78% of requested information between July 2021 and January 2022.
There are three main ways a user can limit the data the Google collects and shares. Users can alter their privacy settings, go into a private browser, known as "Incognito Mode," or delete their search history.
Turning off web and app activity
One way that Google offers increased privacy is by allowing users to turn off their web and app activity. By deactivating search history, users can stay logged into their account without having their searches tied to it. This does not stop Google from tracking and storing a user's search history; rather, it separates it from the user's account.
But even then, by tracing a search back to an IP address, log-in activity, or browser history— known as browser fingerprinting — Google can likely tie the search back to the user, says David Choffnes, associate professor of computer science at Northeastern University and executive director of the school's Cybersecurity and Privacy Institute.
"My understanding is that if you have turned off your search history, then they will not keep a record of searches that is tied directly to your account," Choffnes said. "I'm not saying that they aren't recording, because as far as I know, Google kind of tracks everything that touches them. The distinctions are usually around [whether] they associate it with you."
While Google continues to have access to data while a user's search history is off, administrative access to the same data varies. According to Choffnes, companies can possibly — depending on configuration and accessibility settings — look into their employees' searches and web activity from a work account even if the search history is off, if the employee is using an employee laptop.
Additionally, If an employee is using a personal account on a work laptop, while trickier, the organization can still view activity in some cases depending on their settings. An administrator can also see visited website domains when a user is connected to their network. This means that if a user is using a personal device on their administrator's network, the administrator would be able to see the website names, such as google.com or boston.com, that the user visited.
Incognito Mode
Many users also turn to Google's private browsing mode, or "Incognito Mode," to prevent their searches from being collected. When a user opens a new incognito session, all the data compiled from that session is stored separately and deleted after the session is closed.
Users who turn to incognito mode for assumed unabridged privacy may fail to recognize, as Boston University professor of electrical and computer engineering Ari Trachtenberg points out, "Incognito mode is generally neither anonymous nor private … it simply keeps your own machine from storing a record of your activity."
During an incognito session, search engines, internet providers, and visited websites can still see user activity. Depending on the services a user visits throughout an incognito session, different websites, organizations, and internet service providers can still see web activity and your identity.
"The problem is that most users very likely don't understand how little actual privacy this mode provides them," Trachtenberg said via email. "A whole host of entities, including the web sites you visit, your service provider, and your university, may be able to see your activity and very well may be able to tie it back directly to you. Indeed, I know of no way to reliably keep your web activity truly private."
Deleting Data
Users can try to secure their privacy by deleting their searches all together. Some information is automatically deleted, but many also look to delete all their information.
When a user clicks "Delete Data," Google considers this a request to remove the data from whatever physical product is being used, and then to remove it from Google's active servers, before removing it from the hard-to-access backup servers — a process that takes months and does not permanently delete the data.
A key part of this deletion process is the anonymization of data, where Google adds noise, substitutes out, or generalizes specific parts of user search information. But this process seldom disassociates data from the user. As a 2019 study observed, researchers were able to re-identify 99.98% of users who had their data anonymized.
"This is another case where your data is deleted in some sense, because maybe your [deleted] search histories are [no longer] being associated with you," Choffnes said. "But some of that data was already integrated into something else and … as things stand now, it's never going to be removed."
According to Choffnes and Trachtenberg, for both legal and optimization reasons, Google's ability to actually delete data is complicated. Google often incorporates users' searches into machine learning operations, and removing data from those operations is near impossible.
"So, the upshot is that, though I have no way to verify when or to what extent Google actually scrubs your personal information from their system, I am reasonably confident that they would have a very hard time deleting all vestiges of your personal information from their system," Trachtenberg said.
Timeline of the Ana Walshe case
Saturday, August 2, 2014

2014

Ana Knipp, then using her maiden name, tells police in Washington, D.C. that Brian Walshe threatened over the phone to "kill her and her friends," according to a police report obtained by Boston.com.

The case was closed due to Ana Walshe's lack of cooperation with authorities, a police spokesperson said.

Thursday, April 1, 2021

2021

Brian Walshe pleads guilty to charges related to an attempt to scam a Los Angeles buyer using fake Andy Warhol paintings. Walshe initially acquired the real paintings from a friend in South Korea, and told the friend that he could sell them for a good price. The friend agreed, but was not able to contact Walshe afterwards.

A person in Los Angeles found the paintings listed on eBay in 2016, and agreed to buy them for $80,000. Once the paintings were transferred, the buyer examined them and found multiple indications that the paintings were not authentic. Walshe is awaiting sentencing.

Sunday, December 25, 2022

2022

Ana Walshe texts her mother, Milanka Ljubicic, and asks her to travel from Serbia to Washington, D.C. the next day.

"She just said, 'Please, mama. Come tomorrow,'" Ljubicic said in an interview with Fox News Digital. "Which means, that clearly, there must have been some problems."

Ljubicic says she cannot travel on such short notice, and suggests visiting on Jan. 5 or Jan. 6 instead. Ana Walshe tells her that she and her family are making plans to visit Serbia in February.

Tuesday, December 27, 2022

Ana Walshe plans to visit longtime friend Carrie Westbrook to see her new condo near Washington, D.C., The Boston Globe reported. Walshe texts Westbrook to say that she has to work late and will be delayed.

After two hours, Walshe tells Westbrook that her phone died and she could not use GPS to get directions, so she returned home. Walshe's family has a home in Washington in addition to their Cohasset residence.

The two friends agree to reschedule their visit to Jan. 5, 2023.

Meanwhile, Brian Walshe searches Google for the phrase "What's the best state to divorce for a man," according to prosecutors.

Wednesday, December 28, 2022

Ana Walshe texts her friend Carrie Westbrook and tells her that she got a new SIM card for her phone and that the device was working properly again.

Saturday, December 31, 2022

Ana Walshe reportedly tries calling her mother, Milanka Ljubicic, around midnight on New Year's Eve. Ljubicic reportedly misses another call from her daughter around 1 a.m. Ana Walshe also reportedly tries to call her maid of honor and her older sister, but neither pick up.

Sunday, January 1, 2023

2023

Police are told that Ana Walshe was last seen by a family member around 4 a.m. on New Year's Day. Police say she had a flight booked for Jan. 3, but were told that she had to fly down on Jan. 1 to handle an emergency at a property that she manages.

Walshe had bags with her as she left the house, and her husband was sleeping at the time, police are told. Her plan was supposedly to take a ride share to Logan Airport before flying to Washington. Police confirmed she never boarded a flight.

Brian Walshe allegedly uses his son's iPad to make a series of chilling Google searches throughout the early morning hours and into the afternoon:

4:55 a.m.: "How long before a body starts to smell"

4:58 a.m.: "How to stop a body from decomposing"

5:20 a.m.: "How to embalm a body"

5:47 a.m.: "10 ways to dispose of a dead body if you really need to"

6:25 a.m.: "How long for someone to be missing to inherit"

6:34 a.m.: "Can you throw away body parts"

9:29 a.m.: "What does formaldehyde do"

9:34 a.m.: "How long does DNA last"

9:59 a.m.: "Can identification be made on partial remains"

11:34 a.m.: "Dismemberment and the best ways to dispose of a body"

11:44 a.m.: "How to clean blood from wooden floor"

11:56 a.m.: "Luminol to detect blood"

1:08 p.m.: "What happens when you put body parts in ammonia"

1:21 p.m.: "Is it better to throw crime scene clothes away or wash them"

Monday, January 2, 2023

Ana Walshe's cellphone is in use for the last time. No outgoing calls were made, and it is turned off at 3:14 a.m., according to prosecutors.

Brian Walshe allegedly searches Google for information about the disposal of dead bodies and getting away with murder:

12:45 p.m.: "Hacksaw best tool to dismember"

1:10 p.m.: "Can you be charged with murder without a body"

1:14 p.m.: "Can you identify a body with broken teeth"

Brian Walshe allegedly goes to Home Depot in Rockland to purchase about $450 worth of cleaning products, including mops, brushes, tape, a tarp, a Tyvek suit with boot covers, buckets, garments, and baking soda. He also allegedly purchases a hatchet. Video from the store shows Walshe wearing a black surgical mask and blue gloves while he paid for the supplies in cash, according to prosecutors.

Tuesday, January 3, 2023

Brian Walshe allegedly continues to search the internet for information on how dead bodies decompose:

1:02 p.m.: "What happens to hair on a dead body"

1:14 p.m.: "What is the rate of decomposition of a body found in a plastic bag compared to on a surface in the woods"

1:20 p.m.: "Can baking soda make a body smell good"

A man matching Brian Walshe's appearance is recorded on surveillance video walking up to a dumpster at an apartment complex in Abington. The man is carrying a garbage bag, which appears to be heavy by how he tosses it into the dumpster, according to prosecutors. He then travels to other locations in Abington and Brockton, disposing of items in various dumpsters.

Wednesday, January 4, 2023

Ana Walshe is reported missing. Officials receive reports of her disappearance from her employer in Washington, D.C.

Brian Walshe allegedly goes to HomeGoods and T.J. Maxx in Norwell, where he purchases towels, bath mats, and men's clothing. He then travels to a Lowe's, and purchases squeegees and a trash can.

Cohasset police go to the Walshe family home for a well-being check. Officers see that the seats are down in the back of Brian Walshe's Volvo, and that a plastic liner is laid in the car. Police also see dirt on the vehicle's floor mats. The car's carpet appears to show fresh vacuum streaks, according to prosecutors. An analysis later finds blood in the car.

Thursday, January 5, 2023

Brian Walshe's cell phone data shows that it traveled to a dumpster at his mother's apartment complex in Swampscott around 9:30 a.m.

Cohasset police announce that Ana Walshe is missing. Authorities conduct a search of Walshe's home on Chief Justice Cushing Highway in Cohasset and the surrounding areas. Detectives also investigate Walshe's home in Washington. They do not find any signs of her. Police tell the public that Brian Walshe is cooperating with the investigation.

Friday, January 6, 2023

Police launch a search from the parking lot of a Stop & Shop near the Walshe's Cohasset residence. Units from the Massachusetts State Police trained in search and rescue efforts comb the area, with assistance from three K-9 teams and the State Police Air Wing.

Friday, January 6, 2023

A fire breaks out at a home that Ana Walshe used to own. The property is located at 725 Jerusalem Road in Cohasset. Walshe bought it for $800,000 in 2020 and sold it for $1.385 million in March 2022, the Globe reported.

The fire on Jerusalem Road started near damaged piping close to a natural gas fireplace insert, Jake Wark, a spokesman for the state Department of Fire Services, told the Globe. Officials say the fire is not suspicious, and Cohasset Police Chief William Quigley says it is "a very strange coincidence."

Saturday, January 7, 2023

The search of Walshe's Cohasset home and the surrounding areas launched Friday resumes again. Authorities search until around 4:30 p.m. Again, K-9 teams, the MSP Air Wing, and other specialized units assist in the search. Police divers search a small stream and a pool with "negative results."

Police say that "the ground search will not resume unless police develop new information that so warrants it."

Sunday, January 8, 2023

Investigators return to Walshe's Cohasset home. They begin working at about 9 a.m.

State Police K-9 units are once again involved. Police take photographs of a car parked near the home, according to Boston 25. Uniformed officers are seen carrying what appeared to be hiking gear as they emerge from a wooded area near the house.

A drone hovers over the property Sunday afternoon. An investigator is seen carrying a large plastic container out of the house Sunday evening, according to the Globe. Around 7 p.m., an investigator is seen shining their flashlight at the front of the building, scanning the siding and roofline for about a minute.

Police find blood and two knives, one of which was bloody and damaged, in the home, prosecutors later say. They also recover a heavy-duty, large tarp and plastic liners that were purchased at Home Depot.

Police arrest Brian Walshe for misleading a police investigation. Authorities said that, as they conducted their investigation, they had probable cause to believe that he misled investigators. WCVB cameras capture police leading Brian Walshe into the Cohasset Police Department in handcuffs.

Monday, January 9, 2023

Brian Walshe is arraigned in Quincy District Court. Prosecutors say that police found both blood and a bloody, damaged knife in the basement of the Walshe family home in Cohasset.

Prosecutors say Walshe misled investigators by saying that, on Jan. 1, he went to visit his mother in Swampscott but got lost. Walshe also allegedly told police that he shopped at a Whole Foods and CVS, but police could not find receipts or surveillance footage that corroborated this.

When investigators asked Walshe about his actions on Jan. 2, he allegedly told them that he only left the house to take one of his young sons to get ice cream. Instead, prosecutors said that he went to a Home Depot in Rockland to purchase hundreds of dollars worth of cleaning supplies.

Ana Walshe was not reported missing until Jan. 4, giving her husband time to "clean up, to dispose of evidence," Norfolk First Assistant District Attorney Lynn M. Beland said in court.

Beland asks a judge to set Walshe's bail at $500,000.

Tracy Miner, Walshe's lawyer, tells a judge that he has been "incredibly cooperative," and asked that Beland's bail request be rejected because Walshe has not been charged with murder.

A judge sets bail at $500,000.

Monday, January 9, 2023

Investigators find a number of suspicious items while searching through trash north of Boston. They investigate dumpsters in Swampscott near the home of Brian Walshe's mother, and a transfer station in Peabody.

Investigators recover a total of 10 trash bags in Peabody. They find towels, rags, slippers, tape, a Tyvek suit, gloves, cleaning agents, carpets, rugs, Hunter boots, a COVID-19 vaccine card in the name of Ana Walshe, a hacksaw, a hatchet, and some cutting shears, according to prosecutors.

The boots are consistent with those that Ana Walshe was last seen wearing, and a portion of a necklace police found is consistent with one that Ana Walshe had been seen wearing in photos.

Testing at the state's forensics lab later determines that these items had human blood on them.

Later, analysts also find DNA from both Brian and Ana Walshe on slippers and on the Tyvek suit, prosecutors said. Investigators also found Ana Walshe's DNA on tissues taken from the bags.

Tuesday, January 10, 2023

Investigators complete the search and processing of the Walshe family home in Cohasset.

Tuesday, January 17, 2023

Brian Walshe is charged with the murder of his wife, Ana Walshe, and disinterring a body.

"A continued investigation has now allowed police to obtain an arrest warrant charging Brian Walshe with the murder of his wife," Norfolk District Attorney Michael Morrissey says in a statement.

Wednesday, January 18, 2023

Brian Walshe is arraigned in Quincy District Court. He pleads not guilty and is ordered to be held without bail.

He does not speak except to say "I do" when asked if he understood the charges against him. Brian Walshe shakes his head when a prosecutor mentions the search for information on embalming.

A status hearing is set for Feb. 9.
Newsletter Signup
Stay up to date on all the latest news from Boston.com