The Boston Globe
In fiery remarks, Katherine Clark blasts 'extremists who have taken over' speaker vote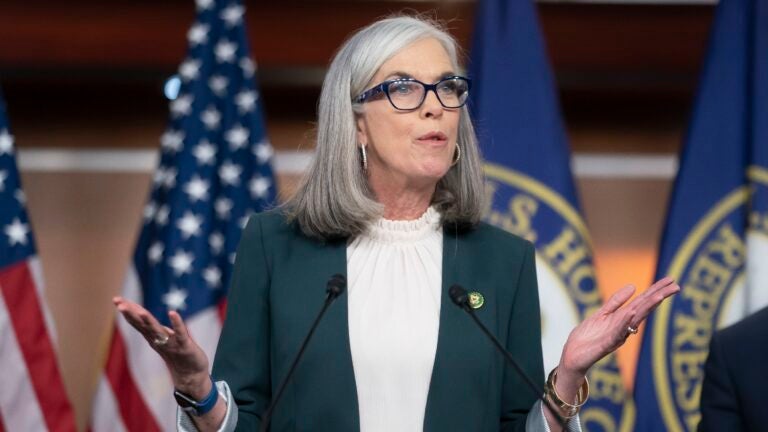 Massachusetts Representative Katherine Clark took several jabs at House Republicans Thursday amid the continued chaos surrounding the party and its discord about whether to elect Representative Kevin McCarthy to the speakership.
Following two days of consecutive losses for the post, due to a group of vocal party dissidents, McCarthy continued to seek the position Thursday. He reportedly made concessions to the hard-right group in the process, in a bid to lock down a deal.
But as the eighth vote for speaker got underway in the afternoon, Clark — not for the first time that day — highlighted the lack of unity among Republicans, reading out on the House floor the number of consistent votes New York Representative Hakeem Jeffries received from Democrats during previous rounds.
The same, she pointed out, could not be said for McCarthy.
"212. 212. 212. 212. 212. 212," she said. "And today, 212."
Clark then ticked off a number of proposals that Democrats have supported, from equal pay for women to universal child care. After each item, she noted how Republicans responded to the measures: "They said no."
Eventually, others in the chamber joined in, repeating the mantra.
"It is our job, and our responsibility, to elect a speaker who stands with [the American people]," she said. "And with great pride, I nominate Hakeem Jeffries."
During a press conference earlier in the day, Clark highlighted how the party's disconnect is paralyzing Congress, referring to the third day of votes being cast — a historic deadlock roiling Republicans — as "Groundhog Day."
While House Democrats are united behind Jeffries as minority leader, and their agenda for the term, "House Republicans are in historic turmoil," said Clark, who was elected as the new Democratic whip in November.
She cast attention on the rebels — many of them members of the conservative House Freedom Caucus who have rallied behind former president Donald Trump — for handing McCarthy a series of humiliating defeats in recent days.
"Unable to organize, unable to govern, unable to lead," Clark said. "Years of blindly pursuing power, currying the favor of special interests, and bowing to election deniers has left the GOP in shambles."
McCarthy, who has failed to secure the votes needed to become speaker, essentially blocking the chamber from performing its work, wasn't spared by Clark. She said the California Republican is "being held hostage to his own ambitions by the dangerous members that he's enabled."
"Let's look at the extremists who have taken over," Clark said. "[Colorado Representative] Lauren Boebert is whipping votes, MTG [Georgia Representative Marjorie Taylor Greene] is their spokesperson, and [Florida Representative] Matt Gaetz is negotiating the rules."
Boebert, who has repeatedly voted against McCarthy for speaker and rejected Trump's call to support him for the post, made headlines alongside fellow hardline Republicans in recent days for their vocal opposition.
On the House floor Wednesday, she continued to voice opposition and urged Trump to tell McCarthy to drop out of the race.
"Let's stop with the campaign smears and tactics to get people to turn against us, even having my favorite president call us and tell us 'We need to knock this off,'" she said. "I think it actually needs to be reversed."
She continued her argument during television appearances Wednesday night, interviews that frustrated both MSNBC's Stephanie Ruhle and Fox News' Sean Hannity, who said he felt like he was "getting an answer from a liberal" over her tactics.
But, Clark said during the press conference, the mark left by the former president — despite him appearing to lose control of his supporters — remains, as evidenced by the divided vote for speaker.
"Some on the other side of the aisle have campaigned to standing up to the crazy in their party, but their deference at this point to MAGA Republicans — their outreach to try and get power for Kevin McCarthy at any expense — is paving the way for the policies that directly assault American families," said Clark, who listed a national abortion ban as one example.
She ended her brief speech by touching on the deadly attack on the Capitol two years ago.
"Tomorrow is the second anniversary of the January 6 insurrection. It is a dark day for our country, but the pinnacle of what has become the Republican Party," Clark said. "Our message to the American people is that House Democrats stand together with you. We will stand together to fight for progress, to put your voice back in the halls of Congress, and for our democracy."