The Boston Globe
'Terrible,' 'inconvenient,' 'aggravating': Some commuters use 'all the bad words' for North Station's new fare gates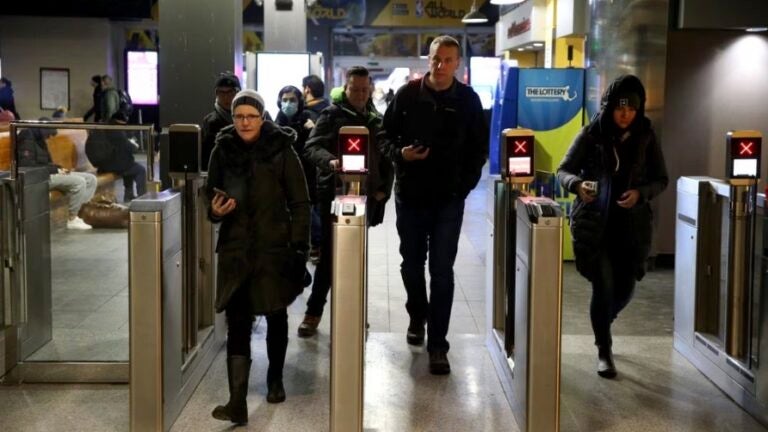 Hordes of passengers filtered off commuter rail trains at North Station one busy weekday morning, many speed walking or running to leave the station and continue onward to work.
But one thing kept disrupting the smooth flow of commuters before they could exit: electronic fare gates installed late last year, requiring a tap or scan to go both in or out.
People sighed in frustrationas lines formed behind each gate. At the head of many of the lineswas a passenger struggling to get the gates to scan their ticket. After a few seconds of failure, they would hop from gate to gate, hoping a different one would work — usually to no avail. Most had to ask nearby staff for help.
One rider, identifying himself only as "Adam," told a Globe reporter he would use "all the bad words" to describe the experience, laughing at how long it took for his friend to pass through the gates.
These electronic fare gates, which began operating October 2022, require riders to tap, swipe, or scan the barcode of their tickets to enter and exit the station. The goal is to curb fare evasion, to which the MBTA loses more than $30 million each year, according to a Pioneer Institute analysis, and the agency plans to install them at other stations, too.
The MBTA says thegates aimto improve theridership experience for the commuter rail by eliminating platform-door ticket checks, improving fare collection, and providing a more consistent fare-paying experience across transit modes.
After several months of operation, however,the new electronic fare gates at North Station have proven to be more frustrating than convenient for some passengers, who usedwords such as "terrible," "inconvenient," and "aggravating" to describe their experience.
"They're definitely annoying," Leah Myers, 26, said while pointing at her colleague who was struggling earlier to get the scanner to recognize the electronic ticket on her phone. "My colleague had to buy a second ticket to get through the gates."
The machines will not scan the same ticket twice. They check only the validity of passengers' tickets and do not deduct payment, according to the MBTA. The T's website states that passengers may tap their CharlieCards, tap CharlieTickets, or swipe using the black stripe, scan the barcode of a paper ticket, or scan the barcode of an electronic mTicket on their phone. Children 11 and under ride for free and may ask a staff member to open the gates for them.
Emilee Morin, 22, said although there were no major issues with the gates, getting the scanners to recognize her phone's mTicket was "a little frustrating."
While those tapping tickets passed through the gates quickly, the machines appeared to take longer to recognize barcodes for those with virtual mTickets, with people hovering their phones above the scanner for several seconds before gates opened.
A reporterobserved one woman struggle for approximately two minutes, trying out different gates before one finally opened up.
Staff members stoodnear the gates to help. Some told passengers totry different gates or scan their phone in a different way, before eventually resigning to tapping their own cards to let people through.
Some passengers told the Globethey havemissed trains because of backed-up lines getting into the station. With wait times of 45 minutes or longer between commuter rail trains, a few minutes of inconvenience can end up causing significant delays for riders.
Customer complaints regarding the fare gates are approximately 3 percent of all complaints about the commuter rail systemfor the month of January, according to Alana Westwater, manager of public relations and government affairs of Keolis, which maintains and operates the MBTA's commuter rail system.
Despite the frustrations the Globe observed,Westwater told the Globein an e-mail statement that since Oct. 1, "the gates have been operating well, with hundreds of thousands of passengers successfully passing through the new gates."
"We are focused on actively supporting our passengers as they learn how to use the new fare gates at North Station," Westwater said.
She did not respond to the Globe's questions about whether any riders complained about scanning mTickets specifically, or why the gates appeared to be slower to recognize those barcodes compared to how quickly they responded to tapped tickets and CharlieCards.
Westwater saidthe gates were designed and placedto "accommodate an even greater number of commuter rail riders than was typical before the pandemic, improving movement through the station, and reducing crowding when a train's departure track is announced."
Butsome online have also expressed frustration at how the new gates can slow riders down. One Twitter user referred to them as a "useless waste of money that only causes more mayhem," while another worried about them being a "fire hazard."
Westwater said the gates are designed stay open automatically in case of an emergency.
The MBTA plans to install the same fare gates in other stations as well, including South Station and Back Bay.
They are part of the agency's nearly $1 billion Automated Fare Collection 2.0 system, which has been severely delayed and over budget.
What has your experience with the new electronic gates been? Vote in our Twitter poll.
Newsletter Signup
Stay up to date on all the latest news from Boston.com