The Boston Globe
'Most plumbers aren't even picking up the phone now.' Burst pipes cause backlog after Boston deep freeze.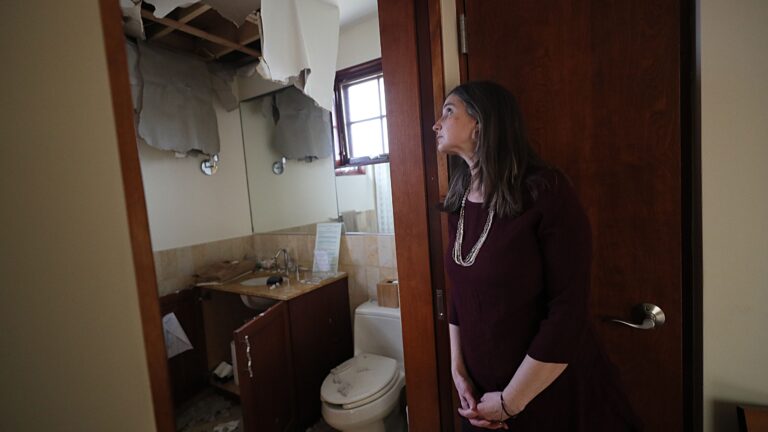 The brutally cold weather that descended on the region last weekend caused pipes to burst at scores of homes and public venues, setting off a scramble for plumbing and repair help.
"I don't have any hot water, but I do have very cold water," said Keira Driscoll, 34, of Watertown, describing the bleak situation Monday inside her condo after hot water pipes burst in her bathroom over the weekend.
Some water, Drsicoll said, was even "coming forward into my kitchen."
The water was shut off and when she called her maintenance contractor Sunday morning he said her property was the 19th address on the street having problems.
"It's looking like Tuesday of next week," before workers can clean up the damage, she said. "And then I'm probably going to have to have my ceiling torn down. The wood floors got a ton of water [damage] underneath, so it looks like those might be coming up too."
The cold front brought extreme temperatures and wind chills as low as 30 degrees below zero in Boston, forecasters said, freezing pipes across the region.
Carl Jonasson, owner of C.H. Jonasson Corp., a Needham-based plumbing, heating, and air conditioning contractor, said he's prioritizing regular customers, who can probably get a repair scheduled within a couple of days. Everyone else should prepare to wait.
"For non-regular customers, it could be a week or two," Jonasson said Monday. "Most plumbers aren't even picking up the phone now."
In Haverhill, firefighters were called Monday to a condominium complex on Casablanca Street, where they cleaned up water damage from a unit whose owner was out of town, said Jennifer Piazza, a resident of the complex.
The same thing had happened earlier at another unit, she said.
"It looked like they kind of just tried to contain the water," Piazza said of firefighters who arrived Monday.
Among the businesses that sustained water damage was the restaurant Little Donkey, located in Cambridge's Central Square.
On Saturday, chef and co-owner Jamie Bissonnette posted a video clip of water gushing from a leak in the restaurant's ceiling and wrote that the restaurant would be "closed for maintenance."
On Monday, Bissonnette said the restaurant would reopen Monday evening after crews worked through the weekend to fix the leak.
"It's a tough pill to swallow," Bissonnette said.
The extreme conditions also affected hospitals. On Saturday night, a frozen pipe burst in Boston Medical Center's emergency department, forcing it to close.
"All patients in the affected areas of the Emergency Department were safely moved to other areas of the hospital," hospital officials wrote on Twitter. "The Emergency Department will remain closed until Tuesday."
On Monday, however, the hospital said the emergency department had reopened a day ahead of schedule.
"We appreciate your patience while we work to restore full operations which could result in longer Emergency Department wait times," the hospital posted. "We thank our incredible teams for their around the clock work!"
At the Boch Center Wang Theatre, a burst sprinkler pipe caused a comedy show to be cancelled on Saturday afternoon, the venue said in a statement.
The damage was caused by "the record-setting cold that created similar issues at several buildings in Boston's Theater District," the venue said.
After an alarm sounded, staff evacuated the building and began searching for the source of the problem. Working with firefighters, employees discovered the break in the sprinkler system in a boiler room. Tickets for the canceled shows will be honored on April 29, the venue said.
On Monday, Boch Wang spokesperson Matthew Pacific said the issue had been "fully resolved and all shows will go on as scheduled this week."
Meanwhile in Newton, the Jewish spiritual center Mayyim Hayyim was forced to close Saturday after "multiple burst pipes" caused significant water damage and a collapsed ceiling.
"We are shattered by this," Carrie Bornstein, the center's chief executive officer, said in a statement. "But we will emerge to continue our mission of celebration, healing, and renewal."
Staffers had taken steps to keep the building warm, but to no avail. The extent of the damage is still being assessed.
"For an institution that exists to celebrate the transformative spiritual power of water, the impact is devastating," the center said.
Jonassaon, the plumbing contractor, said Monday that loyal customers will have the inside track. After a deep freeze like this, history matters, he said.
"If they treat me with dignity and respect, I'm going to those people first," he said.
Shannon Larson of the Globe staff contributed to this report.