The Boston Globe
Did a viral spat over Chinese restaurant prices cost Harvard professor tenure?
Lawsuit asserts college failed to follow internal guidelines for faculty reviews.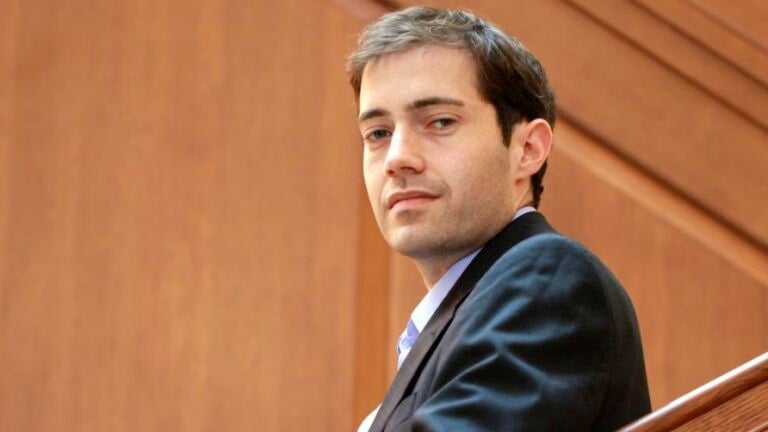 Former Harvard Business School professor Benjamin Edelman learned the downsides of going viral on the Internet.
A 2014 spat with the owner of a Brookline Chinese restaurant in which Edelman demanded redress for a $4 overcharge on a takeout order prompted local and national coverage. Edelman publicly apologized for the incident but says in a lawsuit filed Tuesday that the exchange came back to haunt him when he was up for a promotion at Harvard.
The civil suit, filed in Suffolk Superior Court, claims that Harvard breached its employment contract with Edelman by mishandling disciplinary proceedings following the restaurant imbroglio, which resulted in the rejection of his tenure application in 2017. He is seeking unspecified damages and for Harvard to redo the faculty review board process and "everything that follows that," including the reconsideration of his tenure application.
"My goal in this matter is to stand up for the principle that the rules are the rules," Edelman, who now works at Microsoft Corp., said in an interview.
Harvard declined to comment on the case.
Edelman, who says he was led to believe he was on track to be granted tenure at the business school, claims that the school failed to follow faculty-approved "principles and procedures" for responding to matters involving faculty conduct. The guidelines create "substantial protections" for faculty, according to the suit, some of which it says were not afforded in Edelman's case.
For example, he said, a faculty review board launched in 2017 to examine Edelman's conduct did not share all evidence with Edelman or those reviewing the report's conclusions.
And it wasn't just the restaurant flap, the suit says. Edelman believes his 2014 blog post about the company Blinkx and its "deceptive" adware, which prompted pushback from Blinkx, was used against him in an earlier faculty review board.
Edelman says Harvard harmed his "career, livelihood, and reputation" by failing to follow its internal policies.
Few professors resort to legal recourse over tenure denials, Boston College higher education professor Philip Altbach said, and a "vanishingly small number" win such cases. But Edelman's case raises questions about how much character and personality play into tenure decisions, and whether universities need to be more transparent about a historically opaque and subjective process.
"Certainly someone's willingness to be a good colleague appropriately plays into a tenure decision," Altbach said. "But tenure decisions are supposed to be made mainly on the basis of your research, productivity, teaching excellence, and these days, ability to get money."
Edelman, who has four degrees from Harvard, joined the business school's faculty as an assistant professor in 2007, when he was 26. He taught in the school's negotiations, organizations, and markets unit. His focus is the economics of online markets and Internet fraud. Edelman has also consulted for numerous clients since 1999 including the American Civil Liberties Union, AOL, and Microsoft.
Edelman argues that he would have approached the review board differently if he had known his outside activities were of concern from the start. The final report from the 2017 review included positive feedback from several colleagues who agreed "his conduct had changed and that he had become more reflective" since 2015, according to the suit. But the report also contained 12 anonymous complaints "about the plaintiff's character."
Edelman believes the board's final report was the "sole cause" for the rejection of his tenure application.
Lawrence Lessig, a Harvard Law School professor, said it was clear from a young age that Edelman "was a genius." Lessig said Edelman aspired to be "more than just an academic" and became engaged in policy discussions and consulting work to understand how technology impacted consumers. His ambition might have created conflict among peers, he said.
"He was an outstanding law student and an extremely successful academic," Lessig said. "He has an urge or need to fix injustice wherever he sees it and he uses his genius-like mind to push for resolution or reform. I read this [tenure denial] as a sad reflection on the business school."
Edelman said the goal of his e-mails to Sichuan Garden was "consumer protection," after noticing that the restaurant was advertising lower prices on its website than what it charged customers. National media coverage of the dispute resulted in "physical threats" to Edelman and his family, the complaint said.
After taking about five years to reflect, Edelman said he decided to sue Harvard now before the statute of limitations in Massachusetts runs up.
"It's no small matter to file a lawsuit against the richest university in the world," he said. "It's not just sour grapes. That was a good job for me [and] I worked hard to get it."
Newsletter Signup
Stay up to date on all the latest news from Boston.com