The Boston Globe
Wellesley teachers vote no confidence in superintendent, School Committee as contract negotiations drag on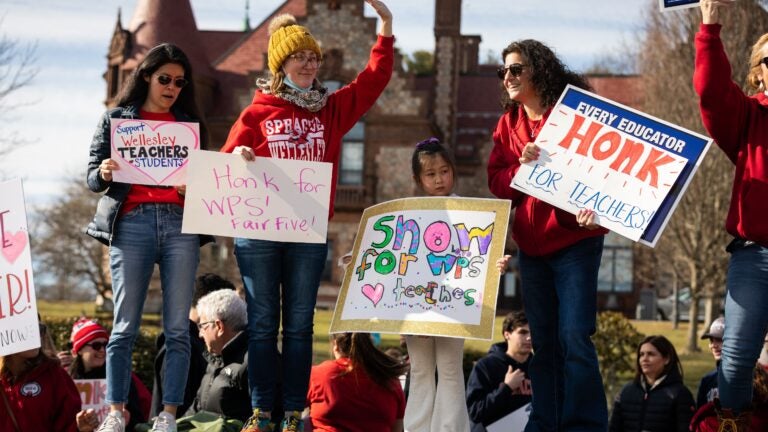 WELLESLEY — Dozens of Wellesley Public School teachers gathered with students and parents Saturday in front of the Town Hall to rally for a new contract and announced a vote of no confidence against the town's School Committee and Superintendent David Lussier.
More than 94 percent of Wellesley Educators Association members approved the no-confidence vote, the union said Saturday. The decision comes after educators in the district have been without a contract for 260 days and negotiating with district leaders for more than 14 months.
"We genuinely believe the district can sit down with us face-to-face and resolve our last outstanding issues, but it's going to take creativity and ingenuity to do that, and [the School Committee] has not shown that." said Kyle Gekopi, president of the Wellesley Educators Association.
Gekopi said the union decided to take the vote, despite seeing some progress, because the School Committee was pushing for mediation, something the union felt was not necessary.
In a statement Saturday night, Wellesley School Committee member Catherine Mirick said the committee has been "bargaining in good faith for more than a year" with the union and has "agreed to 34 of the proposals that the WEA brought forward." She said the committee made further concessions during bargaining sessions in February.
"Despite all of this movement, including an unprecedented financial package, the Committee has seen no similar movement from the WEA," Mirick said in the statement. "Negotiations require both parties to find common ground and compromise and, thus far, the WEA has been unwilling to do this."
The next bargaining session is scheduled for Wednesday, Gekopi said. The union will then hold a membership meeting Friday, when Gekopi hopes to present a deal for members to consider.
"We're hoping it's a ratification meeting," he said.
In December, the School Committee filed for mediation, an action involving the Massachusetts Department of Labor Relations to assist both parties in resolving outstanding issues and reaching a resolution when negotiations stall. On March 2, the department told the School Committee and union that a mediator would be assigned to negotiations.
The union, which represents 724 members, has been asking for pay increases for paraprofessionals, equal parental leave, and to change what full-time hours look like for specialist educators — including art, music, and physical education teachers.
A starting salary for entry-level paraprofessionals in Wellesley is $25,000 and Gekopi said the union has been pushing to raise it to $30,000. Additionally, the union is asking for all educators to receive eight weeks of paid parental leave. The district's current policy, Gekopi said, includes eight weeks for women and people who adopt, and three weeks for men.
"We're trying to show here that… these are the changes to our working conditions that we need in order to continue our work with Wellesley students," said Gekopi, who also teaches 12th-grade psychology at Wellesley High School. "This is also what students need to have healthy educators in front of them."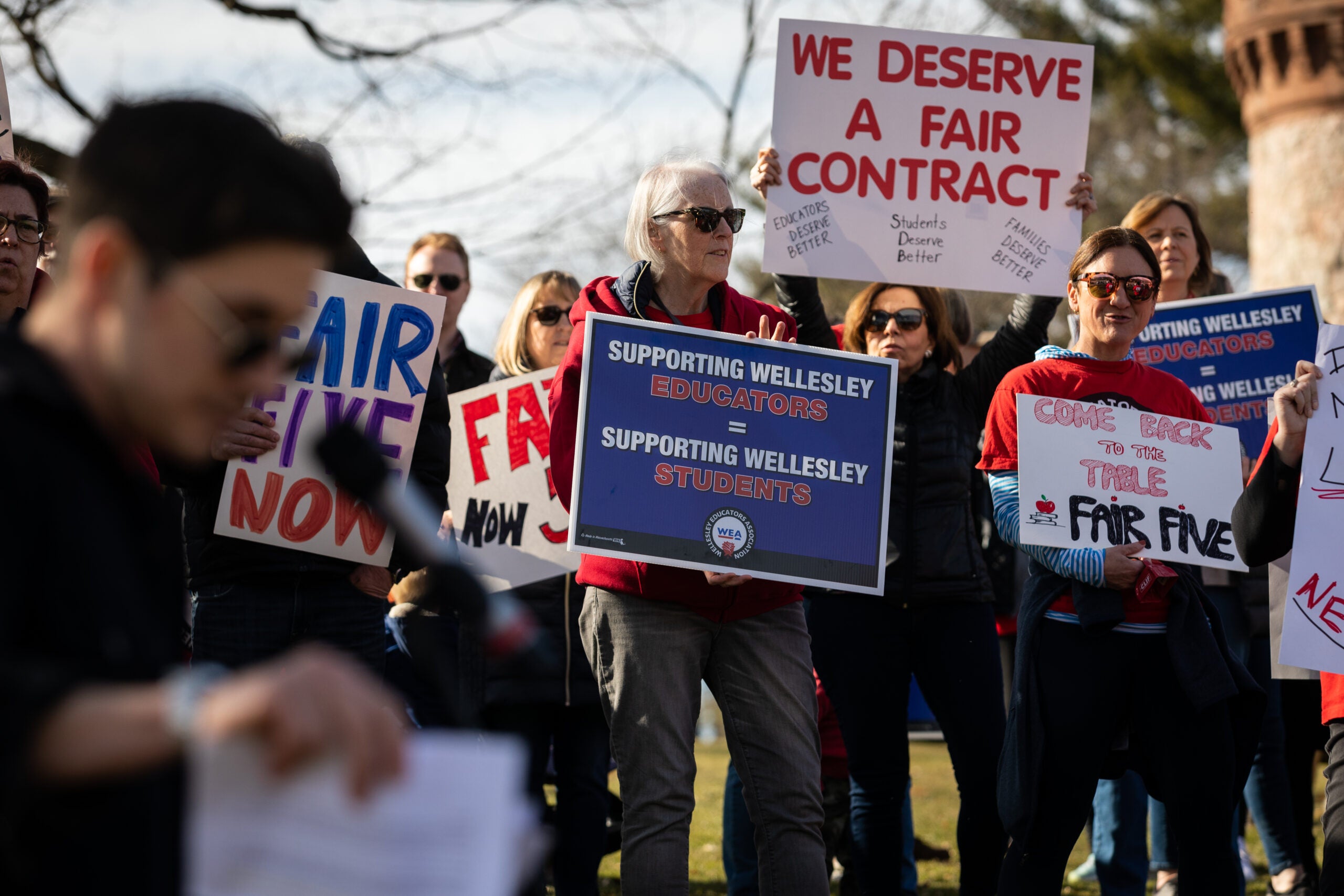 In a letter the School Committee sent out at the beginning of the month, officials said significant progress was made on top priorities the union members wanted during four meetings in February. That included a compensation package amounting to "$9.23 million over a total of four years," equitable parental leave, and additional preparation time for elementary teachers.
The School Committee said in the letter that they hope to settle a new contract with the union by the end of March.
"We understand that there is considerable interest from WPS families, WPS staff, and Wellesley residents about the status of negotiations," the School Committee said in the letter. "While negotiations are generally conducted in closed session, the School Committee felt that the time was right to provide specific information on Committee positions as well as our perspectives on issues that have not been settled."
Unrest among teachers has increased throughout Massachusetts in the past year, and Wellesley is the latest district tangled in stalled contract negotiations. On Thursday, the Quincy Education Association also overwhelmingly approved a vote of no confidence in the city's mayor, Thomas Koch, over contentious contract talks.
A variety of factors have fueled educators' frustration, including low pay for teachers' aides and deteriorating mental health among many students and staff.
Despite it being illegal for Massachusetts teachers and other public employees to strike, multiple teacher unions across the state have walked the picket line within the past year. Schools in Brookline, Haverhill, Malden, and Woburn were closed between one and five days before unions and school officials reached an agreement.
Maria Melchionda, a mother of two students in the Wellesley school system with one in high school and one in middle school, said she believes the teachers are being disrespected.
"I do not think for a second that this superintendent and this School Committee values these teachers, especially after a three-year pandemic," she said. "These teachers were some of the first responders for my kids and helped them through many a day with their studies, their homework, and for the most part, overall, mental health for all students K through 12. And we know how much that means."