The Boston Globe
In Vermont, trucks keep getting stuck on Smugglers' Notch. Locals are at their wit's end.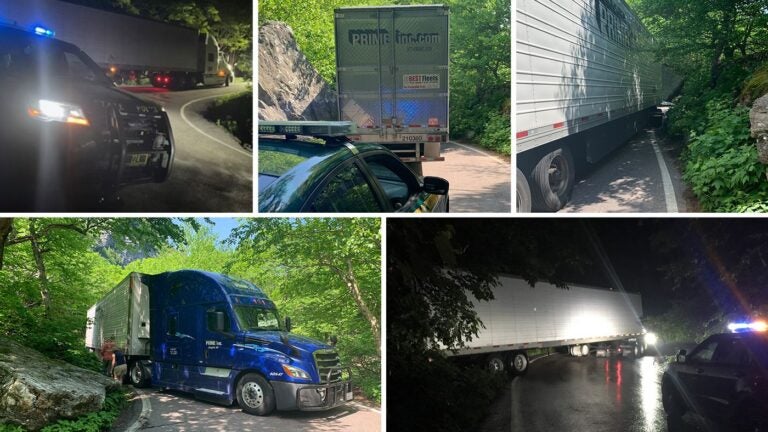 After decades in the towing business, George McRae was expecting a tough assignment when police called him — yet again — to dislodge a tractor-trailer from Smugglers' Notch in Vermont.
But he wasn't prepared for this.
A driver taking a shortcut to the Ben and Jerry's factory had hit a sharp rock on the edge of the winding, narrow road, destroying the tire. In his "infinite wisdom," the driver disconnected the tractor and drove to the bottom of the mountain, where he called police, McRae recalled.
It was a sunny day in June, so the 3.5-mile ribbon of Route 108 was crowded with tourists exploring the picturesque Green Mountains. McRae was able to get the trailer out, but the process took hours, with the road blocked the whole time.
"The guy got spanked by the police pretty good," McRae, 67, recalled. "The company was happy with me that I kept the reefer running and kept the load cold. But they weren't happy with him."
In Boston, the perennial problem of truck drivers hitting an overpass — or realizing they are about to and trying to back up into traffic — is known as "Storrowing," after Storrow Drive, which has height signs at all access points. On Smugglers' Notch, the boulder-lined pass between Stowe and Cambridge, a similar situation is called a "stuckage," and it causes at least as much trouble — if not more.
Like the mishaps on Storrow Drive, the problem has also defied efforts to stop it, confounding residents and state and local officials. For some weary truckers, the lure of a shortcut is too difficult to resist, even on the most forbidding of roads — instead electing to ignore the many posted warning signs and follow their GPS, with popular mobile apps failing to alerts drivers the pass is unnavigable for their vehicles.
"It takes a special kind of a driver. A Vermont boy isn't going to go up through there," McRae quipped. By his count, he has gotten more than a dozen trucks unstuck from the road over the years, and now charges between $3,500 and $5,000 for his service, on top of the fines the ill-fated drivers must pay the state.
As in Boston, the driving setbacks serve as head-shaking entertainment. One local referred to trucks getting stuck in the Notch as the "most unifying thing we have in this state," a phenomenon that has spawned mocking memes, a running joke on the Vermont subreddit, annoyed musings on social media, a toy collectible, discounts at local businesses to honor the occasion, and friendly competitions between friends.
The scenic pass snakes through two mountain peaks, at times dropping down to a single lane as it twists its way through rocky outcrops. It typically closes in November and reopens in the spring once the snow has melted. When open, it serves as a key link for hikers heading to nearby trails, tourists, and adventurers traveling to resorts, and locals hoping to shave off some time from their drive. Until a stuckage, that is.
The Notch, as locals call it, is a foolhardy course for larger trucks, which struggle to navigate hairpin turns around roadside boulders. Yet year after year, despite warning signs all the way back to the interstate and hefty fines, commercial drivers continue to venture up the road.
"It's a disaster. You have to plan," said Jill Anne, 49, who has lived in Stowe since 1997. A real estate broker for Four Seasons Sotheby's with a tight schedule, she factors in the possibility of a truck getting stuck whenever she has a showing. That usually means taking the extra 45 minutes to drive around.
"It's not worth the gamble," she said. "It's kind of a joke, but it's also super inconvenient."
From 2011 through 2022, an average of 8.2 trucks have gotten stuck in the Notch each year, according to the Vermont Agency of Transportation. But after a dozen incidents in 2013, 2014, and 2017, the number dropped to five in each of the past two years, thanks to mitigation efforts such as increasing the amount of warning signs and establishing consistent law enforcement patrols, said Todd Sears, deputy bureau chief of operations and safety at the agency.
But Sears has a clear target in mind: zero.
"It's a very Vermont thing. It's not a safety issue, but it is an aggravation issue because you get a truck stuck up there, and it just shuts down traffic on both sides," he said. "It's a mystery, like what is not getting through? Why are people still trying to make it through there? We don't know but we are making progress."
On its website, which includes a number of cheeky reminders that trucks will get stuck on the road, the agency specifies that under state law, vehicles longer than 40 feet and those with trailers longer than 45 feet cannot use the Notch road. Fines start at $1,000 and can exceed $4,000 for a second offense.
Based on costs associated with delays, each stuckage is estimated to cost the state roughly $6,000 an hour, Sears said. The primary culprit seems to be GPS apps that identify the Notch as the quickest route, causing out-of-state drivers to ignore the prominent warning signs along the way.
Officials are continuing their efforts to work with — and now possibly take action against — navigation providers that do not alert truckers they are not allowed to use the pass.
State officials have also hired the engineering consulting firm Dubois & King to analyze possible solutions that can be added to the roadway, Sears said, such as a roundabout that would allow a truck to turn around. The study is nearing completion, but it would be "a matter of years," before any project is undertaken, he said.
With the road set to open later this spring, Paul Ravelin of the Vermont State Police said it's only a matter of time until the annual tradition resumes.
"We scratch our heads every time," said Ravelin, who said the agency expends a "significant amount of resources" during the four to six hours the road is closed. "Everyone at this point is just like, 'Ah, there's the first one.' We kind of giggle about it, and say, 'Oh, here we go.'"
This year has brought a new twist to the stuckage fanfare: a raffle organized by the Stowe Rotary Club. For $10 a ticket, participants guess the time and date when the first truck become stuck. Half of the proceeds will go to their scholarship fund, while the lucky winner will take home the other half. More than 200 tickets have been purchased so far.
"We can raise money, and we can also try and bring attention to the issue. It becomes a win-win,"said Robert Roper, 54, member of the board of directors who lives in Stowe. "It is extremely annoying. This is a problem that needs to be solved."
Ravelin said the spirit of the raffle is characteristic of the state.
"There's a general frustration, but in true Vermont fashion, they've taken it in stride. That's how we react sometimes when it's just a true head-scratcher," he said. "We shake our heads at it and we move on."