The Boston Globe
New report finds former Methuen police chief should face criminal charges in a 'textbook case of public corruption'
Former city councilor who was close ally of ex-chief Joseph Solomon charged with felonies.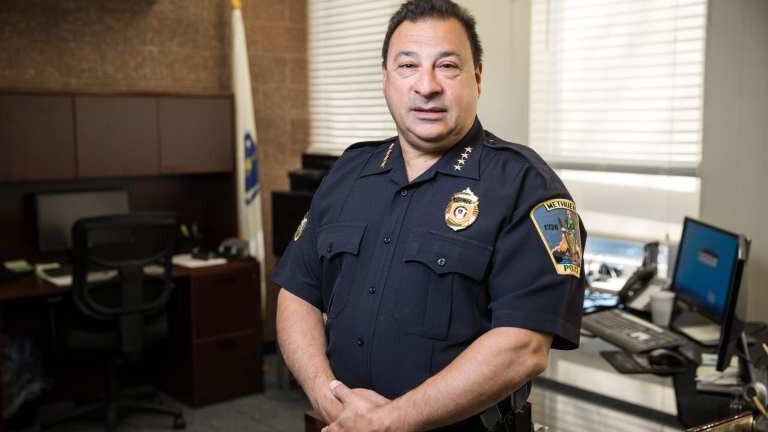 Joseph Solomon ran the Methuen Police Department like the "don of an organized crime family," relying on "humiliation, fear, intimidation and retaliation," according to a new city-funded investigation that found the former chief repeatedly broke the law during his 15-year tenure.
Solomon — who earned $326,707 in 2019 making him one of the highest paid law enforcement officials in the United States — should face criminal charges for his alleged misconduct, which included hiring a city councilor who was unqualified to be a police officer, the 204-page report concludes.
On Thursday, police said they obtained an arrest warrant for the former city council chairman that Solomon hired as a police officer, Sean Fountain. They said he would face eight charges, including forgery, conspiracy and public corruption. He was expected to be arraigned Thursday afternoon.
The report found that Solomon hired Fountain even though he met virtually none of the requirements to be a police officer: he lived outside of the city, he was too old, he didn't take a civil service test, he had not graduated from a police academy and had been arrested for domestic violence.
"Solomon's efforts to hire Fountain as a full-time police officer might have been characterized as grossly negligent were it not known that the efforts were also purposeful," wrote Smith. "There is no innocent explanation for what occurred here. Pure and simple, this is a textbook case of public corruption."
The new report, by Lawrence Smith of the STIRM Group, is the latest in a series of investigations into Solomon's controversial leadership of the police in this city of 50,000. Last year, the state civil service commission issued a scathing report saying Solomon should face charges for engaging in "serious misconduct" by hiring police officers who were untrained and unqualified.
Solomon retired in January 2021, a month after then-Massachusetts Inspector General Glenn Cunha concluded Solomon violated his duty to the public by conspiring with the leader of the superior officers union, Greg Gallant, to trick city officials into approving grossly inflated police contracts that, if implemented, would have paid some captains more than $500,000 a year.
An arbitrator ruled last year that the city didn't have to abide by the bloated contracts — even though they approved them — because city officials had no idea what it would cost.
Solomon, who repeatedly said it was the mayor, not the chief, who had hiring authority, did not respond to a request for comment.
Methuen Mayor Neil Perry called the new probe "an extremely important matter that we have been working on for over a year to bring to light."
City Council chair Eunice Zeigler added, "This is unacceptable and we cannot stand for the blatant disregard for the law that has taken place in our community."
Councilor DJ Beauregard said the investigation "uncovered an expansive conspiracy orchestrated by a corrupt former police chief and his associates to enable a political hack to masquerade as an academy-trained police officer for years. Accountability for these tricksters is long overdue."
Smith paints a damning picture of rampant favors and favoritism under Solomon — as well as alleged lawbreaking. When it became clear that Fountain, a former firefighter, should not have been appointed because he was untrained, a certificate asserting that Fountain had graduated from a police academy– as required of all new police officers — suddenly surfaced in his personnel file. That document, the investigator found, was forged.
According to the report, superior police union head Gallant gave someone else's training document to Fountain, who the report alleges, altered it to make it appear as his own.
Fountain was terminated by Mayor Perry in July 2020, though he has continued to testify in cases he was involved in. He filed suit against the city for wrongful termination in June 2021, asserting that he had been an exemplary police officer and public official and had been slandered and scapegoated by a newly elected city council. The suit is pending in federal court.
In a statement, Fountain's lawyer Neil Faigel said Fountain "was in compliance with all policies and procedures, including all proper disclosures, prior to becoming an intermittent police officer."
In the new report, Smith suggests that Fountain got the police job in exchange for his help winning lucrative police contracts from the city council. Smith said Fountain was treated differently than any other recruit. He was not required to undergo background screening, take a physical or psychological test — all requirements for the job, the report said.
"Fountain was subjected to an unexplainable level of preferential treatment unlike any ever seen in law enforcement," the report said. "No one in their right mind would ever put an untrained, unqualified individual on the streets as a police officer."
The report also implicates the Massachusetts Police Training Committee, whose executive director, former Woburn police chief Robert Ferullo, appeared to help Solomon make the hiring of Fountain seem legitimate.
After city councilors began questioning Fountain's qualifications, Solomon reached out to the Training Committee, which sets standards for police across the state. Solomon wanted a waiver from the committee that would have allowed Fountain to work as a police officer despite his lack of credentials. The waiver was never approved, but the report said Ferullo failed to take steps to prevent Fountain from working a police officer.
And when questioned by Smith, the report says, he became defensive, eventually refusing to cooperate.
"The investigation will show that the senior staff at the (training committee) including the director himself, intentionally stalled, hindered, and impeded this investigation, the report says.
Ferullo did not respond to requests for comment.
Gallant, the former superior police officers' union leader and Solomon ally, refused to answer the investigator's questions, taking the fifth amendment more than 100 times, the report said.
Smith's report said criminal authorities — former Attorney General Maura Healey and former Essex District Attorney Jonathan Blodgett — had been made aware of some of the allegations in the past, but declined to bring charges. He urged the new Essex DA, Paul Tucker, to take on the case, arguing that all three — Solomon, Fountain and Gallant — should face charges of forgery, conspiracy and ethics violations.
"Time is quite literally running out on some of these crimes," he wrote, referring to the statute of limitations.
Methuen police chief Scott McNamara said he is hopeful that Tucker will take action, saying Smith's report "outlined a clear path forward for a public corruption investigation that has dragged on for far too long."
Tucker spokesman Glen Johnson wouldn't confirm that the office is moving forward with an investigation.